Modell's Sporting Goods Taps AI Tech to Empower Its Workforce
Get great content like this right in your inbox.
Subscribe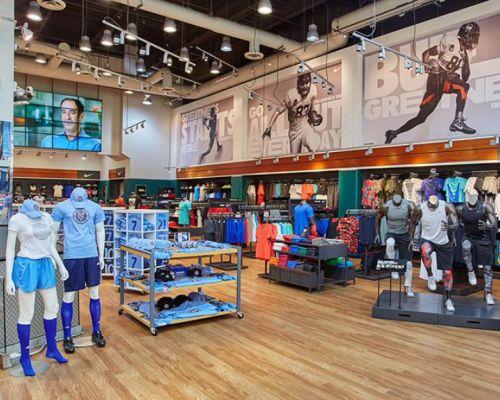 Modell's Sporting Goods will empower associates, managers, and field leaders with a unified workforce management and task management experience leveraging the next-generation Workforce Dimensions cloud suite from Kronos Incorporated.
The real-time, mobile solution delivers an engaging user experience with self-service employee features to help associates be more productive, insightful, and inspired to deliver an improved customer experience.
"It's critical to our business that associates feel engaged and inspired at work," said Jim Argerakis, senior vice president of operations, Modell's Sporting Goods. "Modell's has built an incredible workforce comprised of people who connect with our brand's customers and understand their needs, so retention is key. We are confident that the employee-first environment we're creating with Workforce Dimensions and task management from Kronos will empower associates in ways that help them be more engaged, more productive, and ultimately provide better service to customers."
Modell's operates a chain of more than 150 sporting goods stores and relies on its associates to deliver superior customer service. Understanding that flexibility and work-life balance are key to recruiting and retaining the best talent, Modell's invested in the Workforce Dimensions solution, including automated task management capabilities, to deliver an enriched employee experience. Kronos Task Management powered by ThinkTime extends the power of Workforce Dimensions by helping associates prioritize actionable tasks and customer needs from any device.
Modell's will leverage strategic labor insights and task data from Workforce Dimensions to inform forecasting and scheduling, providing an unprecedented level of transparency and streamlined execution.
Schedule optimization engines and advanced labor forecasting powered by AIMEE – an artificial intelligence (AI) engine built for managers and employees – intelligently aligns staff to store demand to automatically create best-fit schedules that are stable and predictable. Modell's customers will benefit from having the right people with the right skills in place to assist them at any location.
With greater visibility into the real-time status of distributed work, managers can more easily balance individual workflows to ensure associates have time to complete critical tasks, thereby driving higher engagement and productivity. Integrated calendar views enable detailed planning and comparison of activities by location, role, and individual.
Meanwhile, Workforce Advisor, the digital personal assistant in Workforce Dimensions, automates repetitive administrative tasks for managers – such as evaluating time-off and scheduling requests in real time – and instantly alerts associates when their request has been approved.
Kronos Task Management also easily translates store audits into action with customized walk-through templates that allow district managers to score individual stores based on Modell's corporate standards, assign tasks in the moment to address problem areas, and document growth and success upon future visits.