Myer Puts RFID to the Test
Get great content like this right in your inbox.
Subscribe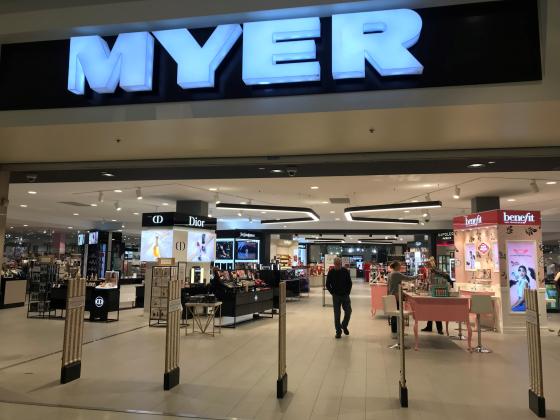 As Myer's online business was growing, the Australian department store's inventory accuracy was becoming more important than ever before. Myer fulfills online orders from its stores and without accurate inventory its ability to complete customers' orders and find inventory information via product lookups was limited. 
The department store wanted to test the benefits of RFID with a focus on two areas, inventory accuracy and stock count labor costs, with an aim to reduce stock loss. Myer decided to start with a highly desirable electronics brand of merchandise in its flagship store in Melbourne for the pilot. 
"[The electronics brand] was chosen as a starting point as the stores 'holding' merchandise was located in a secure reserve with no customer access," explains Gary Stones, head of retail operations, Myer. "This provided the perfect opportunity for Myer to try RFID technology and introduce new operational processes, such as daily stock counts, in a controlled environment. The first store had a significant shrinkage expense, poor sales performance and poor fulfillment pick success. These key metrics provided a perfect starting point to demonstrate the possible business benefits."
Myer sought the assistance of Checkpoint Systems, an end-to-end solutions provider in loss prevention and merchandise visibility, to implement an RFID proof of concept. The pilot involved applying RFID labels to all of the electronics brand's merchandise in the Melbourne store once it arrived securely from the distribution center and had been checked off against the manifest (ruling out any inventory inaccuracies from the supply chain).
Each item was then encoded by scanning the UPC barcode followed by the RFID barcode to ensure the stock was uniquely encoded into the Myer inventory. The merchandise was then placed in a secure reserve ready for selling. Once an item was sold and moved from the reserve, it was then retired from the inventory system using an auto retirement RFID reader, which communicates with the Checkpoint Systems software.
Stock count scans were conducted in the secure reserves every morning and at close of business daily. When discrepancies were identified, a manual reconciliation was performed.
While Stones says team member training on the technology was relatively easy, the biggest challenge for Myer in implementing the tech was maintaining the consistency in ensuring daily stock counts and actioning inventory anomaly investigations were conducted in a timely manner.
However, the RFID program resulted in significant improvement to profitability for the category. This was seen in labor cost savings through reduced stock count times from 2.5 hours per day to 15 minutes and an 80% reduction in shrinkage. In addition, daily inventory accuracy and fulfillment pick accuracy were close to 100%. 
Myer now has nine separate RFID installations across its network and has demonstrated that, with a little forward thinking and planning, inventory visibility and accuracy does not need to be a laborious task.
"Across all installations we have seen improved sales results, improved fulfillment pick success, a reduction in shrinkage expense, a reduction in stock take labor costs and an ability to have inventory accuracy of 100%," says Stones. "We have plans to continue to invest in RFID technology and we are in the process of finalizing our inventory accuracy/RFID plan for 2019."