07/01/2019
Nike Jumps Feet First Into New Retail Tech
Nike invested over $1 billion in its fiscal 2019, including significant investment in its mobile apps, new store concepts leveraging digital, its NIKE Plus membership platform, and enterprise-wide data and analytics capabilities. But the leap is paying off.
The athletic retailer's digital revenue grew 35% overall in the year, the company reported, and "we're just getting started," CEO Mark Parker proclaimed during the company's earnings call.
Digital commerce is on track to comprise at least 30% of Nike's business by 2023 and long-term Parker said he sees digital driving the majority of the retailer's business.
"Speed remains an incredible opportunity, and we're well on our way towards cutting our product creation cycle in half and we're investing in responsive manufacturing, connected inventory and optimizing data to capitalize on real-time consumer demand," Parker noted.
Nike Mobile Apps
Currently, Nike apps are driving online growth for the athletic retailer, especially the Nike SNKRS app, a shoe-release app that facilitates shoe "drops." For the fiscal year, the app more than doubled its business, doubled its number of monthly active users, and now accounts for roughly 20% of Nike's overall digital business.
"The sneakers app has become an incredible asset to our brand, with users checking in daily, and has acquired more new members than any other digital channel for NIKE," Parker noted.
The app has accelerated from less than $70 million in revenue in fiscal 2016 to an annual run rate of over $750 million based on Q4 fiscal year 2019 performance.
The NIKE app, the retailer's comprehensive one-stop-shop for NIKE products, saw triple digit revenue growth in the retailer's fourth quarter 2019 in North America. Going forward, Nike plans to roll out the app in China and in 13 new markets in Europe, the Middle East and Africa (EMEA) in the first half of its fiscal year 2020.
"This will be an incredible addition to our business through a potential pool of hundreds of millions of new members," said Parker. "The digital opportunity alone is tremendous. But just as promising is how digital and physical environments are intersecting and amplify each other."
To this end, Nike has been rolling out its Nike App at Retail, live in over 30 store across the U.S., the UK and France, and plans to continue to scale it throughout the next year. The app links features of the NIKE app to physical retail experiences.
"A few of the insights that we gained in our early pilots are that physical retail can be an exponential driver of membership," revealed Parker. "Product scans in-store often fuel online purchases later. And in-store exclusive offers through mobile tend to drive higher conversion rates and outsized spending."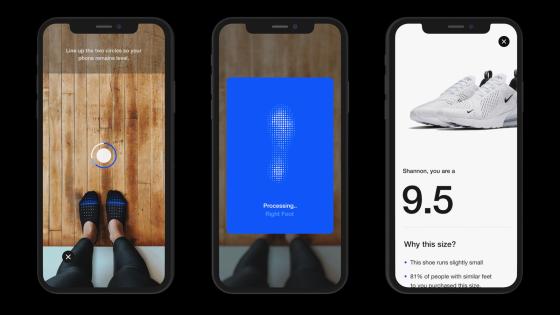 NIKE Fit retail technology
Another way Nike plans to boost its physical and digital connection is with its new NIKE Fit technology, which the retailer plans to roll out in the U.S. and EMEA in late 2019.
NIKE Fit technology scans a shoppers' foot either through a smartphone camera, or through an in-store experience. The solution uses a proprietary combination of computer vision, data science, machine learning, artificial intelligence and recommendation algorithms. Once it launches, when a shopper is within the Nike app there will be a new option that asks if they'd like to try Nike Fit. Nike Fit will scan shoppers' feet, collecting 13 data points, and then the size can be stored in their NikePlus member profile. In stores the experience leverages a specially developed Nike Fit mat and allows store employees to help recommend the best fit.
"We believe a more accurate understanding of a consumer size will not only minimize returns, reduce costs and drive healthier growth, the insights we gain will also improve the way NIKE designs and manufactures product," said Parker.  
Nike is also making a "significant investment" in its manufacturing capabilities with an additional NIKE Air manufacturing center in the U.S. this summer, as the demand is currently outpacing supply, according to Parker.
RFID Rollout
Nike began rolling out RFID capabilities in Q1, placing RFID in nearly all NIKE footwear and apparel products. The tech gives Nike the most complete view of its inventory that it's have ever had.
"It's quickly becoming the most precise tool in our arsenal to meet an individual consumer specific need at the exact right moment," explained Parker. "We will go live with this capability in Q1 across 20 NIKE Direct stores and then continue to scale across the fleet."
"A smarter use of data is also providing even more value to our most engaged NIKE consumers," Parker continued.
The tech allows Nike to leverage member insights to determine which products to scale.
"I think this will help us create the capability to grow profitably across the breadth of the portfolio and ultimately, again it's putting ourselves in position to serve consumers in a way that gets them the product that they need when they want it and where they want it," said Parker.