09/11/2017
Nordstrom's Latest Concept is a Store Without Inventory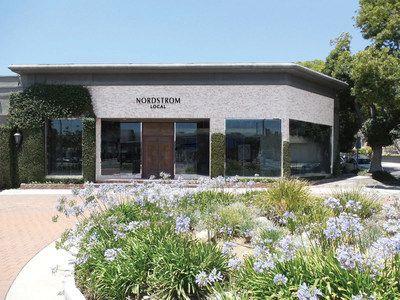 At Nordstrom's new tiny store in Los Angeles, customers will be able to enjoy a glass wine, but they won't be browsing the aisles. The fashion retailer's new 3,000-square-foot Nordstrom Local store has no dedicated inventory, but packs plenty of experiences.
The retail concept store will be a "neighborhood hub" where customers can access Nordstrom services, such as personal stylists who can transfer merchandise in for customers. Shoppers can also get alterations, a manicure, or just have online orders hand-delivered to their cars.
While the store won't house merchandise, Nordstrom's Buy Online, Pick-Up In-Store (BOPIS) service will be available for pick up on the same day for Nordstrom.com orders placed before 2 p.m. BOPIS orders and alterations made in the store can be hand-delivered to a customer's car via Nordstrom Local's Curbside Pickup. In 2016, the company had a BOPIS store sales volume of 45%.
Alterations and purchases made through Nordstrom Local can also be delivered directly to a customer's home on the same day if ordered by 2 p.m. Customers will also be able to make returns at Nordstrom Local from Nordstrom stores, Nordstrom.com and Trunk Club.
"We know there are more and more demands on a customer's time and we wanted to offer our best services in a convenient location to meet their shopping needs," said Shea Jensen, Nordstrom senior vice president of customer experience who led the Nordstrom Local initiative. "Finding new ways to engage with customers on their terms is more important to us now than ever."
Nordstrom has been testing new ways to engage customers in its regular stores as well. Part of its rollouts this year include the expansion of Nordstrom's "reserve online & try in store" service. The retailer plans to offer this feature in roughly 50 stores by the end of the year and announced currently it is expanding the service to four stores in the Chicago market, up from six in the Seattle area.
"Customers like having more ability to shop on their terms," said James F. Nordstrom, president of stores,  in August. "The store plays a huge role in that, and they're really important. And they're going to be the hub of a lot of the things that we do over time, which is why we want to continue investing in our most important markets."
Nordstrom Local could be seen as the redefining of the brick-and-mortar version of this department store. When it opens shop in West Hollywood on October 3, the store will have one styling suite and eight dressing rooms surrounding a central meeting space where customers can sit comfortably, enjoy a glass of wine or beer, and chat with their personal stylists.
A Nordstrom personal stylist can help customers with fashion advice, finding a gift or developing a whole new wardrobe. Stylists and salespeople have a new digital tool, Nordstrom Style Boards, which allow them to create digital boards filled with personalized fashion recommendations, like a summer vacation or wedding, which customers can view on their phone and purchase directly through Nordstrom.com.
Customers can make an appointment with a stylist online, over the phone or in-person. They can also get advice of a stylist by having a conversation with them through the app.
Additionally, on-site tailors at Nordstrom Local will alter any garment from jeans to a suit. Trunk Club & Trunk Club Custom services will provide another location for customers to meet a Trunk Club Stylist or pick up or return a trunk. Tailors will help customers create a Trunk Club Custom garment.
The tiny shop will also off eight different manicure services to help customers complete their looks.
And of course there will be drinks throughout any of these services, as Nordstrom Local will serve a full beverage menu including California-sourced beer and wine, cold-pressed juices from Pressed Juicery, and handcrafted espresso drinks from Nordstrom Ebar.
Nordstrom Local is located at 8401 Melrose Place, Los Angeles, CA.