08/08/2018
Office Depot's Transformation Pays Off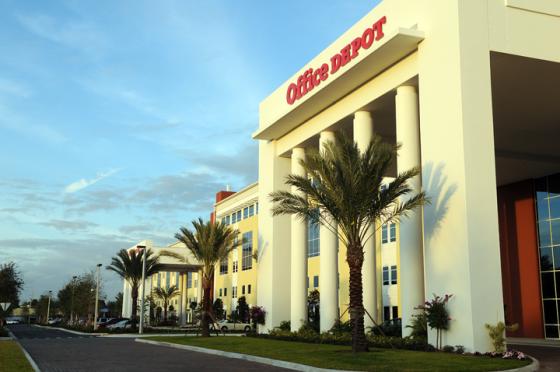 Office Depot has been undergoing a transformation. The retailer is working to reposition itself from an office products retailer to a provider of both product and services. Now it seems that move is paying off. Tech services helped to push the retailer's second-quarter 2018 revenue and profits beyond Wall Street expectations and services now represent more than 16% of total company revenue.  
Office Depot shares soared over 13.5% on Tuesday, after the company reported better-than-expected earnings per share and revenue for its second quarter. Total sales in the second quarter were $2.6 billion, up 11% versus the prior year. 
Notably, product sales were up 1% in the quarter, while service revenues spiked 120%, driven primarily by revenues contributed by the retailer's CompuCom acquisition. Service revenue excluding CompuCom grew 8% in the second quarter.
"The CompuCom acquisition was an important first step in our transformation," said CEO Gerry Smith. "But our focus on creating a powerful omnichannel business service company extends across the entire enterprise, as we seek to build broader, deeper and more sustainable relationships with our customers."
Office Depot has been busy attaching services wherever possible to its products, including in-store and in-home set up and installation services using CompuCom service technicians. The retailer has also created a number of bundles that include hardware, software and services. Additionally, Office Depot has been scaling its tech services to be more relevant to SMBs, including the launch of device managed service contracts for small business and a recently launched IT-as-a-service offering for businesses from 1 to 250 employees.
"This offer is perfect for customers who need an IT advisor and want to optimize IT spend with centralized support," said Smith. "Importantly, it is built around a monthly per user subscription model. We are continuing to deploy tech services across the retail chain and have devised managed service contracts live in all of our retail stores, as well as online, and we are continuing to develop additional new service offerings to address unique needs of SMB customers. A great example is a tech dispatch and in-home installation services that we now offer to set up your device at your home or your office."
However, Smith noted the company's brick and mortar retail footprint is still a very important component of Office Depot's omnichannel platform, providing the retailer a key asset that differentiates it from online or distribution only competitors. Its buy-online-pickup-in-store (BOPIS) sales are growing at almost 30% year-over-year.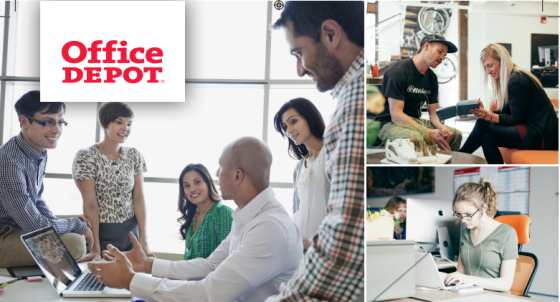 Now it's evaluating other innovative ways to use the store footprint. This includes piloting a shared workspace at the new Los Gatos, CA, store (15166 Los Gatos Blvd).  In partnership with Proximity, Office Depot has introduced Workonomy Hub, a new coworking space with rates ranging from 40$ for daily drop-ins or lowest level membership, to $750 a month for private offices. Perks for users include super-fast Internet; free refreshments;  App-based space booking and access to other Proximity locations; business services including printing, shipping and tech support available; mail and package handling available; and of course, easy access to office supplies.
In addition to sales, the retailer is seeing other metrics of success, such as increased downloads of its mobile app and an increase in the number of omnichannel and business customers. Here are the ways the Office Depot is  driving its success:
Marketing 
Office Depot is using more localized marketing and advertising campaigns to connect with communities. It also has used Spanish language marketing programs to engage with multicultural customers for the first time.
Associate Training
The retailer hosted its first ever Depot Days training event. It had more than 20,000 associates participate in two hours of dedicated training, while the stores were closed. The session focused on engaging with customers, various selling techniques, and training around new service and subscription offerings.
"The program was a huge success and we are already seeing improvements of our retail customer satisfaction levels," noted Smith. "We are planning to run additional training sessions each quarter going forward to continue to build customer-focused selling culture in the stores."
Expanded Omnichannel Offerings and Capabilities
Office Depot is working to offer customers the same assortment online, as well as the inner stores, with the option to have orders delivered or use BOPIS. The retailer has also added an enhanced school list functionality with thousands of school lists available that can be added to a virtual shopping cart with a single click.
Social Partnerships
A National PTA sponsorship allows Office Depot access to their 3.5 million members. Disney's Sabrina Carpenter will be posting Office Depot messages across her social media platform including to over 14 million Instagram followers.
Investments in Stores

 
Office Depot has been putting investments into store infrastructure to make it a better experience, such as new Internet and lighting. The retailer has also refocused on "putting the customer first" and making sure it really understand the customers who walk into the store and "not only sell them products, but sell them services as well."