Online Ordering Drives Kroger's Digital Sales Up 126%
Get great content like this right in your inbox.
Subscribe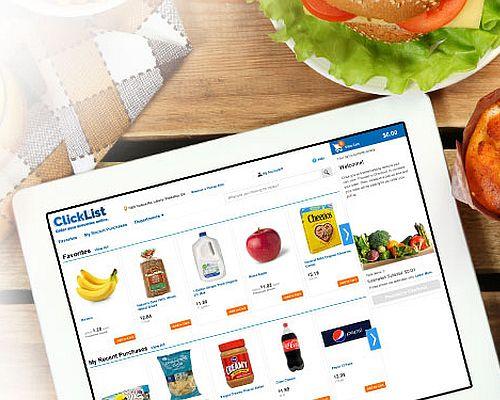 Kroger's digital revenue was up 126% in its second quarter 2017 and the grocery retailer attributes the spike to ClickList, its online grocery ordering service. 
"There is no doubt that ClickList is a headwind on earnings currently," said CEO Rodney McMullen. "And we've even continued to accelerate the speed in which we put ClickList in, so, it's incremental headwind."
Launched in 2016, Clicklist allows customers to shop over 70,000 items online (up from 40,000) from its banners and have the order delivered to their homes or placed for pickup. The service is available at more than 813 locations and the grocer plans to bump that up to more than 1,000 locations by the end of the year. However, Kroger has not yet made ClickList available on its Mobile App.
For pickup, shoppers pull up to a ClickList pickup area at a pre-scheduled time and an associate loads groceries into the car. This means no getting out of the car, which can be a game-changer for parents of small children. For delivery, Kroger has partnered with third-party delivery services to deliver orders right to shoppers' doors.
"It's incredibly easy to develop a shopping list with us," said McMullen, thanks to the work Kroger's teams have done working with 84.51°, its customer analytics arm. "We do a lot of work on predicting what your shopping list will be, to make it really easy to do. Our success on ClickList is very consistent across the country. You don't see one place where it's 1% and somewhere else it's a 100% variance of success."
Data analytics are fully integrated in Kroger's business. 84.51° helps the grocer make merchandising, operations and marketing decisions. According to Kroger, in the last year it has made more than 3 billion personalized recommendations to customers through product offers, promotions, recipes and more.
Kroger has more than 25 million digital customer accounts across all of its digital outlets. 
"Across Kroger, we know our customers better than anyone," said McMullen.
Kroger also recently launched a new "My Recipes" feature on Kroger.com that provides customers a personalized selection of suggested recipes. The recipes offer meal ideas based on individual purchase behavior.
"While online recipes are not new, serving them up on a personalized recipe for your family is," said McMullen. "Personalized recipes are just one example on how we are bringing the combination of food and data together to create new and highly-relevant customer experiences, especially through digital and e-commerce."
The retailer also said it's testing various home delivery models with companies like Uber and Shipt, as well as on its own, in more than 150 stores.
"Our digital efforts are all about making things easier for our customers and providing personal, affordable and exclusive options that fit their needs," noted McMullen.