08/23/2018
Photo Tour: L'Occitane Taps Retail Tech for New Experiential Concept Store
L'Occitane's new experiential concept store is pushing the boundaries of the customer experience, and using retail technology to do it.
The natural cosmetics retailer has opened an 1,870-sq-ft L'Occitane en Provence concept store on New York City's prestigious Fifth Avenue.  The retail shop aims to attract new customers, encourage engagement and produce user-generated content for social media.
A range of interactive customer touchpoints, such as the retailer's first virtual reality (VR) experience, set out to engage in-store shoppers. The VR experience takes users on a hot air balloon ride over the lavender fields of Provence, France with interactive elements to transport them to the region, such as a relaxing hand massage. Shoppers can also pose for an in-store bike experience through a local village or engrave mementos.
"555 5th Avenue is an immersive destination unlike any other, filled with endless discoveries of the spirit and beauty of Provence," said Paul Blackburn VP Concept Design, Construction and Merchandising, North America. "From eye-catching art form installations to integrated lifestyle products and enhanced fulfilment services, the ambiance and atmosphere will change throughout the life of the store with the goal to captivate the consumer's attention, encourage engagement, and produce user-generated content for social media buzz."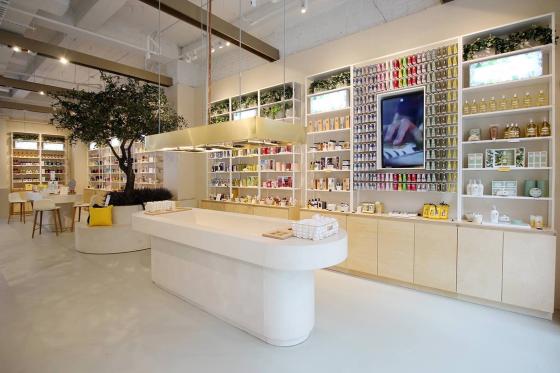 On the merchandising side there are many ways the concept store seeks to engage shoppers. They can test and play with products beneath a shower of water from an illuminated canopy above, via the store's rain-shower sink.  There is also a technologically advanced interactive skincare consultation area and an enhanced fulfilment services counter available.
"Customers will be able to explore the L'Occitane brand history and signature products through ever-changing and immersive installations that echo the Provencal art de vivre and rich story-telling moments," said Christina Polychroni regional chief marketing and e-commerce officer North America. "Each customer's experience is intended to be unique and we are excited to launch this interactive boutique. From refreshing treats and hydration stations to a photo-ready bike scene, guests are invited to cool down from the rising temperatures and enjoy a taste of Provence this summer."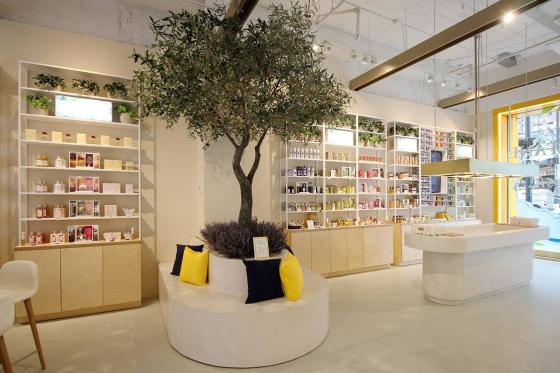 The concept store will be an evolutive space that will continuously change and highlight seasonal campaigns inspired by the Provençal lifestyle, ingredient stories, environmental and philanthropic commitments like the retailer's recycling partnership with Terracycle, and significant product launches. Later this year, the store will transform into an immersive holiday shopping experience with a focus on L'OCCITANE's commitments and exclusive Holiday collection.
The beauty retailer has found that in today's digital world, customers rarely enter a L'Occitane store purely out of "need;" they expect to be pampered and entertained and want to indulge in the experience. To adapt to differing consumer preferences across the world, L'Occitane has adopted a "glocal" approach and is developing creative experiences tailored for local clientele. Recent examples include new flagships and concept destinations in Brazil, Paris, London, China, Singapore and Toronto.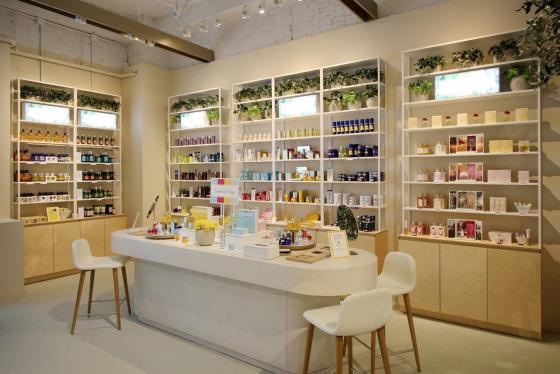 The new flagship at Yorkdale Mall in Toronto features a unique pair of suspended digital capsules that enable visitors to see, hear, touch and smell the flavors of Provence through a fully immersive digital experience. At the concept store on the Champs-Élysées, France, thanks to a partnership between L'Occitane and award-winning French pastry chef Pierre Hermé, customers can savor a dessert or macaroon inspired by L'Occitane ingredients while sitting around a stylish central bar. The new flagship on Regent Street in London offers personalized product engraving, complimentary hand and arm massages and beauty consultations in private rooms, as well as an in-store café offering limited edition Pierre Hermé macaroons.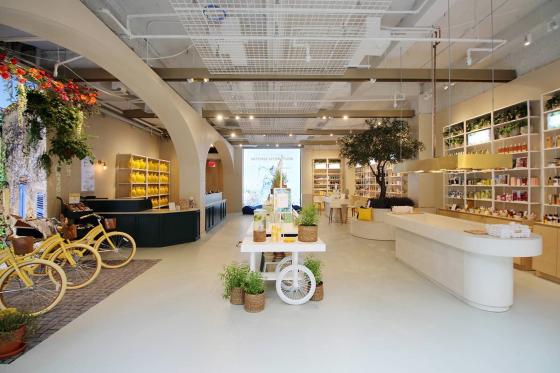 In China, L'Occitane's fastest growing market last year, store assistants are demonstrating how to wrap gifts and filming the experience so that customers can post the content on social media. In Brazil, a "Casa Brasileira" style has been created to reflect the authentic and welcoming spirit found in a typical Brazilian home.  
The retailer has also launched a pop-up café concept in Singapore and the L'OcciTruck in North America, the retailer's first travelling shop experience.