Photo Tour: RH Revolutionizes the Retail Experience with Stunning New York Flagship
Get great content like this right in your inbox.
Subscribe
RH, formerly Restoration Hardware, opened a six-level retail experience in New York City this month, complete with a rooftop restaurant, wine terrace, and interior design firm.
The 90,000-square-foot store, RH New York, The Gallery, is located in New York's Meatpacking District at the intersection of Little West 12th Street, Ninth Avenue and Gansevoort Street. Originally owned by John Jacob Astor in the late 19th century, this historic landmark building has been reimagined with a modern steel-and-glass structure rising five floors through the meticulously preserved original brick façade, with cast-iron I-beams evoking the neighborhood's industrial past.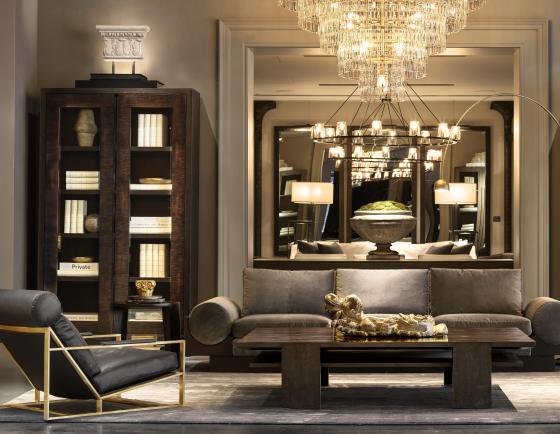 "The Meatpacking District exhibits a spirit of innovation and irreverence, pointing New York City towards the future while respecting the integrity and authenticity of its past," noted RH chairman & CEO Gary Friedman. "We were inspired by that spirit to create a retail experience worthy of such an iconic corner in what is arguably the most important city in the world."
The store integrates all of RH's businesses – with entire floors dedicated to RH Interiors, Modern,Outdoor, Baby & Child, TEEN and Interior Design.
Additionally, RH is imbedding an Interior Design Firm into its retail experience for the first time. As guests step onto the second floor, they will see RH Interior Design offices, as well as five private client presentation rooms with discreet VIP entrances and state-of-the-art technology. The glass-encased RH Interior Design presentation rooms are each wired with Apple TVs and top of the line LG OLED monitors, allowing for a wireless and paperless design presentation experience for clients. Each presentation room also has its own sound system allowing designers to control each room individually to the client's specifications. The RH Interior Design Studio is fully integrated with Apple computers, MacBook Pros and AutoCAD.
The location also includes a Rooftop Restaurant & Wine Terrace as well as a Barista Bar by restaurateur and founding president of RH Hospitality, Brendan Sodikoff.
Upon entering, shoppers will find a skylit six-story central atrium with stacked cast-iron columns and a transparent elevator that lifts visitors up to the glass-encased Rooftop Restaurant and outdoor Park & Wine Terrace. The year-round, skylit restaurant offers Sodikoff's seasonal, ingredient-driven menu in a space layered with crystal chandeliers, Asiatic jasmine, elegant banquette seating defined by Japanese boxwood hedging, and London plane trees. Seamlessly extending from indoors to out, the restaurant opens onto the landscaped Park & Wine Terrace, framing views of downtown Manhattan, One World Trade Center and the Hudson River. The Park & Wine Terrace features a series of garden rooms with overhead canopies, sculptural evergreens and trickling fountains.
Situated just off the atrium on level three, the Barista Bar serves craft espresso, house-made pastries, and curated wines to enjoy on the adjacent outdoor terrace or while exploring the gallery.
To reach the upper levels, visitors can also ascend a grand double staircase illuminated by a spectacular art installation, New York Night, by Alison Berger. Composed of 120 hand-blown crystal teardrop pendants cascading 90 feet through the six-story staircase, the piece evokes a downpour at nightfall, set against a backdrop of polished charcoal Venetian plaster.
"There have been select moments in my life and hospitality career that redefine my belief of what's possible," said Sodikoff. "New York City was built by people who had outlandish dreams and the determination to realize them. I'm grateful to be part of one of those dreams with the opening of RH New York.
Sodikoff is also the founder, CEO and creative director of Hogsalt Hospitality, a rapidly growing Chicago-based restaurant group spanning 14 concepts and 15 locations. Hogsalt's portfolio includes nationally acclaimed establishments Au Cheval, Bavette's, Gilt Bar and Doughnut Vault in Chicago, as well as his first restaurant in New York – 4 Charles Prime Rib, a supper club in the West Village.