04/19/2019
Pier 1 Explains What Went Wrong and Considers Closing Stores After Disappointing Sales
Pier 1's Sales Results
Pier 1's net sales fell 19.5% to $412.5 million in its fourth quarter. Same-store sales decreased 13.7% compared to the 13-week period of fiscal 2018.
Net sales for the fiscal year fell 13.7% to $1.6 billion. Same-store sales decreased 11.0%.
Pier 1 debuted its fiscal 2020 action plan and said it may close up to 15% of its stores if certain targets are not met, as the struggling home décor retailer trys to right the ship.
Going forward, Pier 1 said it's considering closing up to 45 locations in fiscal 2020 as leases expire and will be seeking occupancy cost reductions. The store closure number could rise to up to 15% of its portfolio if Pier 1 misses performance goals, sales targets, and reductions in occupancy costs. It closed out its fiscal year 2019 with 973 stores, down 30 from last year. 
"As anticipated, our fourth quarter sales and profitability were disappointing and reflect the execution issues we identified earlier in the year and have been working with urgency to correct," noted Interim CEO Cheryl Bachelder.
Bachelder has been tasked with trying to course correct Pier 1's strategy since she came on as interim CEO late last year, after the sudden departure of Alasdair James in December.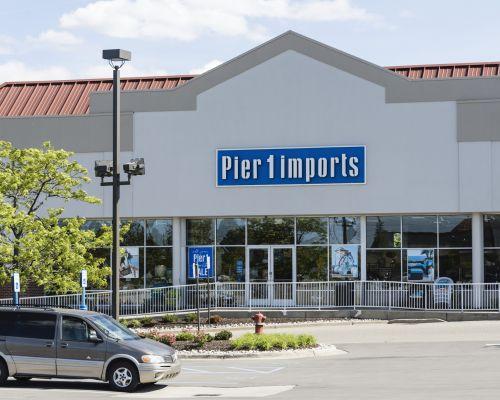 "During my initial weeks here, we fully assessed the issues at hand and went through an intense analysis to pinpoint what went wrong and understand what we needed to do in the immediate term to get back on track," she shared on the company's earnings call. "There were some key findings from our work that gave us conviction that Pier 1 can prosper once again."
Bachelder was candid on reveling the company's findings, noting its analysis of the business confirmed its wounds were "predominantly self-inflicted."
"Decision-making of our critical areas of the business was poor, and costs were not managed to match the performance," she said. "We also lost focus on our core customer. These are things within our power to correct. In fact, our core customer continued to shop our stores in the second half of last year, but we didn't have the Pier 1 treasures that she came for."
Bachelder noted their discovery that that core customer is continuing to shop was aided by CRM analysis and she claimed that in August customers will see a "discernible improvement in the mix, quality and style" of merchandise.
Pier 1 is also taking action around the store experience and marketing.
"In developing our spring merchandising, we emphasized design details and color stories to ensure we deliver a more sensory experience that inspires our customers," she noted.
Additionally, the company engaged consultants to help Pier 1 look at its business holistically and reengineer processes.
"They have helped us identify top line growth and margin improvement opportunities, ways to strengthen the composition of our inventory and multiple areas where we can reduce cost," she said. "Importantly, they're helping us execute more quickly as we focus on turning the business, while also building the internal capabilities for the future."
A changing team
Pier 1 also announced it has named Deborah Rieger-Paganis as interim CFO, effective immediately. Her appointment follows the abrupt departure of Nancy Walsh, who has served in the role for nearly 15 months.
"Since December, we've assembled a strong group of senior leaders to accomplish our goal, and Deb's addition as interim CFO rounds out this team," Bachelder said. "Our new chief customer officer, Donna Colaco, is driving a bold new view of our brand, merchandise and marketing. William Savage is challenging our sourcing and supply chain to become a strong competency for the future. And our new CIO, Lance Wills, is crafting our customer-facing capability that builds relationship and loyalty with our customer."
Pier 1's 2020 action plan
The company has set forth a 2020 action plan, designed to reset Pier 1's operating model and rebuild its business for the future, Bachelder said. It focuses on improving five areas: revenue and margins, marketing and promotional effectiveness, sourcing and supply chain, cost cutting and store optimization.
As part of its cost cutting, the retailer said it is eliminating nonessential spend in IT, store operations, supply chain, facilities management and human resources.
The plan is expected to deliver benefits of approximately $100 million to $110 million in fiscal 2020 by resetting the company's gross margin and its cost structure. Pier 1 will then reinvest a portion of these savings to reset its assortment strategy, build core capabilities and drive long-term efficiencies.
"We are continuing to focus on opportunities and initiatives to help drive incremental benefits in the coming years, creating the runway to return our brand to long-term health and sustainable financial performance," said Bachelder. "I am pleased to see our teams executing against our new action plan with urgency and believe our customer will return to a revitalized Pier 1 this fall."