Powering Omnichannel Flow Through Distributed Order Management
Get great content like this right in your inbox.
Subscribe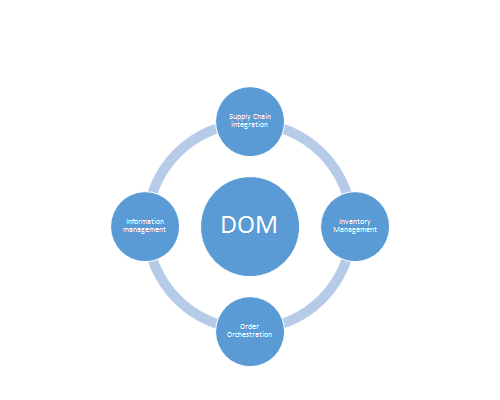 In a fully functional and efficient omnichannel flow, the customer should have complete leverage on every facet of an order, individually and across all channels, and should promote enhanced and uniform customer engagement across channels.
To build such an ecosystem, the solution should be transparent, robust and flexible. Seamless integration of product flow, monetary flow and information flow are the building blocks to creating a seamless end-to-end experience for customers.
Product Flow
Product flow in an omnichannel environment means all channels are available for the customer to place orders, take deliveries and return products. This includes direct store purchases, store pickups, home delivery, store returns, return pickup, mail returns to store and digital sales channels. This requires:
End-to-end transaction visibility of the supply chain, including complete control on procure-to-pay and order-to-cash cycles

Transparent inventory management at order level where order with seamless traceability

Centralized inventory control in all Distribution centers and stores where inventory decisions can be made

Traceability for returns, including product details, order details and mode of return
Monetary Flow
Similar to the varied channels available for product flow, monetary flow also has multiple ways in which payment can be done by the customer, including cash-on-delivery, in-store, e-coupons and gift cards, card payment and other third party payment enablers such as Paypal. Monetary flow also provides options for refunds, including credit to the original mode of payment, credit to a preferred account, coupons and gift cards for future redemption and cash refund by a representative. This requires:
Payment mode capture and traceability at order level

Dynamic and real-time payment updates

Robust and accurate accounting in a common system of truth

Return payment transaction and order traceability
Information Flow
Information flow requires integration of all applications and IT solutions in the ecosystem. Complete visibility of the information flow is the most necessary element for seamless integration of the other two flows. Archiving of order, payment and returns information leads to proper analytics and accurate forecasting, helping to improve operational efficiencies and minimize risks.
How Distributed Order Management Systems Help Build Omnichannel Ecosystems
The distributed order management system (DOM) aids in managing and optimizing the flow of each individual order through by mapping each process. As such, DOM acts as a hub for a complete view of each order lifecycle, providing one common view for:
The compete order for placement, mode of delivery and returns

The Procure-to-pay and order-to-cash cycle for an organization

Transparent and organization-wide inventory visibility and management

Archived transaction information for analytics and strategic decision making across the business processes
Orienting business processes to a DOM system and configuring it to drive flexible cross-channel fulfillment leads to a fully functional and efficient omnichannel ecosystem while enabling enhanced consumer engagement and experience uniformly across all channels.
By Santosh Kumar Padmanabhan, Consultant, Value Chain Practice, Consumer Goods; and Manish Murthy, Senior Consultant, Consumer Goods, Domain Consulting Group, Wipro Limited.