Ray-Ban Shows Off Smart Table
Gone are the days of RFID technology being used solely as a tool for back of house retail tracking. The technology has emerged in creating engaging user experiences from smart mirrors to digital changing rooms, and now interactive eye-wear tables with Ray-Ban's reveal of the Ray-Ban Smart Table.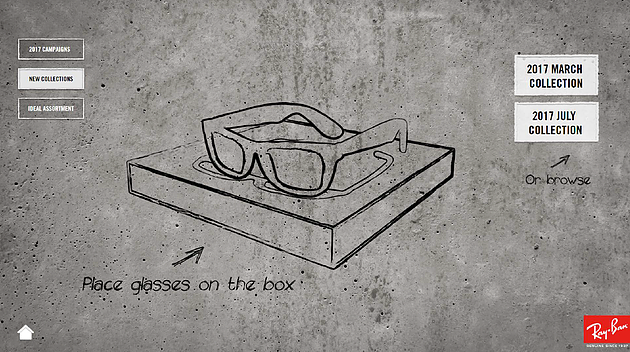 Equipped with RFID technology and touch screen displays, the smart table allows visitors to place any of Ray-Ban's new glasses onto the table, and see product information for that pair of glasses appear on screen. Each pair of glasses is equipped with an RFID chip that triggers personalized content when brought in range of the table.
Ray-Ban and Float Hybrid unveiled the new technology at this year's Vision Expo East in New York City. The RFID tables featured at the Expo were also equipped with touch screen displays so that visitors could learn more about the different Ray-Ban campaigns and new product launches. An ideal assortment feature allowed retailers to view their recommended Ray-Ban products and Planograms based on attributes like door size and eye-wear type. Retailers could select their door size and type and the display would automatically communicate the recommended Ray-Ban products and optimal on shelf assortment.
The experience was tailored to a trade show environment and conference attendees, but it begs the question of when this technology will be introduced in retail stores. By combining touch screen displays with RFID technology, brands can empower consumers to learn more about the products that are in store, while also having access to the endless aisle.
Understanding that consumers are increasingly purchasing online after going to stores to touch, see and try on products in person, retailers will need to leverage in-store technology to keep consumers throughout the full path to purchase. This means that retailers must focus on two simultaneous challenges, creating the optimal showroom experience in store, and optimizing the online ordering process for their consumers. Combining RFID technology with touch screen displays has the potential to solve both challenges with one comprehensive solution.