02/27/2019
Retail Renaissance: Who's Getting It Right?
The retail renaissance is well underway. Disruption of traditional retail business models has given way to transformative online and offline change ― redefining the customer experience. Retailers that manage to navigate mercurial consumer demands and evolving retail technology, and can seamlessly integrate digital into the store will benefit from the industry's metamorphosis ― coming out stronger and more profitable on the other side.
In fact, retail sales during 2019 are forecast to increase between 3.8%-4.4% to more than $3.8 trillion, despite threats from an ongoing trade war, the volatile stock market and the effects of the government shutdown, according to The National Retail Federation (NRF).
However, store count growth for 2019 is expected to be somewhat subdued compared to last year. New store openings are expected to grow 4.2% in 2019, a drop compared to last year's 5.6% growth figure, according to RIS' "16th Annual Store Experience Study 2019." The store footprint retailers do maintain in 2019 will hopefully be strengthened by retailers' plans to increase their overall IT budgets by 5.2% in the year. When breaking out spending on store technologies we find retailers expect these budgets to rise by 5.4%.
As BJ's Wholesale Club Chairman, president and CEO Chris Baldwin noted when opening The Big Show 2019, it would be great to say that retail is back, but that would be wrong.
"Retail never went away," declared Baldwin. "I can say that our industry is more healthy, vibrant, innovative and exciting than ever."
True, some retailers posted stellar performances last year. In December, lululemon reported total revenue up 21% in Q3 2018, while Nike revenues grew 10% in Q2 2019 and Costco reported net sales for Q1 2019 rose 10.3% over the comparable quarter the year before.
These retailers and others enjoying success today took aggressive steps to adjust to fierce competitive pressures and leap ahead of the marketplace. Years ago when the industry was debating what omnichannel or unified commerce meant, they were implementing it. And today they are reaping the rewards.
And they did one more thing ― they took risks and invested in innovative projects that had no proven path to success until they tested and launched them ― magic mirrors, same-day delivery, mass customization, hyper-local assortments, one-to-one personalization, cashierless stores and more.
In the midst of the retail renaissance, we took a look at five retailers who are taking risks today and launching innovative store concepts and customer experiences. These are the retailers forging a path and transforming retail.

NIKE: THE GROUNDBREAKER
 "We're leading the industry through a retail revolution," Mark Parker, Nike's chairman, president and CEO declared last December.  
The statement is justified. Just one example of the footwear and apparel retailer's many recent ground-breaking moves includes the opening up its new House of Innovation concept in both Shanghai and New York in November 2018.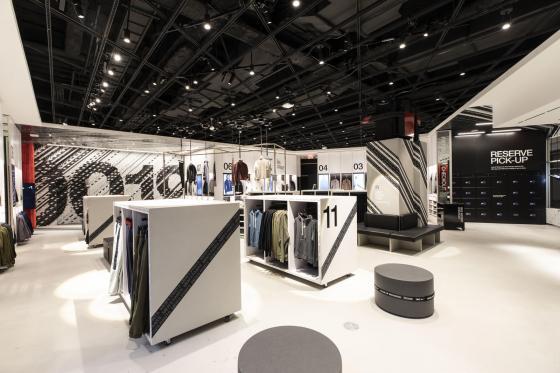 "Both stores create the most personal and responsive retail environment in the industry," explained Parker. "It's a digital experience brought to life in a physical space."
The New York City flagship resides in a 68,000-sq-ft space expanding across six stories and, once inside, the Nike App provides shoppers experiential choices through their smart device. Shoppers can Shop The Look, by scanning a code on an in-store mannequin, which allows them to browse every item displayed on the model, check to see if specific sizes are available in-store and then request the items be sent to a fitting room.
Nike Instant Checkout allows shoppers to scan and pay for purchases from within the Nike App skipping the checkout line. Instant Checkout stations are positioned throughout the store so shoppers can bag and go quickly.
The store also houses the Nike Speed Shop, an entire floor that uses local data to stock its shelves, and re-stock them based on what the community wants. While the Speed Shop is on a grander scale, the Nike Live concept launched last summer, when the footwear and apparel retailer opened Nike by Melrose; the data-driven store's inventory assortment is influenced by what consumers are buying from surrounding zip codes.
The "local" concept is one example of Nike using digital demand sensing to leverage its intuition by amplifying it with real data to discover consumer preferences.
"It is truly an end-to-end initiative at Nike," noted CFO Andy Campion. "It starts with consumer data and analysis around consumer data. And I'd say, that is manifesting itself right now already and most importantly, in terms of digital demand sensing."
Throughout fiscal 2019, Nike says it will invest significantly in the "organic development" of new capabilities, including digital demand sensing, consumer data and analytics, connected inventory, digital product design and creation, a digital content engine and a new enterprise resource platform that will help unlock speed and flexibility in its supply chain.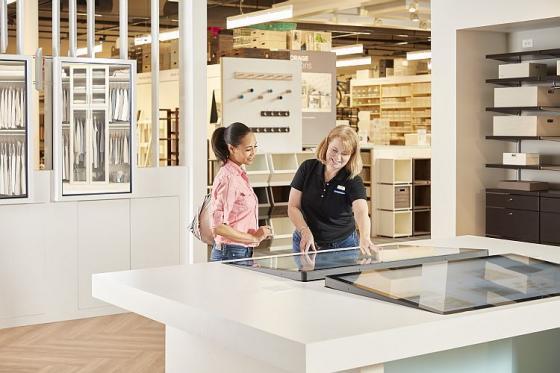 The Container Store

: Marrying

Online to the Store
Storage and organization retailer The Container Store has reimagined its flagship store in Dallas, revealing proprietary digital resources that make it easier for customers to accomplish their organization projects. The retailer's new concept serves as a test and learn environment to help it determine elements for eventual rollout to new and existing locations.
"The next gen store plays a key role in bringing our purpose to life and continuing to cultivate meaningful relationships with our customers," said Melissa Collins, CMO, The Container Store.
The technology components in the store were finalized after many rounds of customer testing, which showed that customers' biggest hurdle in beginning a project was feeling overwhelmed. The store features 18 digital screens supporting customers as they shop, featuring everything from inspiration and tips, to an interactive design tool and a new proprietary digital experience called The Organization Studio. The tech allows customers to upload a photo or video of their organizational challenge online, describe the challenge, and set an in-store appointment to meet with a store organization expert, who will then present the personalized solution they develop for the customer free of charge.
"We know that countless retailers are building digital tools and using them to innovate the shopping experience, but combining the human element with technology is when things really get powerful," said Val Richardson, vice president of real estate, The Container Store. "The organization studio offers the convenience of an online experience and marries it with a personalized in-store engagement that offers a curated solution created by a real person."
NORDSTROM: THE INVENTORY-LESS STORE
Nordstrom introduced its Nordstrom Local concept a year and a half ago, and doubled down on the initiative in late 2018 with two new locations in the Los Angeles market.
These neighborhood hubs offer customers the opportunity to shop and access Nordstrom services in a convenient, central location, but they don't house inventory on site (personal stylists can have merchandise shipped to the store). The opening of the two additional locations is part of Nordstrom's local market strategy, in which the company is combining the scale of its national infrastructure with its local assets of people, product and place, in an effort to reimagine the shopping experience. 
The locations offer plenty of next-gen services, such as consultations with personal stylists; buy online, pick-up in-store; alterations; curbside pickup; fast and easy returns from Nordstrom.com and other online third-party retailers; Trunk Club services; refreshments; dry cleaning service; and luxury gift wrapping.
"Many of our Nordstrom Local customers typically live within two miles of the store and shop more regularly than other customers," said Shea Jensen, Nordstrom senior vice president of customer experience. "We are really excited to introduce two new Nordstrom Local stores to our customers and neighbors in Brentwood and downtown Los Angeles and look forward to seeing how they engage with these two new highly-customized locations."   
The stores are furnished by Anthropologie Home, which is collaborating with Nordstrom to outfit the stores with the latest in home goods and accessories. The design of the 1,200-square-foot Brentwood store focuses on styling and alterations. While the larger 2,200-square-foot downtown Los Angeles store offers an on-site concierge and barber services in partnership with Baxter of California, as well as shoe, handbag and luggage repair services in partnership with a local cobbler.
CVS: Health and Wellness Concept
CVS Health has unveiled its new health-focused concept store dubbed HealthHUBs. Three new pilot stores in Houston have been redesigned with much more space devoted to health services. CVS is expanding its place in the fast and convenient healthcare market, in the hopes of attracting more shoppers to its stores following its highly publicized acquisition of Aetna last year.
"We're opening a series of healthcare concept stores which will be a testing ground for a new retail engagement model that brings healthcare services to consumers in a more convenient, more accessible, and more customer focused manner," CEO Larry Merlo said at the JPMorgan Healthcare Conference. "As we pilot new programs and service offerings we will identify the solutions that are most effective and scalable and then roll them out more broadly across our footprint."
In addition to the cutting-edge pharmacy, each store sports an expanded health clinic, with a lab for blood testing and health screenings. There are also wellness rooms for yoga and seminars, dietitians and respiratory specialists in the HealthHUBs.
Following the pilot stage, CVS plans to introduce its new healthcare concept across the chain, with a hub and spoke approach. A selection of hub stores will receive a full healthcare upgrade, with the surrounding stores receiving a light refresh.
SAM'S CLUB NOW: WALMART'S SCAN AND GO CONCEPT
In response to the success of Amazon's cashierless Amazon Go concept, Walmart has gone live with Sam's Club Now, a test lab store for its mobile-first shopping experience powered by the new Sam's Club Now app. Sam's Club Now is a technology lab that doubles as a brick-and-mortar store, where the retailer can incubate, test and refine its latest retail technologies.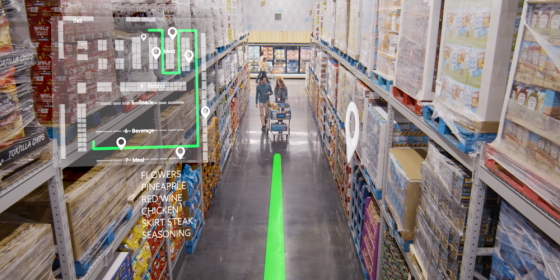 Scan & Go is the foundation of Sam's Club Now ― shoppers are required to use the mobile technology to shop the store. According to the retailer, more than 90% of members who try the retailer's Scan & Go mobile app, which launched two years ago, use it again on their next trip, and regular use is up 40% this year.
The store is a quarter the size of an average club, just 32,000 square feet, and is filled with next-gen tech designed to provide a seamless and personalized shopping experience. With the mobile app, shoppers can place and pickup an order within an hour. While in the store, voice capabilities combined with navigation technology, power a wayfinding feature that links with a customer's digital shopping list to build a personalized, efficient route through the store.
The retailer is also working an augmented reality offering to add another level of engagement to the store. The tech will share information on new ways to use the products and integrate stories that highlight interesting features, including how items are sourced.
"We're putting Sam's Club on the cutting edge of innovation in the warehouse channel," said Jamie Iannone, CEO, SamsClub.com and EVP of membership and technology. "Using all available technologies ― including computer vision, AR, machine learning, artificial intelligence, robotics, just to name a few ― we will redefine the retail experience today and into the future."