Sears Warns the Retailer's Future Is In Doubt
Get great content like this right in your inbox.
Subscribe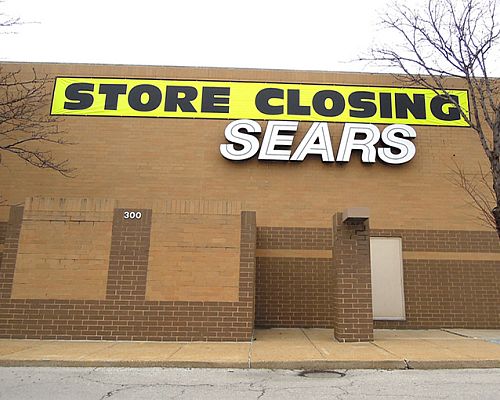 Sears has put the writing on the wall, or at least "substantial doubt" about its ability to stay in business. Kmart and Sears' parent company, Sears Holdings Corporation, said "our historical operating results indicate substantial doubt exists related to the company's ability to continue as a going concern," in a filing with the Securities and Exchange Commission.
Holdings closed its sale of the Craftsman brand to Stanley Black & Decker on March 8. Its fourth quarter and full year 2016 results reported a net loss attributable to Holdings' shareholders of $607 million for the quarter, compared to $580 million in the same quarter the year before.
Revenues were $6.1 billion for the quarter, compared to $7.3 billion for the prior year's quarter. At Kmart, comparable store sales dropped 8% in the quarter.
For the full year, revenues were $22.1 billion in 2016 as compared to $25.1 billion in 2015. The decline in revenues included a decrease of $1.3 billion as a result of having fewer Kmart and Sears stores in operation. Comparable store sales for the full year fell 7.4%.
Holdings unveiled a restructuring plan in February aimed at cutting costs and reconfiguring debts. To capture these savings, the company said it plans to reduce corporate overhead, more closely integrate Sears and Kmart operations, and improve its merchandising, supply chain and inventory management.
The company also announced, so far this year, the closure of 108 Kmart and 42 Sears stores. Its restructuring program, targeted to deliver at least $1.0 billion in annualized cost savings in 2017, includes cost reductions from these store closures.
According to the company filing, under the restructuring program, Holdings intends to transition to an integrated value chain model to drive efficiencies in pricing, sourcing, supply chain and inventory management. "We are primarily focusing on profitability instead of revenues, market share and other metrics each of which relate to, but do not necessarily drive profit. This approach may negatively impact our sales, however, it is aimed at returning the company to profitability."
The company noted in the filing that, while it is seeking to transform into a "member-centric retailer," its success depends on its ability to respond quickly to ongoing technology developments and implement new ways to understand and rely on the data to interact with its customers. "There is no assurance that our initiatives and strategies will improve our operating results," the company wrote.
Holdings faces plenty of competition and its ability to turn the tide depends on successfully responding to its shoppers changing tastes and expectations.
"Our success depends on our ability to differentiate ourselves from our competitors with respect to shopping convenience, a quality assortment of available merchandise, functionality of digital channels, and superior customer service and experience," it said in the filing.