Sephora Expands Its Brick and Mortar Footprint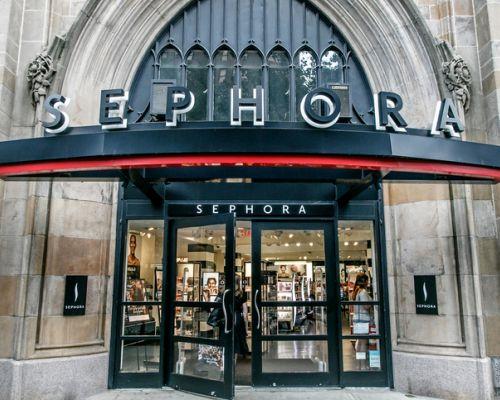 Sephora will open 35 new locations across the U.S. in 2019, marking five years of brick and mortar growth for the retailer.
Beginning March 14th with an opening at New York's Hudson Yards development, new Sephora locations will open in 32 cities. Services at the stores can be booked via Happening at Sephora online or on the Sephora mobile App.
"At Sephora, we are constantly working to further enhance, personalize and simplify the omnichannel experience for our clients, so the connection between the physical and digital is virtually seamless and highly customized at every touchpoint," said Mary Beth Laughton, EVP of Omni Retail. "Clients can browse our beauty offering online or using our Sephora App, use our digital 'Happening at Sephora' tool to discover what's happening in store like events, classes and services to plan their trip to their local store and even try on looks digitally with Sephora Virtual Assistant."
Here's what shoppers will be able to experience at Sephora's new locations:
Beauty Classes where clients can learn through hands-on, interactive group tutorials

Sephora Virtual Artist during Beauty Classes, or on a mobile device, to virtually try on thousands of lipsticks, eyeshadows, blushes and lashes from third-party brands and/or the Sephora Collection

Moisture Meter, an exclusive tool that accurately measures the amount of moisture in the skin

Skincare IQ: Searches Sephora's entire range of skincare ingredients and formulas to recommend targeted matches for every skincare concern

Color IQ: One-of-a-kind technology that scans the surface of skin and assigns it a Color IQ number, which reveals scientifically precise foundation, concealer, and lip recommendations

Fragrance IQ: Allows shoppers to identify which scents best suit their preferences.

Digital Makeover Guide, which tracks all products used or recommended to shoppers and emails details to them for future reference

Digital Skincare Guide, which sends the personalized skincare regimen clients receive after a skincare consultation directly to them for future reference

Complimentary Makeup Minis at the Beauty Studio, a place for 20-minute one-on-one beauty sessions, from "Quick Lip" to "Lash & Dash" to "Find Your Foundation"

Complimentary Skincare Minis (30 minutes each) at the Sephora Skincare Studio, such as "Mask Us Anything" to "Peel to Perfection"

Makeup Deluxe, where clients learn tips and techniques to recreate a custom look in a private 60-minute makeup session with an expert artist ( complimentary with a $50 purchase)

PERK Hydrating Facial, a 2-in-1 facial service that utilizes PERK technology (complimentary with a $75 purchase)