Simple Ways Fashion Retailers Can Get Customers Excited About Spring Collections
Now that spring is round the corner, the winter blues are thankfully almost a distant memory. Retailers will inevitably be working towards introducing new stock and developing strategies and promotional campaigns to encourage consumers out of their winter hibernation. With new styles and trends already circulating, fashion is certainly an ever-changing industry.
However, considering 50 percent of all purchase decisions are made on impulse, how can fashion retailers ensure they are effectively engaging with new and existing customers to provide themselves with a competitive advantage? With this in mind, here are four ways small to mid-size retailers can get their customers excited for spring fashion.
Highlight new collections in store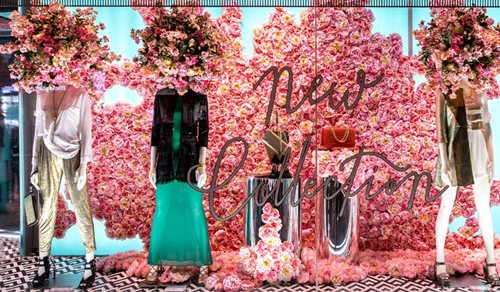 A recent survey identified that 85 percent of consumers are influenced by visual merchandising in store window displays;  68 percent of consumers believe that a business' signage reflects the quality of its products or services and a further 76 percent confessed they have entered a store or business they had never visited before based on its signage. This isn't surprising, for if utilized effectively, window displays combined with physical signage can attract new consumers, enhance corporate image, generate customer loyalty, promote specific products and, above all, increase your sales.
Making consumers aware of new spring fashion collections that will be launching in spring in store is essential for attracting interest before they've even entered the premises. Potential customers are far more likely to make a purchase after spotting items of interest before entering a shop rather than wandering in without any indication of what's inside. When people are looking in your window display it is a massive opportunity to influence whether they purchase from you or from a competitor.
However, a window display will only be as effective as you make it. Adding sufficient lighting can increase sales by up to 107 percent. Avoid poorly lit displays that will fail to attract the eye of consumers and draw attention to the products you wish to promote. It is essential to rotate and change a window display on a regular basis to retain consumer interest and showcase different seasonal products, so ensure your set up is easy to adapt.
Remember, a window display is not a separate entity; it is part of your whole corporate image. When designing, consider any corporate colors, styles or logos that you may wish to include. You could even use an expert designer or a display equipment supplier to help you portray the correct image. However this option might require a budget review or potentially looking into a merchant cash advance for a cash injection.
A retailer has made the window display above enticing by adding an eye-catching spring backdrop to showcase new line items and  including a "New Collection" sign will highlight this further. The retailer also used layering on the mannequins to advertise multiple products from the new collection in a single display.
Send out "new collection" emails
The popularity of online shopping is undoubted; in fact, predictions estimates that online shopping will account for 7.4 percent of total retail spending this year - about $1.67 trillion, with the UK online fashion market expecting to reach £19 billion in 2019 (Fashion United). With such high demand, how can retailers ensure they're keeping these online consumers up-to-date with new collections of seasonal fashion?
When purchases are made online, an email address is typically required to complete the process. Emails are an extremely cost-effective marketing tool for using your clientele database to reach previous and existing customers. Fashion retailers can utilise emails to inform customers about new launches; these can be automated to reduce the time spent managing your email marketing strategy
However, it is important to ensure email marketing is carried out effectively in order to increase open rates and potentially acquire more business especially when email marketing has an ROI of 3,800 percent. An effective promotional email should never be overloaded with text. As general retail emails are single topic messages, limit your text to no more than approximately 200 words. Include as many images of your new clothing range as possible without making the email appear overcrowded.
Vintage fashion brand
Dolly and Dotty
has achieved this by including several examples of its latest dresses within different ranges to ensure it's catering to disparate styles and interests. The company has developed these images further by showcasing how the garments look when worn to provide customers with informative styling information without using an over-abundance of text.    
Including a call-to-action button in these emails that directly leads to a relevant landing page will improve the convenience of your customer's journey. Emails with a single call-to-action can increase click through rate by up to 371 percent and sales by 1617 percent (Protocol80). So make sure you are including these buttons to assist customers in completing their purchases to benefit your conversion rate and, ultimately, your return on investment.
Dolly and Dotty has done this effectively by featuring a "shop now" call-to-action for each dress range in marketing emails that leads to the correct landing page; for example, the Tiffany Dress collection leads to the landing page for the new arrivals within this range.
Invite bloggers to your store for events
Whether it's a hobby or a career, fashion bloggers have gained substantial influence and grown to become leaders in the fashion industry through collaborations and reviews. As these bloggers have gained an audience, brands have begun to partner with them for advertising campaigns, events and other marketing efforts.
Before creating your own blogger campaign, conduct thorough research and collate a database of relevant bloggers who might be interested in collaborating with your brand. Be sure to include their names, URLs, website rankings and contact information. Websites such as Bloglovin and Tots 100 offer a huge index of bloggers suitable for different industries.
You can then begin developing some strategies for your outreach campaigns, depending on your budget. Perhaps you could invite the bloggers to a discounted, early access launch event for your new spring collection in exchange for a review? Or, ask them to feature as the models for your new range? If these bloggers have a sufficient following, their reviews could easily develop your brand awareness and generate new customers. Once you have started to build relationships with bloggers, you could look into building towards having a few brand ambassadors who will write about your business on an ongoing basis to highlight brand loyalty.
ModCloth
has successfully collaborated with bloggers by creating its Blogger of the Moment campaign strategy, which involves featuring fashion influencers on its blog to build brand loyalty and awareness. In return, the Bloggers of the Moment are allowed to suggest other ModCloth pieces to complement their namesake dresses and nominate their favorite ModCloth pieces. The bloggers involved in this campaign also published reviews of their namesake dresses on their own blogs to create interest from their followers.
Social media advertising targeting
With 74 percent of consumers relying on social media when making a purchase decision, social media advertising campaigns are an essential tool for increasing brand awareness, improving local awareness, achieving higher conversions and achieving sales.  
Worldwide, it is estimated that there are currently more than 1.86 billion monthly active Facebook users, making it a fundamental platform for social media advertising. Make an ad account in Facebook Business to create sponsored ads from your designated brand page; these target your audience based on their age, location, gender and interests. Your adverts will appear on the newsfeed of your target audience with the intention of increasing reach and therefore engagement.
Miss Selfidge
has used Facebook advertising to promote its pre-spring sale by featuring images of discounted products and making the 30 percent off notices highly visible.
To fully benefit from a Facebook page, providing direct links to your products or service is vital. Call-to-action buttons can also be added on Facebook advertisements, such as Book Now, Contact Us, Shop Now or Sign Up; these are ideal for increasing the number of conversions generated by your website. Miss Selfridge has used the Shop Now call-to-action button on its pre-spring sale advertisement, which leads directly to its spring sale landing page. You can measure the click-through rate (CTR) of your call-to-action buttons through Facebook Insights.
Lacoste wanted to increase the traffic to its online stores in Germany, France and the United Kingdom. In order to achieve this, the company decided upon variants of 100 two-month targeted Facebook Ad campaigns that linked directly to their online shops. By creating these Facebook advertisements, Lacoste saw an increase in online sales, 43 million, 66 million and 70 million ad impressions in the UK, Germany and France, respectively, while also generating a 500 percent conversion rate increase.
Rafferty Gifford is a digital marketing executive for Liberis, an alternative finance provider.