07/03/2018
Sneak Peek: Inside the Nike Concept Store Stocked by Local Loyalty Member Data
Nike is giving the retail word a peek at what hyper-localization driven by customer data looks like in the physical brick-and-mortar store.
The new Nike Live concept store is inspired by and built as a hub for the athletic retailer's local NikePlus members. The first one, Nike by Melrose, will open its doors on July 12 in West Los Angeles, CA.
The company relaunched its NIKEPlus membership in November.
"And for the year, we've exceeded all of our membership targets with strong growth in new, active and buying members and improvement in engagement and in conversion," said chairman, president and CEO Mark Parker. "And we continue to explore the physical and digital intersection through our new NIKE app at retail, which is beginning to scale some multiple stores. Through Smart Retail, we can aggregate consumer buying patterns to better inform localized preferences and turn those into new growth opportunities."
This retail technology has enabled Nike to create its new concept shop. The small format, data-driven Nike by Melrose store's inventory assortment is influenced by what consumers are buying from surrounding zip codes, according to Parker.
It has pop-up vibes, and will operate like an experimental digital-meets-physical retail pilot, but the store isn't going anywhere anytime soon. The products and services that will be "tested" there are based on a deep understanding of the neighborhood.
"We see great potential on this approach, and you'll see a lot more of it across our key cities," said Parker.
Tokyo, for one, will see a new Nike Live store next spring.
On top of providing a selection of nike.com best-sellers and essential running, training and sportswear product, Nike by Melrose will offer city-specific styles — all of which is determined by Nike digital commerce data.
The retailer analyzed buying patterns, app usage and engagement of local NikePlus members to stock shelves. New apparel, footwear and accessories —all specific to LA's needs regardless of Nike's broader seasonal priorities — will fill the store on a bi-weekly basis (a Nike first) and sometimes exclusively.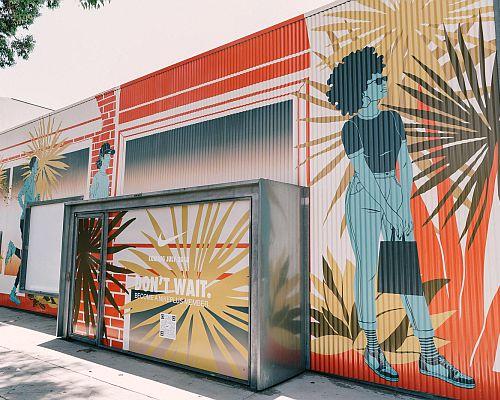 Features of Nike Live Concept Store
The first store is packed with experiential retail features. A Sneaker Bar has been added to make trying on and buying footwear quick and easy. The Dynamic Fit Zone has a lounge to relax in and rooms where Nike "experts" can offer styling tips. The Nike Trial Zone is complete with treadmill so shoppers can test out sneakers before buying.
Another unique digital meets physical feature: NikePlus members can redeem product or rewards by using their member pass at the NikePlus Unlock Box (essentially a digital vending machine).
So what does the first Nike Live store reveal about its surrounding neighbors?
Data provided by NikePlus members in Los Angeles shows that they are running and style obsessed. They love basketball and are on the competitive side. They're sneakerheads and visionaries.
For example, expect to see the store stocked with plenty of Nike Cortez styles, a ton of running product, bright colorways and hip packs for its opening.