06/28/2019
Solving the In-Store Personalization Challenge
Every savvy retailer knows just offering merchandise isn't going to draw shoppers into stores today. For brick and mortar to thrive, stores need to offer a personalized customer experience that fosters loyalty between the shopper and the retailer. But how do you solve this seemingly simple, but extremely complex, challenge?
While there's a plethora of ways to make shopping in stores more personal, one thing rings true for most shoppers. Eighty-seven percent of consumers indicate an interest in a personalized and consistent experience across channels, according to BRP's 2019 Unified Commerce Survey.
"The growth of online and mobile is driving the demand for increased digital capabilities bundled with personalization across all channels," said Perry Kramer, senior vice president and practice lead at BRP.
However, just 30% of retailers report having up-to-date multi-channel frequent shopper or loyalty tracking analytic technology, according to RIS' "29th Annual Retail Technology Study."
Knowing who the shopper is and when they are in your store is the foundation of providing personalized offers. And when it comes to physical stores, 68% of consumers would choose to shop at a store that offers personalized promotions and discounts over a store that doesn't offer these services, according to the BRP Consumer Study.
Meanwhile, retailers rank CRM/personalization tools one of the hottest investment areas in 2019 (38%), which is not surprising since personalized marketing capabilities were singled out as one of the Top-5 Technology-Driven Strategies Over the Next 18 Months (28%).
While retailers may have access to the customer data necessary to personalize the customer experience, being able to execute real-time offers and recommendations is another ball game. A single commerce platform, next-gen analytics tools, real-time view of inventory, mobile app solutions and point of sale tools ― and an in-store network strong enough to support these technologies ― are all ingredients needed to excel at personalization.
Identifying the Customer
Step one to personalizing any retail experience is to identify the customer. So it's not surprising shopper tracking (41%) was named the No. 1 technology for 2021. In-store shopper tracking specifically was named by 36% of retailers as a top retail technology. While retailers identify they'd like to be able to track shoppers in the near future, only 11% reported having up-to-date shopper tracking capability in place now.
Once retailers have the ability to identify shoppers, whether through location-based technology or more traditional identification areas, such as transaction data and loyalty programs, they can combine a plethora of in-store data with online information. Social media data, for example, can offer a wealth of insights into shoppers' likes and dislikes. This profusion of data can paint a portrait of each shopper allowing retailers to return to an old-school customer-centric approach, but on a much grander scale. But, only if the data they have on customers is analyzed, turned into real-time insights, and put into the hands of the store associate or the customer (via mobile app offers) where they matter most.
"Artificial intelligence (AI) offers the ability to exploit the vast amounts of customer preference and transaction data gathered to personalize the customer experience," BRP notes. "More retailers will be venturing into this arena with 57% of retailers planning to utilize AI as a means of enhancing customer service in the next two years."
Opting In
For certain personalized data, retailers must overcome the obstacle of gaining clear opt-in permission from customers. Once retailers have gained the opt-in of their customers, through app log-in for example, they can begin to leverage data to serve and market to those specific shoppers.
For example, when retailers can identify a shopper as they enter a store, such as via an opt-in plus MAC address, retailers can match the arrival of a VIP shopper with data on where associates are located," RIS notes in "Shopper Tracking: Reinventing and Reimagining the Store Experience." By making data such as search, purchase history and loyalty status available on a nearby associate's mobile device, the retailer can ensure a personized customer experience.
"Personalization is such an important part of the shopping journey that half of consumers are willing to allow a retailer to save their personal details if it means that the checkout process will be easier and they will receive more personalized attention," BRP finds.
True, shoppers are becoming more comfortable with digital identification. The likelihood of allowing retailers to digitally identify shoppers was up to 73% in 2018, according to RIS' "Retail 2025 Shopper Study." However, they are in search of a benefit, such as reminding them of a reward to redeem (65%) or receiving offers within the store (59%). Retailers are unlikely to receive permission if it solely benefits the retailer, such as tracking shopper location while not using the app (4%).
Still, some consumers find there is a certain "creepy" factor to letting retailers in on their whereabouts and personal details.
These tips can help retailers to avoid the creep factor
Offer transparency with customers about how you will use the data.

Communicate with customers via

the media they choose versus all media. That is key to being helpful, and not creepy.

Comply with the privacy and security laws

in all jurisdictions where you operate. Most North American retailers will need to adopt California Consumer Privacy Act of 2018 (CCPA) best practices, for example, and

GDPR

if they want to sell into Europe.
Source: RIS, "Advanced Personalization: Unlocking the Secret to Shopping Experiences that Create Value."
Retailers Mastering In-Store Personalization 

With this in mind, retailers are already making use of next-gen tools to solve the in-store personalization challenge. Weis Markets for example is leveraging a real-time digital ecosystem to build meaningful relationships with its customers. A key component is the AI relationship engine, which uses several hundred attributes for each shopper, updated with each purchase, to power contextual relevancy. This enables the grocer to better address shopper needs, including through more relevant real-time recommendations than what has previously been possible.
"At a time when technology capabilities are evolving quickly, we want to remain current and develop new ways to build customer relationships," Ron Bonacci, vice president of advertising and marketing, said of the solution.
Lucky Brand is also tapping AI tech to start to understand its shoppers better. The apparel retailer has deployed a customer data and identity platform to help manage and unify its customer data. The tech links previously disconnected data sources and fuels their customer relationship management system (CRM) with clean, deduplicated data. Using the AI-powered identity resolution solution, the brand saw an immediate 15% improvement in match rates and deduplication on top of their existing merge process.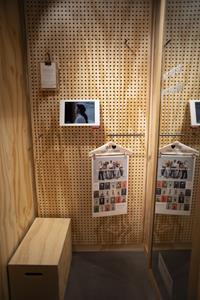 "The platform enables us to build more complete, current, and connected customer profiles," explained COO Michael Relich. "In a matter of weeks, we've identified 1.5 million previously anonymous customers and correctly attributed $192 million in CLV by linking siloed data sources. This is the first step in building a holistic and actionable understanding of our customers, and the foundation for best-in-class personalization and customer experiences."
For apparel retailers, helping customers in the store is paramount to achieve sales. And one area where personalized, helpful service is most needed is the fitting room. To this end, to provide personal attention to shoppers in store, American Eagle Outfitters launched new interactive fitting room technology in several American Eagle flagship stores around the U.S. Mounted in each fitting room, the kiosk solution allows shoppers to scan items on an iOS-based device. Shoppers can immediately see and request other available sizes and styles, receive product recommendations, view running cart totals, and e-mail information to themselves, while store associates receive notifications and can quickly deliver any other pieces the shopper wants to try on.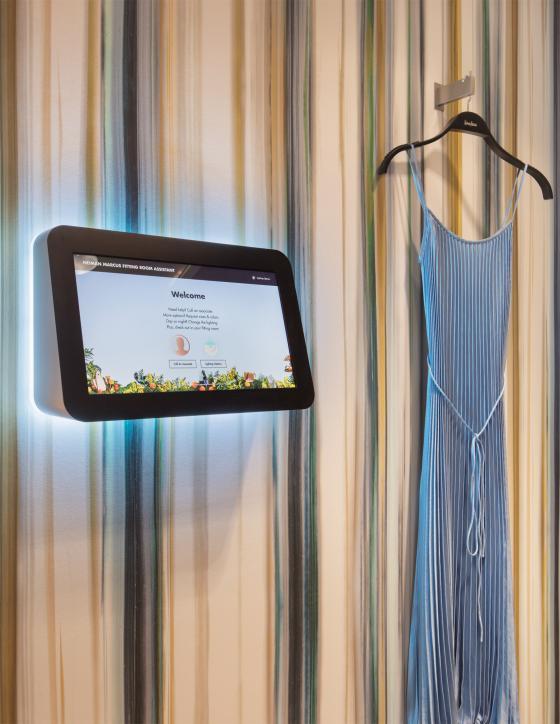 "We recognize the way our customers shop is constantly evolving," said CTO Dave Repp. "We've been able to provide an enhanced fitting room experience, while empowering our store associates to better serve and connect with our customers."
In a similar fashion, Neiman Marcus's new Hudson Yards location in New York City boasts interactive dressing rooms, where shoppers can even personalize their lighting through five unique environment settings. They can check-out right from the fitting room, making for a smooth experience, as well as communicate with an associate through interactive touchscreens if another size is needed or they have a question.
Mobile apps are yet another driver of relationships between retailers and shoppers and in some cases retail apps are driving purchases inside stores.
Athletic retailer Nike for example has woven its NIKE app at Retail into its physical stores. The app, which was designed to intuitively bridge the worlds of tech and physical retail, not only lets shoppers reserve products for same-day pickup in-store, it rewards shoppers outside and inside stores. NikePlus members are given exclusive discounts and partner rewards for their shopping activity in the Nike App; they can receive one instantly from a Nike associate helping them in the store or before they walk through the door through a push notification in the Nike App.
Nike has been working hard as of late to expand its app prowess in Japan and across North America and Europe. The retailer also extended a new, advanced algorithm in its apps that allows it to reward the retailer's most active loyalty members.
"Our expansion is fueling the acquisition of new members at a strong double-digit rate, and the new experiences that we are creating are also driving strong double-digit increases in member engagement and buying," chairman, president and CEO Mark Parker revealed recently.
What's important to note is that more than 50% of transactions are with members in Nike's House of Innovation stores in New York and Shanghai, and, across Nike's fleet, shoppers using the NIKE app at Retail average 40% higher sales than those that don't.

Personalization Takeaways
Solving the in-store personalization challenge requires retailers to implement next-gen technology to supplement in-store service. The first step is to identify your shoppers. Without insights into who they are you can't personalize their experience. And identifying them inside the store before they checkout helps associates offer top notch service and drive sales. Finally, the more personalized your discounts, rewards, and merchandise can be, the better. Delivering these through mobile apps in shoppers' hands is key, if you can offer a program enticing enough to get the shoppers buy in.