Speculation Percolates Around Starbuck's Howard Schultz's Possible Presidential Plans
Get great content like this right in your inbox.
Subscribe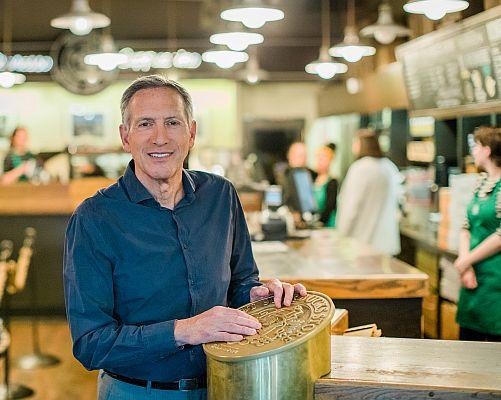 Howard Schultz will step down as executive chairman and member of the Board of Directors of Starbucks Corporation at the end of the month. His departure from the coffee goliath marks 40 years as the company's iconic leader, in which Schultz grew Starbucks from 11 stores to more than 28,000 stores in 77 countries, while demonstrating that a business can simultaneously deliver best-in-class financial performance and share success with its employees and the communities it serves.
Now, on the heels of news of his departure, speculation is brewing on his possible entry into politics.
"I want to be truthful with you without creating more speculative headlines," Schultz told The New York Times. "For some time now, I have been deeply concerned about our country — the growing division at home and our standing in the world."
Asked directly if he was considering running for president, he said: "I intend to think about a range of options, and that could include public service. But I'm a long way from making any decisions about the future."
Later, Schultz told Andrew Ross Sorkin on CNBC's "Squawk Box":
"I know there's been speculation, so let's just deal with that right away, about whether or not I would run for public office. And what I really believe is there's a lot of things I can do as a private citizen other than run for the presidency of the United States. And let's just see what happens."
Speculators say that the timing is right for him to break away from the publicly traded company if he wants to run in 2020. Schultz noted to Sorkin he had planned to step down in May, but pushed it back when news of the incident in Philadelphia broke, certainly not the news someone would want to go up against if considering a democratic nomination.
"The truth of the matter is, I thought this was going to happen in May, and then we had the unfortunate reprehensible incident in Philadelphia and we thought given what we wanted to do in Philadelphia and the obligation we had, we were going to push it back a month or two," he told CNBC.
While Schultz told Sorkin, " I really honestly don't know," what his next move will be, for now, he will be honored with the title of chairman emeritus.
Under Schultz's leadership, Starbucks delivered a 21,000% gain in the value of its stock price since its initial public offering in 1992. The company's growth was fueled by his decisions to provide uncommon benefits for those who work for Starbucks, including comprehensive healthcare, stock ownership and free college tuition, even for those working part-time.
"I set out to build a company that my father, a blue-collar worker and World War II veteran, never had a chance to work for," Schultz wrote in a letter addressed to past and present Starbucks partners. "Together we've done that, and so much more, by balancing profitability and social conscience, compassion and rigor, and love and responsibility."
Schultz's journey began in 1981, when he walked into the first Starbucks store, located in Seattle's iconic Pike Place Market. The following year, he moved with his wife, Sheri, from New York to assume the role of director of operations and marketing. Schultz's passion for the coffee heightened on a business trip to Italy, where he was captivated by the sense of community, romance and theater found in Italian coffee bars. In the years following his return to Seattle, Schultz purchased Starbucks with the support of local investors and dedicated his career to bringing his vision of a modern coffee house to life in America and around the world.  
In 2017, Schultz transitioned from CEO to executive chairman, shifting his full-time focus to the company's social impact initiatives as well as innovation and global development of the company's premium Reserve brand, including Starbucks Reserve Roasteries, Reserve stores and the company's partnership with artisanal Italian bakery, Princi.
This year, Starbucks was named the fifth most admired company in the world by Fortune, marking the 16th year in a row that the company has appeared on the global list. Starbucks was also named one of the World's Most Ethical Companies by the Ethisphere Institute for the 12th consecutive year and was ranked as one of 2018's Most Innovative Companies by Fast Company, most notably for its social-impact work.
Following his transition off the Starbucks board at the end of June, Schultz will oversee the opening of the Starbucks Reserve Roastery in Milan on Sept. 6 – marking the company's entry into Italy – and the New York Roastery in late October. He is also writing a book about Starbucks social impact work and the efforts to redefine the role and responsibility of a public company in an ever-changing society.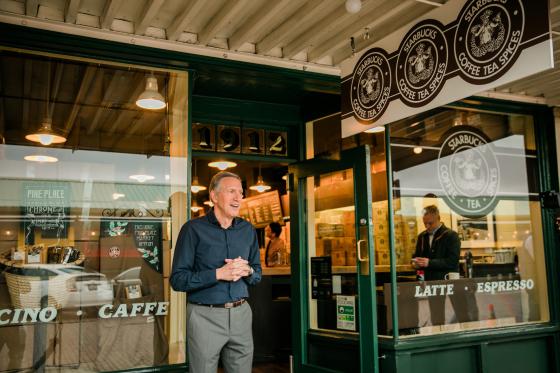 "There are no words to fully express our gratitude to Howard for the extraordinary company he has built," said CEO and member of the Board of Directors Kevin Johnson. "He's helped Starbucks earn the respect of millions around the world by always being true to a higher calling, and always being bold in creating a better future. He's taught all of us that it's possible to be a very different kind of public company. That must, and will, continue on my watch."
Starbucks Moving Forward
Starbucks Board of Directors has appointed Myron E. "Mike" Ullman as its new chair of the Board and Mellody Hobson as vice chair of the Board effective upon Schultz's retirement.
In Schultz's letter to partners, he expressed confidence in the team that will continue to lead Starbucks.
"Kevin Johnson is a true servant leader, and he will lead Starbucks as this great company enters its next journey. It's our duty as leaders to constantly reimagine Starbucks. I am honored to call Kevin my friend and partner. And Starbucks is fortunate to have him. This leadership team is extraordinarily capable. They, too, believe that Starbucks has a responsibility to use our scale for good."