Starbuck's CEO Unveils Five Keys to Short- and Long-Term Growth
Get great content like this right in your inbox.
Subscribe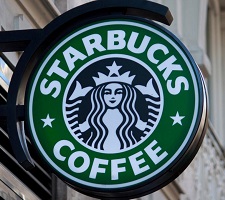 While many brick-and-mortar retailers are feeling the pinch of decreased foot traffic and shrinking sales Starbuck's continues its highly profitable worldwide expansion. Thanks to a steadfast commitment to innovation and customer experience the coffee purveyor continues to produce record financial and operating results quarter after quarter.
In his first earnings call with analysts following his ascension to CEO Kevin Johnson laid out his philosophy for brick-and-mortar success in the new retail landscape and also provided his five priorities for short- and long-term growth.
"The critical transformative components required for any brick-and-mortar retailer to survive, let alone succeed in the future are an engaging, digital and mobile relationship with customers that is threaded into a branded, immersive, experiential retail destination," said Johnson. "The common denominator will be the creation of a consumer experience that evokes human emotion and connection. I firmly believe that these are the ingredients that will determine which brick-and-mortar retailers thrive in the future, and which become victims of the current trend. Starbucks Coffee Company is playing the long game, and we are playing to win globally."
Johnson laid out the five priorities he and his team are focused on to help facilitate short- and long-term growth at Starbucks. The key's to prolonged success according to the CEO are: continuing to accelerate comp sales and transaction growth in the U.S.; driving breakthroughs in food; enabling long-term growth in China; extending its digital flywheel assets; and increasing and leveraging the Starbucks Reserve brand.
Accelerating Comp Sales. Starbucks has seen comp sales continue to increase of late, posting 4% gains in March and accelerated increases in April. Johnson points to the continued success of Starbucks' Mobile Order & Pay capabilities for the bump in in-store sales. The service is available at around 1,800 stores and over 20% of transactions are being processed via the mobile application where the solution is offered.
As the solution continues to roll out Starbucks is providing training to associates and testing the ideal workflow for mobile orders. With training well underway the retailer is now turning to the deployment of a new digital order manager (DOM) to further streamline mobile order fulfillment. "The DOM shows up as a tablet-based device that provides baristas with visibility on all incoming orders and enables better tracking and real-time order production management," Johnson says. "It also enables a digital notification to a customer's mobile app when their order is ready, improving many dimensions of the customer experience, both in the app and in the store, while reducing congestion at the hand-off plane."
Driving Breakthroughs in Food. Starbucks is looking for ways to increase mid-day food sales and build a reputation as a viable lunch option, similar to what the acquisition of La Boulange did for its breakfast selection. Food has become a highly-important aspect of Starbucks' portfolio, accounting for 21% of revenue in the U.S. The retailer hopes to grow that number even more with the unveiling of its new fresh food lunch offering called Mercado.
"We launched Mercado in over 100 Starbucks stores in Chicago," Johnson said. "And though still in the early days, we are extremely encouraged by the customer response to Mercado. So much so that we are accelerating plans to deploy Mercado to a second market over the next two quarters."
Long-Term Growth in China. Starbucks has been operating in China for nearly two decades, and continues to open a new store in the growing market once every 15 hours, a rate that is showing no sign of slowing down. Not only is the retailer expanding at a breakneck pace, sales at its established locations continue to grow ― comp sales in Q2 increase by 7%.
Part of Starbucks' success in China is thanks to its commitment to technology advancements, including its newly released WeChat Pay. Like it Mobile Order & Pay offering in the U.S., China's digital payment option has taken off like wildfire.
"In its first quarter, WeChat Pay has already reached a remarkable 29% of tender," said Belinda Wong, CEO, Starbucks China. "It has elevated the Starbucks experience for both customers and partners through its convenience and fast transaction speed."
Digital Flywheel Assets. "This is one of the two critical transformative elements for brick-and-mortar retailers of the future," said Johnson. "A year ago, we made the strategic decision to transform our rewards program from a frequency-based to a spend-based program. Following this transition, we have seen solid growth in customer membership."
The retailer has 13.3 million active Starbucks Reward members in the U.S., and more than a third of sales come from reward members. Starbucks continues to evolve the offering ― its next innovation will be the ability for shoppers to earn stars outside of Starbucks' locations.
Starbucks Reserve. "We are investing to elevate both our brand and our customer experience around coffee through our roasteries and the Starbucks Reserve brand," said Johnson. "Starbucks Reserve is at the center of our innovation strategy around branded, experiential retail customer destinations."
Starbucks Reserve is an exclusive selection of coffee that is roasted in Seattle each month and delivered to the customer fresh within days. The retailer is scaling the successful program with the addition of roasteries in Shanghai, New York, Milan, Chicago and Tokyo.