04/30/2018
Starbucks Develops Digital Strategy for Casual Customers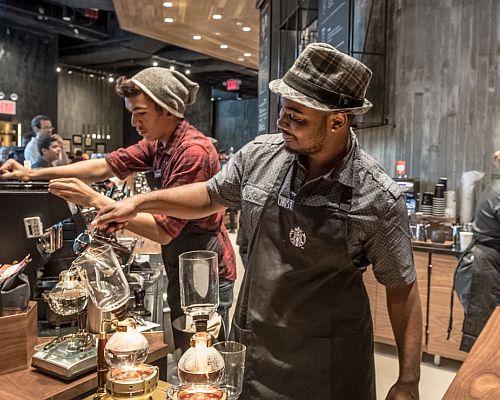 While Starbucks has more than 75 million customers a month, this number includes just 15 million shoppers in the retailer's rewards program. The majority of its customers visit the coffee company one to five times a month. With that in mind, Starbucks is turning its aim towards developing digital relationships with these occasional shoppers and has launched a new labor routine, which it believes will benefit service to these sometimes shoppers.
"We know that many of these customers, largely those whom we don't have a digital relationship, do not visit as frequently and have a low awareness of either new product introductions or many of our great core offerings," said COO Rosalind Brewer during the company's second quarter 2018 earnings call.
Over the past year, only one in four of these non-Starbucks Rewards occasional customers were aware of the retailer's new offerings and key promotions compared to twice that of its frequent Starbucks Rewards customers. What's more, the customers make up nearly 50% of the volume sold in the afternoon, making them "a material part of our current afternoon challenges," according to Brewer.
To this end, Starbucks is shifting its marketing strategies in the afternoon to hone in on these shoppers. And to develop a digital relationship with them, the coffee guru needs occasional customers to sign up.
To start this progression, Starbucks now requires customers to provide their email addresses, first and last names, and ZIP codes to access the free Wi-Fi Starbucks' cafes provide.
"We are widening the aperture of our digital flywheel through a range of customer interaction touch points, including opening up Mobile Order and Pay to all customers, leveraging Wi-Fi sign-up in our stores, and reinventing Happy Hour through the use of single-use digital coupon," said president and CEO Kevin Johnson.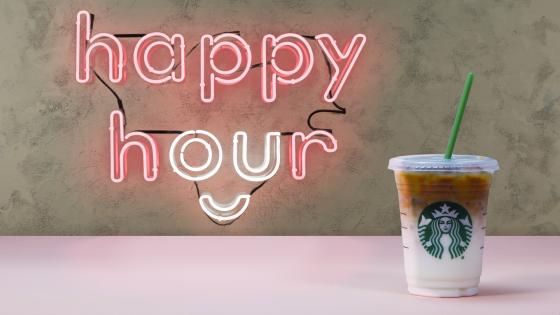 Starbucks will also cut the number of time-limited offerings by nearly 30% versus a year ago, shifting from singular offerings to more personalized offers per customer at the right time.
"Our new approach to marketing will be centered on meaningfully strengthening customer relationships by increasingly targeting our offers to each customer," said Brewer.
This approach includes the retailer's new Happy Hour program, which will be used to sign up shoppers for direct digital relationships and to promote a variety of beverages throughout the year. Last year, Starbucks' Happy Hour program was a "ten-day one-and-done" offer available to everyone. Now, shoppers need to sign up for the benefits and the program will be ongoing.
"What that means is that we won't just be doing Frappuccino for ten days in May," said EVP and global chief strategy officer Matthew Ryan. "We will be able to use this very well-known device we have called Happy Hour to promote a variety of afternoon products across the year, using it not just in May, but across the year to bring customers back into our stores on an ongoing basis. Over time, we get to know customers, what they respond to, repeat, and we're able to personalize, and do things that we could do with the Starbucks Rewards customer right now, with a much broader segment of customers."
Brewer noted the one-to-one offer will leverage Starbucks' personalization capabilities, but other benefits include "more predictable and efficient scheduling of partners."
Ergo, Starbucks also launched the first change in its deployment routine in five years in February, during its second quarter. The retailer dubbed the new labor routine "Deployment 2.0" and Brewer described it as moving the retailer from "a one-size fits all deployment plan to a dynamic store specific deployment solution that will continue to evolve with the business."
"It considers an individual store's product and channel mix data by day-part, assigns responsibilities by role, and deploys baristas to production positions, thereby balancing work to optimize customer connections," she said. "It is that unlock, the time for our partners to connect directly with our customers, that will help us deliver a better experience in our stores overall."
Previously, the company used the same deployment plan in all stores. Now Starbucks can look at its routine by store-specific data, using visual digital data rather than a spreadsheet approach like it was before. 
She also noted Starbucks believes this launch contributed to comp improvement over the quarter. Global, Americas and U.S. comparable store sales increased 2%.
"What we know about the occasional customer in the afternoon is that they don't shop with us as frequently, and they're not aware of our offerings as our Starbucks Rewards customers," said Brewer. "What we also know about our business in the afternoons, is that we have used our afternoons to train our new partners that were just joining as baristas, and we have heavy routines in the afternoon. And so what we learned from managing our peak in the morning and managing routines, we're applying that to the afternoon so that we apply the right kind of labor when the customers are in the store."