This T-Shirt Start-Up Is Doing Something Totally New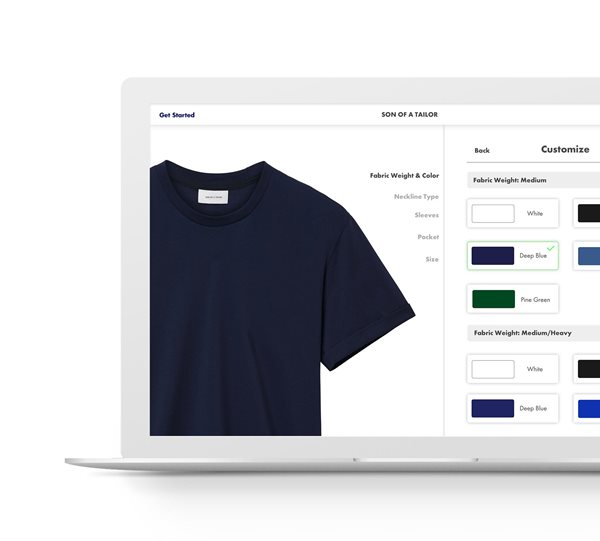 The startup that has taken Scandinavia by storm has finally launched in the UK.
Son of a Tailor
has the simple yet ambitious aspiration to make the best t-shirt in the world, and is already making headway, being the very first brand globally to offer perfectly sized t-shirts by using a unique company-developed algorithm.
"Typically, other brands only have five sizes available in stores. Five sizes are supposed to cater for seven billion different people. This sounded crazy to us, so we built an algorithm and a supply-chain that lets us create a size just for you," said Jess Fleischer, CEO & founder.
What makes Son of a Tailor even more unique is not only that the brand is built on the principles of expert craftsmanship and simple Danish design, but also on totally sustainable production methods. "Our t-shirts are made to order, meaning we have no stock of unsold t-shirts and therefore significantly less waste than with standard mass production methods," Fleischer added.
Son of a Tailor formed in 2015 after Fleischer, previously an engineer and consultant, grew tired of poorly fitting clothing that didn't lend itself to his demanding lifestyle. "Whenever I bought t-shirts I just felt the product was broken. I could not grasp why a 'modern-man' essential could be so ill-fitted. With my somewhat unique background in lean manufacturing and e-commerce, I found there were so many reasons to discard mass-production methods and completely change how t-shirts are made. Both from an economic, quality, and sustainability angle," Fleischer said.
Son of a Tailor's uniquely efficient business model and scalability is what caught the attention of savvy investors, such as ex-Pandora EVP Thomas Ryge Mikkelsen, who sees the power and potential of Son of a Tailor's technology and concept, "The industry needs this. Anyone who has experience in e-commerce will agree: the inefficiencies are huge, and quality and customer-centricity are rarely a focus. A company that tackles these problems head-on, while having a desirable consumer product, is hard to come by. That's why I'm confident that what the Son of a Tailor team is doing will really change things."
Already garnering attention from the London tech scene, the Copenhagen-based team feels that the time to make the UK a focus is now. "It's become extremely clear to us that there's a huge appetite for what we're doing in the UK, so we're excited to serve new customers and bring them a product that's as unique as they are," said Fleischer.