02/12/2019
Three Grocery Retail Trends to Jump on in 2019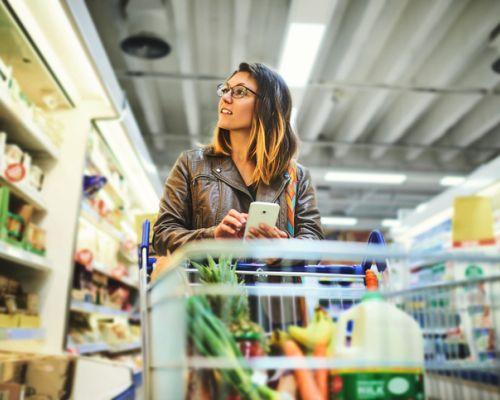 Since the 1950s, we've seen four distinct shifts in retail grocery, focused first on brand (1950s), then category (1970s), customer (mid 1990s), and now customer control that emerged in 2010 with the arrival of "clicks and bricks" with delivery - known by many as the Amazon effect. This latest shift has upended grocery retailers and brands as they fight to adapt to rapid changes being driven by technology, economic volatility and political uncertainty. In the new epoch, only those most agile and adaptable to change will survive.
To survive and even thrive, grocery retailers need to recognize and act on three trends that are emerging and will shape the industry for the next five to ten years.
1. Online Shopping is Growing Rapidly and Here to Stay
We are still in the early stages of a global battle between offline and online retailers in the $5 trillion in global grocery category. According to Forrester Research, the global online grocery market is predicted to double from $150 billion in 2017 to $334 billion by 2022. So far, for example, consumers in South Korea purchase 28% of their groceries online compared to 25% in metro China. Consumers in the UK purchased 16% of food and beverages online.
In the U.S., the adoption of online grocery shopping has lagged. Although online shopping is just 2.0 - 4.3% of the total $641 billion U.S. grocery market, a study by the Food Marketing Institute predicts online grocery sales will make up 20% of total grocery retail and will reach $100 billion in sales by 2025. The same study found that "61% of Millennials, 55% of Generation X, 41% of Boomers and 39% of greatest generation have recently purchased a CPG product online." So, the willingness to shop for groceries online is there from consumers, but are retailers ready?
While Amazon dominates online grocery retail capturing 18% of all sales, Walmart has made great strides in the last year, posting an impressive 60% year-over-year growth in e-commerce. Target acquired delivery service Shipt in December and is rolling out same-day delivery service to most stores this year, while Kroger continues to rapidly expand its Kroger Pickup (nee ClickList) locations. However, there is still much work to be done. Many retailers and manufacturers are simply not ready.
To become a successful online grocery retailer requires a structural shift at the very foundation of a retailer's or brand's existence, from simply producing and distributing products, to delivering a valuable and personally relevant "experience" wherever the shopper is in place and time. This structural shift can only be driven by applying deep customer science at every point in the grocery retail value chain and by democratizing insights about consumers from the boardroom to the sales floor.
2. Customers are insisting on Convenience Shopping
Consumers today are starved for time; Amazon's understanding of this fact points at its success with nearly every category it touches. Jeff Bezos understands that convenience is the ultimate competitive differentiator. "Our customers are loyal to us right up until the second somebody offers them a better service. And I love that. It's super-motivating for us," Bezos explained.
Several brick-and-mortar grocery retailers are acknowledging the customers' growing insistence on convenience by implementing new in-store experience solutions.  By utilizing customer data, retailers are working with brands to make shopping easier and more logical for customers. For example, customer data organizes product sections around consumer need states rather than merchandising by brand 'blocks.' Some of the new in-store experiences include "store within a store" (e.g. gluten free and organic mini-stores) and modular product displays.
Grocery retailers and CPG brands are working together to create modular groupings that allow affiliated and affinity products to be marketed together under a single theme. In order to support a grocer's "what's for dinner" theme for example, products from spices to drinks to proteins would be marketed together. By grouping products this way, retailers not only make it easier for shoppers to find the items they need more quickly, but also help retailers drive larger basket sizes. In addition, effective in-store merchandising can send customers to shop online and then back again. For example, a display of soft drinks that drives customers online for free movie tickets not only connects shoppers with the in-store experience with the online experience, but it also delivers an omnichannel brand experience.
According to dunnhumby research, 70% of the online basket is populated from a customer's usual in-store spend. By using this kind of customer intelligence, retailers can make the migration from brick-and-mortar to online easier for the customer and more profitable for their business.
3. Grocery stores are shrinking…not in number, but in size
Physical stores are already getting smaller – the average sales area has been shrinking by 15% since 2010. Yet, the grocery stores of the future will be one third to one half of the size they are today with a more limited, locally curated assortment of products designed to 'fit' the local neighborhood. Look for larger footprint stores potentially becoming mini-malls with third-party vendors within.
At the same time, the physical store and e-commerce will become an increasingly connected omnichannel experience, and the role of the store itself will become more experiential. One future model attaches a 'dark store' to a smaller footprint store with 5,000 items (a typical grocery store today has 45,000 items) from which basic commodity products will be picked and staged for pickup or delivery.
Simplifying assortment better fits consumer needs and changes the traditional business operating model – grocers can offer better choice, but at the same time optimise the number of SKUs so it's easier to shop. This enables higher volumes per SKU, commanding lower prices and driving efficiency in operating costs. However, it's a dangerous game – many retailers cut range the wrong way when using the Pareto Principle at volume. Customer Science offers a much more effective approach to keep the right products based on substitutability, uniqueness, and appeal to different consumer groups.
The new reality is that change is here to stay, perhaps more fiercely than ever. Grocery retailers who understand this new reality, who accept it and adapt quickly, will emerge stronger. And, they will be better positioned in terms of market value as a business, and most importantly to serve their customers.
-David Ciancio is global head of grocery for dunnhumby, a customer data science leader, serving the world's most customer-centric brands in a number of industries, including retail. David has 48 years' experience in retail, 25 of which were in store management. He can be reached at [email protected]