07/05/2017
Tommy Hilfiger's New Chatbot Feature Engages Shoppers
Tommy Hilfiger is taking its chatbot into its outstream video ads, extending its reach beyond Facebook Messenger. As shoppers view the company's autoplay video ads, a chatbot will pop up over the video engaging the viewer even more.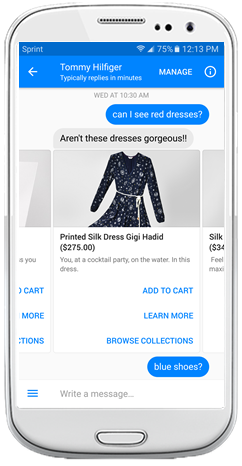 The apparel retailer launched its chatbot through Facebook messenger last year, to allow shoppers to have conversations about the Fall 2016 line. The bot, named TMY.GRL, was created using the artificial intelligence platform msg.ai and it can understand consumer habits and provide the content users are seeking.
Tommy Hilfiger is the first brand to use the new technology from Teads, allowing the company to integrate the TMY.GRL chatbot within outstream video ad formats. The bot is accessed via a call to action laid over the video creative, which encourages users to engage. This call to action is dynamic based on the time of day, for example it might say "Good Morning – Chat to us."
Tommy Hilfiger's chatbot lets consumers globally explore pieces from the brand's new collection by asking questions that help identify the customer's individual tastes and required sizes. To purchase products suggested by the chatbot, customers are transferred to tommy.com, where the items will have already been placed in their basket.
The video advertising integration has been developed by Teads Studio, the creative team formed following Teads' acquisition of Brainient in 2016. The initial campaign will launch in English on both Teads' inRead Landscape for desktop and inRead Vertical on mobile devices.