05/31/2019
The Truth Behind True Value's $150 Million Supply Chain Investment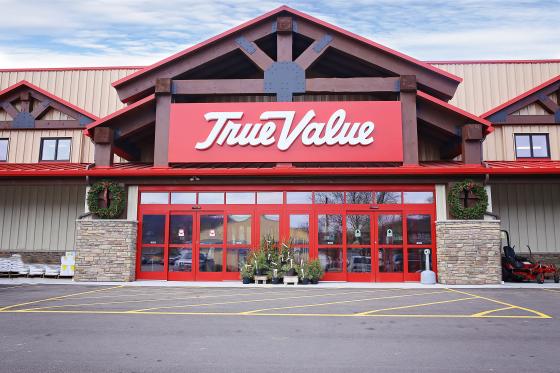 To keep pace with growing demand and maintain its industry-leading inventory fill rates, True Value is investing $150 million in its supply chain firepower. The retailer is in the third year of a five-year supply chain transformation that will see it go from a single-tier supply chain infrastructure to a hub and spoke model.
True Value operates in four zones across the country: Midwest, East, South, and West. The first region to get the hub and spoke treatment was the Midwest. Which now has a hub DC in Illinois and spokes in Minnesota and Kansas City.
Under the retailer's old single-tier approach, each DC stocked all of the retailer's 85,000 to 90,000 SKUs, leading to congestion in the warehouses and slowing down fulfillment times on high-velocity items. Now with the new strategic approach in place hubs will house all of the available inventory for a region, with the spoke carrying around 20,000 of the retailer's most in-demand SKUs.
"This allows us to reduce inventory and become more efficient operating in those spoke buildings," says James Harrington, VP of supply chain, True Value. "In addition we are investing in our hubs to have the right space and equipment to be able to handle the full range of SKUs. It allows us to pull inventory on those slower moving SKUs in one location, driving up our fill rate and decreasing the amount of inventory needed to provide those fill rates."
The results of the new approach speak for themselves. In the Midwest region True Values two spoke DCs are currently operating at an eye-popping 99% fill rate, while maintaining a 97.5% rate across the system.
With the success of the Midwest under its belt, True Value has turned its attention to its busiest and most important region, the East. To allow the Eastern region to operate effectively under the hub and spoke design the retailer needed to build a DC capable of being the hub. The retailer is currently under construction on a state-of-the-art distribution center in Hanover Township, PA which will allot for the majority of the planned $150 million supply chain investment.
The one-million-square-foot DC will support spokes in Allentown, PA; Cleveland, OH; and Manchester, NH which will service more than 1,000 retail locations in the region.
Construction Underway at the Allentown Hub Location
Highlights of the ACON Partnership
Returned over $230 million to more than 4,000 independent hardware retailers, to invest in their businesses.

Record setting growth in 2018 with 300 new customers and nearly 230 new customers so far this year.

Doubling field sales team to better serve current accounts while growing our customer base.

M

odernized marketing support to focus on localized, digital capabilities, allowing retailers vast control over the customization of their regular and promotional offers.
True Value has been experiencing continued and incremental growth over the past few years, quickened by its partnership last March with ACON Investment to accelerate the retailer's long-term strategy to better support independent retailers. Under the new partnership True Value will no longer operate under a co-op model but will distribute to a broader number of independent shops as well. The new strategic approach increased the number of stores True Value serves by 500, bringing the total to around 4,500.
"We had growth before going private with the Acon transaction, but the deal has accelerated that," says Harrington. "The co-op structure while a great structure had some limitations in terms of who we could sell to and who we could target. Now that we no longer have that structure it allows us to continue to provide exemplary service to those retailers that were part of the co-op but also market to a different set of retailers that do not want to be part of a co-op structure."
While the building of a new DC in the East and retrofitting the rest of the chain to handle the new hub and spoke supply chain approach was monumental for the brand, equally important is its supply chain software investments. As part of its five-year supply chain transformation True Value has invested in JDA's Demand and Fulfillment solutions.
"We had been have been on a JDA legacy product and we are now on the most current version of JDA Demand and we just implemented JDA Fulfill," says Lyndsi Lee, VP, supply chain, True Value. "Our ability to respond to demand variability, promotional variability, as well as our retailers' unique needs were incredibly challenging with the legacy solution. We needed a more sophisticated demand planning system. We explored many different solutions and JDA was the best from the usability and sophistication perspective as well as the ability to take some of the development in-house."
Thanks to its improved ability to forecast demand the retailer has been able to reduce inventory across its supply chain network, while maintaining the fill rates its stores rely upon.
"We have seen significant inventory reductions," says Lee. "We have actually made the strategic decision to reinvest those dollars to make sure we maintain our industry leading fill rates.
"All of our SKUs are being forecasted in JDA Demand. We started that process in 2017 and finished early last year. We are beginning to ramp up our vendors on Fulfillment. We have a handful that are on the system today and we are finishing out the logic, capabilities and change management process to get the rest of our vendors up by the end of this year.