03/15/2019
Ulta's Digital Innovation Makes It an Unstoppable Force
Ulta's Q4 2018
E-commerce comparable sales increased 25.1%, representing 240 basis points of the total company comparable sales increase of 9.4%

Ulta enjoyed its strongest traffic in several quarters with transactions up 7.1%, and ticket up 2.3% for the total company. The retail-only comp of 7% was driven by 4.9% transaction growth and 2.1% ticket growth.

Ulta's Ultamate Rewards Loyalty program membership at the end of the year reached $31.8 million active members representing active member growth of 14.4% compared to 2017.
Ulta Beauty seems to be an unstoppable force, enjoying better-than-expected fourth-quarter earnings and a spike in store traffic and online sales. But it doesn't stop there. The beauty retailer has a laundry list of digital innovations it's working on, from online personalization and artificial intelligence (AI) developments to opening two new fulfillment centers to support its goal of achieving two-day e-commerce shipping.
"It's just as important to be a really great omnichannel and digital retailer as it is to create human and great experiences in stores where our guests can touch and feel our products and, importantly, interact with our associates who really love beauty," Ulta Beauty CEO Mary Dillon said on CNBC's "Squawk Box."
Dillon noted on the company's recent earnings call that the importance of e-commerce as a channel is only going to grow, "so we need to continue to make sure that we're a great omnichannel retailer, as well as a great brick-and-mortar retailer."
One of the company's strategies has been to be the partner of choice for digitally-native brands like Morphe and Kylie cosmetics, which Dillon said is paying off.
"Both brands drove very strong traffic in stores suggesting our guests are motivated to make more trips to the store to try these products in person," she noted.
The retailer is also currently working on "personalization as the next frontier of loyalty," as Dillon put it. "We're currently focusing our efforts around personalization by incorporating relevant product recommendations and replenishment reminders across digital channels with much more of the works in concert with our acquisitions of QM Scientific and Glam Street last fall."
In addition to product recommendation and replenishment reminders, chief merchandising & marketing officer David Kimbell revealed Ulta is working on adding customized co-purchase recommendations and website personalization based on shoppers' previous behavior.
"For example, if we see that you're a first-time visitor you'll get a different experience than if you're a frequent visitor, your home page might change, we'll do product finders in unique ways," he noted. "Really, the acquisition of both QM Scientific and Glam Street was to exhilarate our personalization efforts and we're really excited about the progress and results to-date, and feel like we're going to take a big step towards that goal in 2019."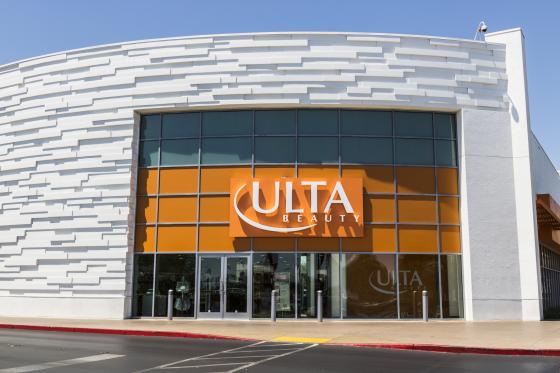 According to Dillon, the retailer has migrated its personalization platform to Google Cloud and is working on conversational commerce and AI-driven communication to automate common customer service enquiries on topics such as birthday gifts and loyalty points. The company also is testing a new salon appointment booking tool and expects to rollout the booking tool with further enhancements in 2019. 
Glam Labs, its virtual try-on app recently launched live video on IOS which will soon be available on Android devices. "Previously the app offered only static images; with advances in virtual trial capabilities we're mapping out linkages between AI and the try-on app that will have applications in areas such as skin diagnostics or finding the perfect foundation," said Dillon.
Ulta also announced it's in the process of converting its Romeoville, IL, distribution center into its first fast fulfillment center (FFC) and plans to open this summer. A second FFC is in the works, expected to open in the summer of 2020 in Jacksonville, FL.
The FFCs are expected to fulfill up to 30,000 orders per day during peak times, increasing Ulta's network capacity and progressing towards the retailer's goal of achieving two-day e-commerce shipping by 2021, according to Dillon. The company also plans to launch a test of ship-from-store at five locations around the country in the second half of 2019. Additionally, Ulta plans to expand its buy online pickup in store initiative from the 47 stores that launched in late 2018 to the full chain this summer.
Ulta plans to open approximately 80 stores in 2019, the majority in suburban strip centers and power centers. It opened 11 new stores in its fourth quarter, ending the year with 1,174 stores.