05/03/2019
Utilizing Technology for Frictionless Retail Experiences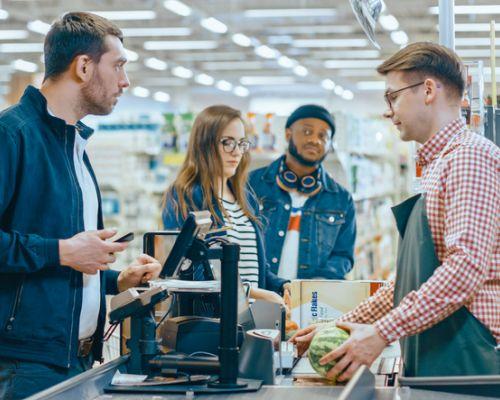 In retail, it's critical to create a seamless shopping experience for shoppers and a frictionless customer journey is rapidly becoming a ubiquitous demand among retailers. However, this can be tough amid constrained budgets, rising shopper expectations and pressure via "click and collect" requests. Digitalization has whet the appetite for an impeccable customer journey, and the online experience continues to increase the desire for in-store interactions. These changing demands are pushing retailers to better harness smart technology and the Internet of Things (IoT) to make shopping a personal and engaging experience, for both the shopper and store associate.
The best innovations are born of necessity, and there has been a great deal of necessity in retail. The much-documented flux of the retail sector has pushed retailers of all shapes and sizes to revisit their strategies and evolve rapidly to keep pace with diverse customer demographics.
Enhancing Shopper Experience  
Frictionless shopping means eliminating anything that negatively impacts the shopping experience or doesn't add value. Common complaints of in-store friction include queuing to pay, delayed or no access to stock information, printing receipts or accessing store cards. Essentially, anything that makes the in-store experience – which is already more of an investment of time than online shopping, a laborious one.
It is not only shoppers that are aware of these issues. Zebra's 11th Annual Global Shopper Study, which surveyed retail associates, decision makers and shoppers, found 42% of store associates had little time to help shoppers because of the pressure to get other tasks completed. 28% claimed that it's difficult to get information to help shopper when they can't find what they are looking for. Furthermore, nearly six in 10 retailers are planning to increase their spend on handheld mobile computers by more than 6% and nearly 80% of retail decision makers agreed that staff checkout areas are becoming less necessary due to new technologies that can automate checkout. Retailers need to continue to invest in technology that addresses shoppers' needs.
Developers can also implement clever innovations such as flagging a scanned product that contains an ingredient the customer is allergic to. However, this doesn't mean store associates are not needed. According to the Global Shopper Study, 83% of retail decision makers and 74% of associates agreed that shoppers can have a better experience with technology-equipped sales associates.
The Outlook for Retailers
There is much to anticipate for retailers, including Artificial Intelligence (AI), which will continue to force the evolution of the retail experience for retailers, associates and shoppers alike. Retailers need to build a more fluid, flexible strategy and prepare for additional disruptive solutions. But while there may be fewer shops, the in-store retail experience is far from going away. There are numerous examples of how innovation is shaping the retail industry, promising reinvention and reinvestment to create a positive shopping experience.
-Pat Glennon, Vice President, North America Enterprise Sales at Zebra Technologies