02/07/2017
Vineyard Vines Employs Unified Commerce to Sell a Lifestyle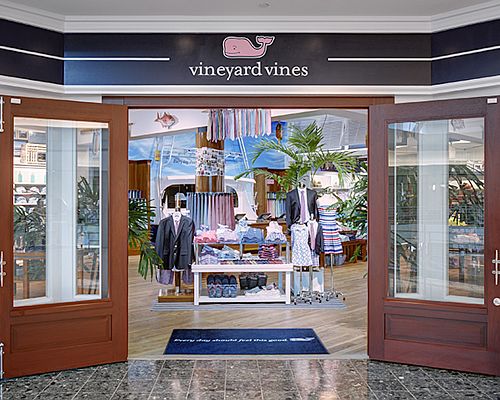 After deciding that commuting to New York City wasn't for them, brothers Shep and Ian Murray founded vineyard vines in 1998 in Martha's Vineyard, Massachusetts. The brothers quit their jobs within ten minutes of each other, ordered some drinks, clinked their glasses together and vineyard vines was officially open for business.

The American clothing and accessory retailer delivered its first 800 ties that summer and sold out in the first week. The company went on to grow to more than 90 stores across the U.S. today.

"We create spaces where people love to buy from us; our environment is not about selling," said Joanne Marciano, SVP, Operations at vineyard vines.
This means efficiently communicating with customers in the way they want to be communicated with. To do this, vineyard vines wanted to evolve away from omnichannel to a unified commerce platform and seamlessly sell its products online and in-stores, so it turned to Salesforce Commerce Cloud.

Commerce Cloud, based on Salesforce's acquisition of Demandware, enables brands to provide personalized experiences for shoppers that span web, mobile, social and in-store. Brands can deliver completely unified experiences for customers that extend beyond commerce to include marketing, customer service and more.

The solution gives vineyard vines' store associates a predictive commerce element that recommends what a customer might like. Having that expertise with the click of a button helps the company deliver amazing customer service.
"What we're doing with Salesforce is taking that dynamic capability on our e-commerce platform and putting it in a store," explained Marciano. "That is extremely powerful. At the end of the day, our customers want to feel like we know them personally when they walk into our stores."

Stores associates are equipped with a single view of the customer and predictive product recommendations all via their hand-held device, allowing employees to improve in-store customer engagement. The solution has also created a single view of inventory from a hand-held device.

"Our store associates feel like shop owners because they are responsible for that inventory," noted Marciano. "Now, each store is a warehouse, so we can do whatever the customer wants. If it's not in the store, we can find it another store, and we know that store has it because it's real-time inventory. This creates an endless aisle for our shoppers."

Additionally, with the dynamic mobile and e-commerce capabilities of the solution, a customer shopping online can seamlessly transition their purchase journey to the vineyard vines brick-and-mortar store if they decide they would like to try on item first before purchasing. Once in-store, a vineyard vines store associate can look up that customer's history and provide the items in that customer's shopping cart, so they can try on and purchase.

"By moving to a unified commerce experience, we're able to seamlessly connect with customers across mobile, social, physical, and digital," said Marciano. "Ultimately, we are creating an 'everyday should feel this good' experience for our customers."

"We're not a fast fashion brand, but we're also not a heritage brand that refuses to change, we will continue to evolve," continued Marciano.  "Retailers can't just sit there and run the same play season after season. You need to stay one step ahead of the competition, because they're going to be right on your heal."

Salesforce Commerce Cloud also delivers frictionless, one-touch checkout with Apple Pay, offering shoppers the ability to easily make secure and private payments in Safari on iPhone, iPad and on the Mac. Merchants can quickly take advantage of Apple Pay's benefits with the option of enabling the feature through a simple configuration. The seamless integration eliminates the extra steps in the checkout process, particularly in mobile, that has kept mobile conversion lower than conversion rates seen on desktop and laptop devices.

With Salesforce Einstein, artificial intelligence is embedded in the Salesforce Platform. It includes product recommendations to personalize product recommendations to shoppers; predictive sort, which will infuse personalized sort and search results based on likelihood to engage; and commerce insights, which will help retailers understand product purchase correlations to power smarter merchandising and store planning.

At vineyard vines, we're always thinking about how we can evolve the experience," said Marciano. "Our goal is to connect with our customers and make product that is a vehicle to take you someplace in your mind. We're not selling clothes, we're selling a lifestyle."