Virtual Reality Headsets and Mobile Apps: Walmart Goes All-In on Workforce Tech
Get great content like this right in your inbox.
Subscribe
From virtual reality (VR) headsets to a new suite of mobile apps, Walmart is upping its retail tech game for employees.
Walmart first introduced VR to employee training at Walmart Academies nationwide last June. Now, after seeing "huge success" of the program, the retailer will provide more than 17,000 Oculus Go VR headsets to all stores in the U.S. to bring the same level of training to more than 1 million Walmart associates.
Walmart will start shipping the headsets in October and they should arrive in every store by the end of the year. Walmart is sending four headsets to every Walmart supercenter and two units to every Neighborhood Market and discount store. Associates will then have access to the same training that their managers and department managers do at the Walmart Academies.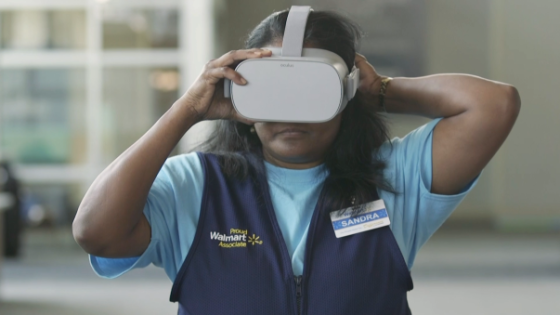 "The great thing about VR is its ability to make learning experiential," said Andy Trainor, Walmart's senior director of Walmart U.S. Academies in a blog post. "When you watch a module through the headset, your brain feels like you actually experienced a situation. We've also seen that VR training boosts confidence and retention while improving test scores 10% to 15% – even those associates who simply watched others experience the training saw the same retention boosts."
Walmart already has more than 45 activity-based modules using software provided by STRIVR in place. STRIVR's platform delivers realistic, repeatable and scalable training content. Walmart plans to use VR to train associates in three main areas: new technology, soft skills like empathy and customer service, and compliance.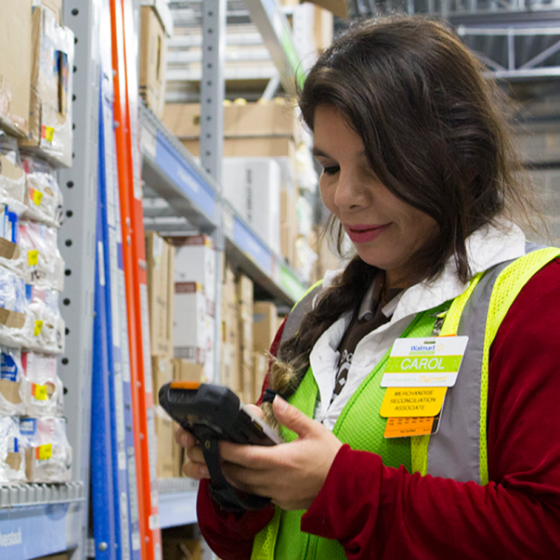 Walmart's Mobile Workforce Apps
In addition to rolling out the VR workforce solutions, Walmart recently introduced a suite of custom-built apps for associates to use in-store, allowing them to manage workforce activities directly from a mobile store device. The six new mobile apps give associates a range of data and help them provide shoppers faster service and more personalized attention. Here's a look at what each of the apps does for associates.
PlanIT 
The PlanIT app is an information hub that associates use to stay up-to-date on company and store announcements. Store managers can use the app to notify department managers of projects that need to be done that day and specific tasks required. The app also empowers all associates to receive information directly from Walmart's home office that was previously provided only to management.
The Receiving App
With the simple scan of a truck ID, the Receiving app tells back room associates exactly which products have just arrived at the store. This eliminates time previously spent manually reviewing inventory and simplifies the planning process required to know which items need to head to the sales floor.
The Downstock App 
As Bossa Nova shelf scanner retail technology roams Walmart aisles, it gathers data on out-of-stock items and sends the info to associates through the Downstock app.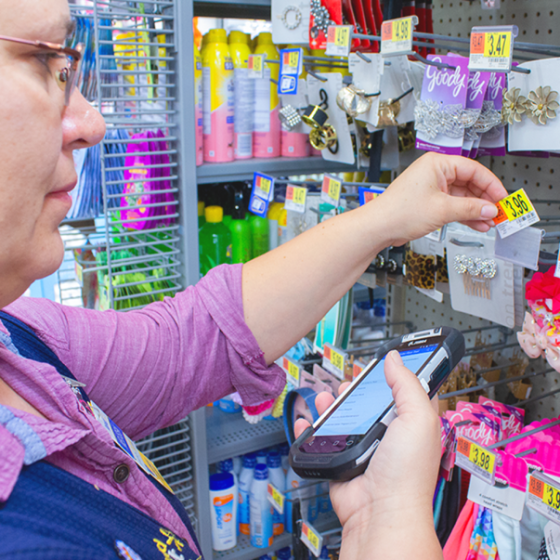 The Price Change App
With the Price Change app, information about product price changes are categorized by aisle so that associates receive them in the order they should be made, creating an efficient path through the store. The Price Change app also increases accuracy while minimizing the time associates spend on the task.
The Claims App
The Claims app outlines the best options available for a product when a customer returns it to the store. More specifically, can the product be sold at a clearance price, can it be donated or does it need to be disposed of? The app removes the guesswork out of managing returned products.
The Sales App
The Sales app updates a store's sales numbers in real time so that associates know how their designated areas are performing against the previous year, down to specific products. With information about top-selling categories in each department, associates can track their accomplishments and stay competitive with other stores in their market.