Walmart Associates Develop New Tech to Save $2 Billion and Eliminate Food Waste
Get great content like this right in your inbox.
Subscribe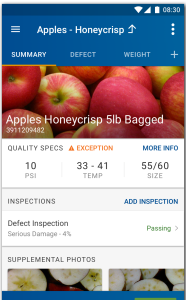 Walmart is developing a retail technology to combat food waste, a growing problem for grocers, by improving the quality and flow of fresh groceries from farm to shelf.
Walmart says the technology, called Eden, helps eliminate food waste and has set a goal to eliminate $2 billion in waste over the next five years. Eden has already saved $86 million in waste  since it was deployed in 43 distribution centers, says Parvez Musani, vice president of supply chain technology, Walmart, in a blog post.
What's more, the retail tech is the result of a "hackathon" among the engineers on Walmart's fresh merchandising teams and was developed in just six months by the retail giant's associates.
"Our goal was to figure out the best way to keep track of food freshness all the way from the farms to our stores," explains Musani. "The winning team determined that building a digital library of food standards was the answer. So they gathered the many chapters of food product specifications set by the USDA, layered on Walmart's own rigorous product standards, and combined all of this information with more than a million photos to create a freshness algorithm that prioritizes the flow of perishable goods worldwide."
Eden technology uses machine learning and a suite of apps to help Walmart associates monitor and care for fresh fruits and vegetables that are waiting to be shipped from distribution centers to stores.
"That could mean more efficiently ripening bananas, predicting the shelf life of tomatoes while they're still on the vine, or prioritizing the flow of green grocery items from the back of the store to the shelf," says Musani.
In the future, Eden will be able to recalculate "the freshness factor" due to environmental changes and re-route shipments to optimize freshness.
Walmart has filed two patents and says it's the first retailer who has digitized this entire process.