05/15/2019
Walmart Fires Back at Amazon With Next-Day Shipping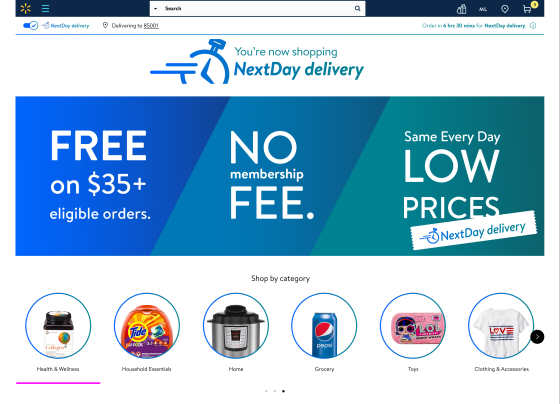 On the heels of Amazon announcing it's working towards offering one-day shipping for its Prime members, Walmart declared it will offer its own next-day delivery service.
Walmart expects the option for one-day delivery to roll out gradually over the coming months, with a plan to reach approximately 75% of the U.S. population this year. Unlike Amazon's planned rollout for Prime purchases, Walmart's one-day online delivery option doesn't require a membership fee. Its NextDay delivery is available on eligible orders of $35 or more.
"Between Amazon, Walmart and Target all pushing for convenience and speed, the competition is quickly heating up," says Charles Dimov, VP Marketing, OrderDynamics. "With three of the biggest retailer players offering free, one-day shipping, membership required or not, customer expectations and the new industry norm have been set."
Walmart's service works like this: When a customer visits Walmart.com and toggles into the NextDay delivery experience, they can view items that are eligible for free NextDay delivery. After adding items to their cart, the customer proceeds to checkout, however, everything in the cart must be eligible for NextDay delivery to qualify and cut-off times vary by location.
Walmart says it costs the company less to deliver orders the next day, because eligible items come from a single fulfillment center located closest to the customer. This means the order ships in one box, or as few as possible, and it travels a shorter distance via inexpensive ground shipping, in contrast to online orders that come in multiple boxes from multiple locations.
"We can offer fast, convenient shipping options because we've built a network of fulfillment assets that are strategically located across the U.S. We've also done extensive work to ensure we have the right products in the right fulfillment centers based on where customers are located and what they're ordering," writes Marc Lore, president and CEO, Walmart eCommerce U.S.
"As retailers look to compete with these mass merchants, multi-channel retailers have a real opportunity to leverage their stores for faster, more flexible and more cost-efficient order fulfillment capabilities," says Meyar Sheik, Kibo's president and chief commerce officer. "Retailers must leverage all the data about the customers and inventory at each store and warehouse in real-time and leverage artificial intelligence to optimize inventory levels and fulfillment costs and enhance the customer experience with the fastest and most convenient delivery and return options. This will enable them to compete more effectively and offer a differentiated shopping experience while minding their bottom line."