Wayfair Steps Up Investments in Customer Engagement and Logistics
Get great content like this right in your inbox.
Subscribe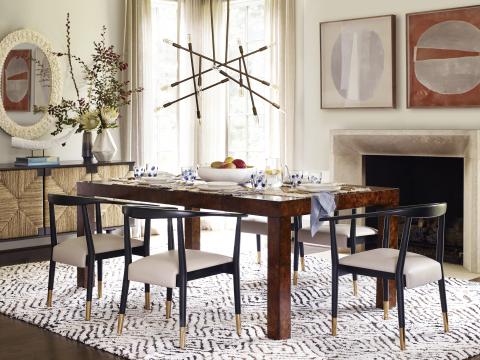 Wayfair's ongoing investments may come at a steep cost, but the e-commerce retail knows investing in building its logistics infrastructure and finding new ways to engage with its customers are key to building momentum.
"We are continuing to remain very well positioned to take a significant share of the dollars that are coming online in the home category, as our team of over 13,000 people continue to make a meaningful impact in transforming the experience of shopping for the home online," cofounder, CEO and co-chairman Niraj Shah said on the retailer's Q1 earnings call.
Wayfair's customers hit 16.4 million at the end of March, a 39% spike year over year. Its employees spiked too. In the first quarter, Wayfair added 1,220 employees to bring its total to 13,344. Around 900 of these additions were namely in its logistics operation and customer service. Approximately 300 hires were in OpEx areas, such as engineering, marketing, merchandising, product, operations, including logistics leadership and technology. In particular, its current hiring has been focused on adding additional engineering, data science and product employees to its team.
Engaging customers
To further customer engagement, Wayfair, which also runs Joss & Main, Birch Lane, and AllModern, is investing in dimensional imagery to help customers quickly get a sense of how large a product is and identify the optimal size for their needs. The online retailer is also incorporating 3D models of various products and dimensions style images and its augmented reality, viewing room functionality to further aid visualization.
"We have benefited from increased customer analytics and feedback and have been able to further tailor our customer offering," Shah said, noting that Wayfair found customers didn't understand product terminology that suppliers typically use. "To better educate our customer we updated many of our filtering attributes to more customer-friendly language and launched enhanced visual filters for kitchen and garage storage products. For example, you can now visually search for trash cans using a filter for the opening mechanism and sort by step on, swing top, motion sensor, or open top."
Mobile Investments
This year, the home goods giant will also focus on increasing the speed of its mobile app, while undergoing a redesign to make it feel more native.
"We expect these improvements will make the customer experience more fluid, easy to navigate and fun," said cofounder and co-chairman Steve Conine. "Another goal will be to improve our View in Room experience by leveraging our investment in 3D modeling in AR and VR technologies that we have developed."
Roughly 20% of gross revenue for Wayfair.com is now coming from its mobile app. In 2018 the app was downloaded nearly 13 million times, bringing the company's total Wayfair app downloads to more than 31 million, as of Q1. Additionally, the growth in the app's monthly active user base increased by over 80% year-over-year in March 2019 and mobile orders, including app, mobile web and tablet, account for over 50% of the retailer's total orders.
"We find that our app customers are much more engaged with our site, viewing far more pages in a single session than customers visiting on our mobile website, and converting at a higher rate," said Conine. "Additionally, push notifications offer us a unique marketing vehicle, as we're able to reach customers without any additional investment in marketing. Moreover, we find that customers who choose to opt-in for push notifications visit the app significantly more often than those who are not subscribed for these notifications."
Conine noted over the next several years, he expects people to continue to gravitate toward mobile devices and away from desktops.
"We believe our app is an important aspect of our offering and provides an efficient channel to market to customers, which is why we are dedicating substantial engineering, product management and data science resources to enhance this capability," he said.
Fulfillment Investments
Beyond investing in engagement, Wayfair said it will continue investing in it logistics network. In 2019, Wayfair plans to add approximately five million more square feet to its network, including three million from new U.S. CastleGate warehouses, including a warehouse in Savannah, GA, that just opened and two warehouses expected to open later this year in Jacksonville, FL, and Lathrop, CA. Wayfair finished 2018 with approximately 12 million square feet of space in North America and Europe across its CastleGate and Wayfair Delivery Network (WDN) facilities.
The retailer is also increasing the sophistication of its network and offering a variety of inbound supply chain services to suppliers such as ocean freight and drayage.
Looking ahead, Shah noted, "my feeling about ultrafast delivery is that that's going to more become the norm than the exception in all customer categories just because the customer desire has a high emotional component along with a need component."