12/26/2018
What Does Amazon Go Mean For the Future of Traditional POS?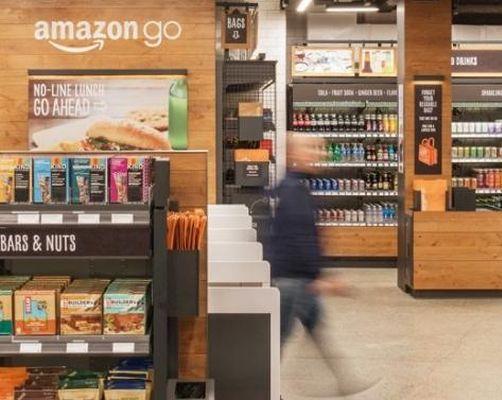 Retailers – especially those in the grocery industry – are competing to decrease lines and make the shopper's experience as seamless as possible.
As evidenced by Amazon Go's recent momentum, the industry is shifting away from the traditional point-of-sale (POS), and the inaugural location's success is a great example of how POS, loyalty and payments are all converging.
The premise is simple: Eliminate checkout lines and shop with ease. Can you imagine never having to wait in line at a grocery store again? Amazon can, but it's not the only company thinking about a line-free retail world.
The Concept
You've likely seen the now-viral advertisement. Amazon Go starts with a smartphone app. When entering an Amazon store, shoppers scan a code on their smartphone that serves as their virtual shopping cart. When shoppers pick up items, weight sensors and cameras in the store detect what is picked up, in what quantity, the associated costs per item and communicate that information back to the virtual cart on the shoppers' phone.
Once shoppers have everything they need and are ready to leave the store, they simply walk out the door. No checkout lines – period. The app uses the shoppers' predetermined payment method and as the shoppers approach the exit doors, they're automatically charged. How's that for frictionless shopping?
The Industry's Response to Amazon Go
Other retailers are taking notice and creating frictionless experiences of their own.
Walmart is piloting its new concept with its membership-only chain, Sam's Club, which could give Amazon's cashier-less stores a run for their money. The "technology-driven" store features a digital experience, including the company's "Scan & Go" mobile self-checkout system, a fast membership sign-up process, self-serve returns and same-day pickup and delivery options.
Walmart is not alone, however. Top grocery and convenience store chains are increasingly looking to mobile wallets to help decrease checkout lines. For instance, 7-Eleven recently launched a mobile self-checkout pilot. 
More than a convenient way to pay, mobile wallets are quickly becoming an integral part of the evolving world of payments. Worldwide mobile payment revenue is expected to grow from $930 billion in 2018 to over $1 trillion in 2019. Retailers who accept mobile wallets at the point-of-sale are offering their customers the most streamlined checkout experiences available. Failing to adopt wallets could mean missing out on huge market opportunities.
The Takeaway
Amazon is an innovator and a power player. Consumer trends and desires have certainly changed, and Amazon is hitting their pain points head on. And these pain points are not exclusive to brick-and-mortar retail; online retailers face similar challenges, too.
To stay competitive, online experiences should be just as seamless and offer the ability to purchase easily, quickly, and securely. Retailers can achieve this by giving their customers everywhere the payment choices they want. This means supporting e-wallets and credit cards as well as local payment methods and currencies used in almost every corner of the world.
If your in-store and online checkout experience aren't focused on improving convenience and making the customer's experience as painless as possible, you'd be smart to follow the examples set by innovative retailers. 
-Ralph Dangelmaier, CEO at BlueSnap