Why Does The Vitamin Shoppe Need 800 Instagram Accounts?
Get great content like this right in your inbox.
Subscribe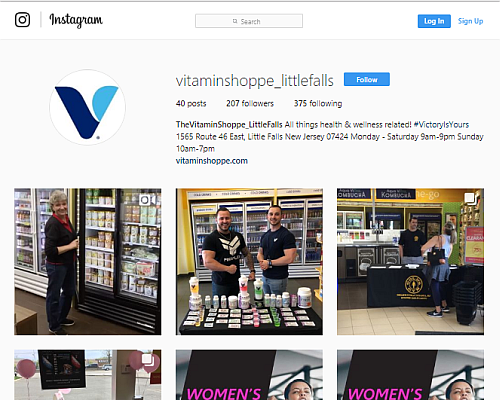 While the heath craze continues to catch fire, vitamin stores aren't exactly hot spots.
The Vitamin Shoppe posted weak Q1 2018 results, having just completed the sale of Nutri-Force, its manufacturing business, to Arizona Nutritional Supplements (ANS) on May 7th. Sales in the quarter were 3.2% lower than the specialty retailer's same period last year, while comparable sales were down 3.6%.
GNC reported at the end of April it will close 200 stores in 2018. The competing retailer also posted consolidated revenue of $607.5 million in Q1 2018, down from $654.9 million in Q1 2017. 
To turn the tides, The Vitamin Shoppe has honed in on localizing and personalizing its digital strategy.
Its SPARK Auto Delivery platform (ADP) has almost 600,000 active subscriptions, which helped drive digital commerce sales, up 20.7% in the quarter. SPARK ADP offers a 10% discount, free shipping, flexible delivery, a wellness plan, and delivers members a curated sample box two times a year. The program is doing so well the retailer is piloting an Easy-Reorder service, anticipated to rollout in the back half of the year.
"It's an attractive option for customers as it's convenient with one-click reordering and a choice of delivering their product at home or pick up in store," said CEO Colin Watts.
The Vitamin Shoppe is also creating a healthy rewards membership program that will be more robust, piloting the new program in Q3 2018, with an expected full rollout by year-end 2018 or early 2019.
"The digital experience we're creating is more engaging, more inspiring and gives us the capability to deliver more personalized content intended to convey the expertise of our Health Enthusiasts," said Watts.
In its first quarter, The Vitamin Shoppe scaled pilot work it began in 2017, increasing digital marketing investments in both paid search and performance marketing.
"We continued to refine our incentives and grassroots marketing programs to help drive stronger traffic and customer acquisition," said Watts. "We also made changes to improve SEO. This increased investment focus on customer acquisition resulted in new customer growth of 10.3%, and we also saw growth in overall transactions."
The Vitamin Shoppe continues building out it grassroots marketing campaigns with the launch of 800 Instagram accounts, one for each of its U.S. stores, to localize more of its marketing.
Since starting the effort in January, the chain is up to 400 active accounts, with the rest expected to be activated in the next couple of months, according to Digiday. The idea is for the stores' employees to use the accounts to promote store events and their expertise on products while showing off their personalities. The Vitamin Shoppe has been promoting its employees as influencers, with weekly Facebook Live videos featuring employees hosting workout sessions, health classes and taste tests in an effort to position the company as an authority on health and wellness.
To this same end, the retailer just launched a Wellness Council in May comprised of eight leading health and fitness influencers. Aligned with its Wellness Council of industry experts, The Vitamin Shoppe aims to promote a message of empowerment through healthy lifestyle tips, motivational videos, and relatable storytelling. Each Wellness Council expert will act as an ambassador for The Vitamin Shoppe, and spread the company's Victory Is Yours marketing campaign message through social media, curated content, instructional videos, and live events. For example, one member of the Council will author a health column on The Vitamin Shoppe's What's Good by V blog, in addition to providing ongoing tips that will be shared on Instagram and Facebook.
According to Digiday, The Vitamin Shoppe lets store managers post what they want on the employee-run Instagram accounts, but the company will occasionally provide photos and videos for them to post to support company campaigns. Unlike its official Instagram account @vitaminshoppe, with 195,000 followers, the others will not be verified.