Why the Smart Money Bets on Analytics
Get great content like this right in your inbox.
Subscribe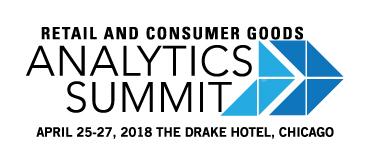 The road ahead requires retail companies to make smart bets on strategies that generate strong growth and competitive advantage. At the 5th annual Retail and Consumer Goods Analytics Summit in Chicago, four top executives will present "Why the Smart Money Bets on Analytics" on Thursday, April 26, 2018.
This panel session explores today's retail and consumer packaged goods (CPG) landscape from the perspective of the venture capitalist and private equity investor, with an emphasis on the key technologies that are changing the game. Join Andy Walter, VP, IT & Shared Services (Retired), Fmr. Procter & Gamble;  Wendy Lea, CEO, Cintrifuse; Sandeep Dadlani, Chief Digital Officer, Mars Incorporated; Roger Freeman, Partner, SFW Capital Partners for these valuable insights.
Andy Walter, is a business results-driven professional with extensive experience in strategy, development, execution, and operations across shared services and IT. He led the commercial services & delivery organization (over 1500 IT and multifunctional professionals) for P&G's Global Business Services (GBS). His team was accountable for developing cutting-edge capabilities for P&G to win "where it matters most," with consumers, shoppers, and retailers. With over 25 years of experience, Andy's IT & Shared Services career has spanned a variety of assignments including Global R&D, Product Supply & Manufacturing, Marketing, and International Sales & Operations. Andy also designed and led the industry-leading business intelligence / analytics journey across P&G. Under his leadership, P&G received the first-ever Excellence in Analytics Award by The International Institute of Analytics.
Having delivered business solutions in 30 countries, Wendy Lea, brings a worldly point of view to digital innovation and a charming edge to her entrepreneurial pursuits. Her entrepreneurial success is evidenced through the acquisition of OnTarget in 1999 by Siebel Systems, where she was a co-founder; Stratify's acquisition in 2007 by Iron Mountain, where she served on the board and, most recently, Get Satisfaction's acquisition by Sprinklr where she was an investor and CEO. Through her 5 years of board service at Corporate Visions she guided exponential growth that led to a significant round of private equity investment in June 2015. Currently, she is the CEO and serves on the board of Cintrifuse, a public-private partnership that enables high-growth startups to prosper in Cincinnati.
Sandeep Dadlani joined Mars, Incorporated as chief digital officer in September, 2017, and has responsibility for working with Mars' global business segments to drive its digital transformation agenda, while delivering effectiveness and efficiency to existing technology platforms. Sandeep will bring the power of design thinking, new data analytics capability and automation to accelerate digitization at Mars. Prior to joining Mars, Sandeep worked at Infosys, a $10 billion global systems integration firm, where he was president and head of Americas. He also was the global head of Infosys' Manufacturing, Retail, CPG and Logistic Practices. In this role he managed a portfolio worth US $3.5, billion and helped more than 300 global clients embrace digital technologies, including artificial intelligence and machine learning.
Roger Freeman is a partner, cofounder, and member of the investment committee of SFW Capital Partners, a specialized private investment firm. SFW provides capital and support to build businesses through management buyouts and growth investments in mid-size providers of analytical tools and related services. Roger has served on numerous private company boards, and currently serves as chairman of the board of Agdata and MD Buyline, and as a director of Buyer's Lab and Spectro. Prior to cofounding SFW, he was a managing director at AEA Investors LLP, where he was part of the team that pioneered the firm's analytical tools investment practice.
The 2018 Retail and Consumer Goods Analytics Summit will be held April 25-27 at The Drake Hotel, Chicago, Illinois. The conference will feature keynotes from retail and consumer goods leaders, peer-to-peer exchanges, networking opportunities and relationship building. For more information, to view the full agenda, or to register for the event click here.