Why Target's Website is Invite Only to Outside Retailers
Get great content like this right in your inbox.
Subscribe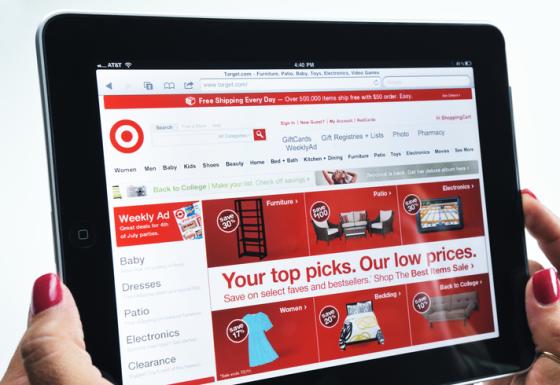 Target is beginning to work with more outside retailers to fill its e-commerce site, but by invite only.
The retailer just rolled out Target + (Target Plus), a curated assortment of products from third-party sellers on Target.com. It's an initiative in its earliest stages, designed to complement Target's current assortment with SKU additions in popular areas like home, toys, electronics and sporting goods.
"Guests look to Target for great products," said Rick Gomez, Target's chief marketing officer and digital officer. "With Target Plus, we aim to give them easy access to even more great products by partnering with best-in-class specialty and national brands that will help guests save and get more done in just one stop to Target.com."
Unlike Amazon and Walmart, which require brands to fill out an application requesting approval to sell there, Target is actively reaching out to retailers to invite them to sell on its website.This invite-only approach could help Target avoid issues with controversial merchandise ending up on its website, such as  what happened with Walmart last year, suggests CNBC.
"We see this as a long-term opportunity to drive profitable growth," Gomez told CNBC. "This is intended to be a very curated and select group of products and brands. ... We are reaching out to the brands we want."
"Target is making a big bet that by thoughtfully selecting the brands and products on its Target Plus platform, it can create attractive differentiation from Amazon's more open-market, 'everything store' approach," Michael Lagoni, founder and CEO, Stackline, told RIS. "Target Plus will still have to compete with Amazon on convenience and price, but this smart move gives them some freedom to focus on a consumer segment that is willing to sacrifice some scale for pre-curated quality. Target will also be well-positioned to develop strong relationships with brands that would otherwise be deterred by competition with third-party sellers."
To start, Target shoppers will now find an expanded array of running shoes, more outdoor décor and patio accessories, a broadened assortment of STEM learning toys, new musical instruments and baseball gear for all skill levels. All sellers were carefully selected and invited into the program, according to Target, and the new Target + products are seamlessly integrated throughout Target's website.
"Target + provides guests with a curated selection of product choices that enhance our existing assortment, with the perks they enjoy from Target, like 5% off with a Target REDcard, free shipping and easy in-store returns," said Gomez.