Will Hudson's Bay's Investments Be Enough?
Get great content like this right in your inbox.
Subscribe
HBC Q1 2019 Results
Revenues totaled $2.1 billion, with comparable sales up 0.3%, excluding Home Outfitters and Lord + Taylor currently undergoing a review of strategic alternatives

Digital sales increased 13.9%, excluding Lord & Taylor and Home Outfitters

Saks Fifth Avenue comparable sales up 2.4%, continuing to deliver industry-leading results with a two-year stacked comp of 8.4%
Saks OFF 5TH returned to growth, with a 4.4% comp in the first quarter
Hudson's Bay Co. continues to invest dollars in digital, has an offer to go private, and is still in the process of shedding pieces of its operation, but will the efforts be enough to course-correct the struggling retailer?
A group of Hudson's Bay Co. shareholders that includes chairman Richard Baker is stepping in with a cash bid valued at about $1.74 billion to take the company private. The company will also sell its remaining stake in its German real estate joint venture, a transaction totaled $1.5 billion, and completely exit its German operations.
It may also unload its Lord & Taylor division, which HBC said in May it was looking to sell. In 2018, HBC announced the closing of up to 10 Lord & Taylor stores and has completed five of those closings. The company will begin liquidation in four additional stores shortly, two of which are Lord & Taylor outlets and expects to complete the closing of all four in its third quarter. It also shut down its flagship this year.
For Saks OFF 5TH, the retailer estimated closing 20 locations in the U.S. and said it has now identified 15 stores that will be closing throughout 2019, with the vast majority to shut at the end of its Q3. 
This follows the closing of its Home Outfitters chain in Canada, which has 37 locations, and the sale of Gilt.com.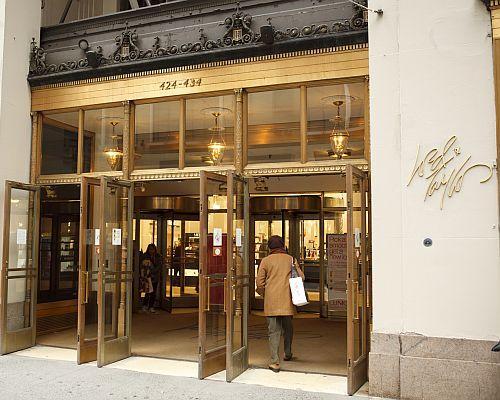 If Lord & Taylor sells, the retail stores left from the company founded in 1670 will consist of Saks Fifth Avenue, Hudson's Bay, and any remaining Saks OFF 5TH stores.
To improve remaining operations, the company plans CapEx for the year of $300-$325 million, which CFO Ed Record said will "adequately allow" HBC to continue to invest in digital.
"We're investing more this year than we did last year in digital… both for digital and to run the business and allow us to continue to refresh the stores," said Record.
"We have an unwavering focus on continuing to improve our cost structure while making strategic investments in technology, marketing, digital and our stores, all designed to benefit our existing customers and attract new ones," said CEO Helena Foulkes.
Here are a few of the ways the company is investing in its technology and customer experience.
NPS Tools
The company has made net promoter scores (NPS) data information available, allowing general managers to see every day what the customer is saying and respond accordingly.
"What I love about this is, this is not corporate driving actions but it's very local," said Foulkes. "And when I visit stores I'm seeing teams every single day responding to what the customers telling them. And those can be small things that make a big difference. So, that's one chunk of activity that's already taking hold and we can see it in the net promoter scores across the board."
Saks Fifth Avenue Pilots
"More and more, our associates are leveraging technology and social media to initiate and grow client relationships," Foulkes noted.
"As we reinvigorated our sales associate training to emphasize service and selling, our net promoter scores jumped from the fourth quarter," she continued. "And we continue to launch a number of pilots, which apply simple, low-cost solutions to address customer pain points."
One of the pilots the retailer has been testing involves making the switch to central checkouts, breaking from the traditional department store model of having many checkouts around the store.  
"It's actually a better store experience for our customers to have one cash desk per store," said Foulkes. "So, we're seeing in those stores where we're both improving the NPS, taking labor out and for us really that's the magic combination. So, in total, you should see us being able to take cost out and improve the customer experience."
Inventory Tools
HBC has been working hard to aggressively reduce the level of inventory while improve its in-stock position.
"In addition to new tools and processes to support data-driven decisions by our merchants, the team has been working to make sure that we are holding inventory in the most advantageous location for our customers," Record noted. "And while we are in the early stages of improving our planning, allocation and supply chain, our customers notice the change. We experienced notable increases in our U.S. digital NPS scores, tied to improving our out-of-stock position, with zero impact to the store experience we deliver for our customers."
"The team has really done a lot of work on merchandise planning and allocation, we've rolled out new tools to our team," Foulkes noted. "You will see in the second half of the year and in 2020 an impact of those changes, because we're able now to buy better and more effectively."
Hudson's Bay Mobile App
For Hudson's Bay, the retailer launched a new mobile app with functionality aimed at improving the online and in-store experiences.
Customers can use the app in-store to scan barcodes for product details and to make a purchase to be delivered straight to their door. In conjunction with the app launch, the retailer has been able to tighten to a three-hour window for ordering online and picking up in-store.
Saks' preorders
"For Saks, our personalization efforts are focused on tailoring our services based on personal style, effortless luxury experiences and exclusives our customers will value," said Foulkes.
To this end, the retailer fixed the fundamentals embedded in its preorder process in its first quarter 2019. Preorders allow customers to select next season's hottest items, well before there is wide availability and sellouts. The fix resulted in a sharp improvement in fulfillment as compared to last year, according to Foulkes.