You Don't Have to be Amazon to Create a Frictionless Retail Experience
Get great content like this right in your inbox.
Subscribe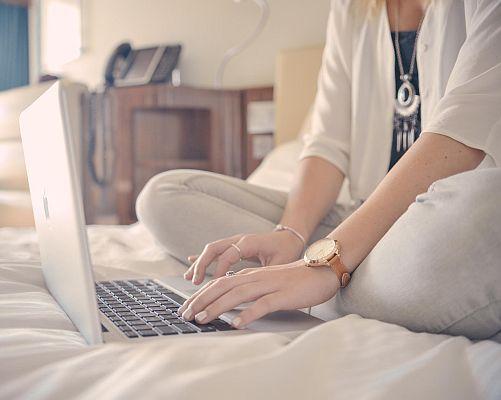 The new normal in retail comes down to one simple concept, ease of purchase. The longer the list of obstacles that stand between your product and your customer, the less likely your customer is to complete a transaction or return for another. But let me let you in on a secret. Its okay, you can still thrive even if you're not Amazon.
Any brand can remove friction in the customer journey and create omnichannel shopping experiences that enable quick purchases in a variety of ways that in turn increase demand and wallet share. From research to payments to delivery to returns, every step in the customer journey has a digital component to it that can reduce or alleviate purchase-deterring frictions.
Mastering a frictionless customer journey
Food delivery apps are a classic example of a frictionless customer journey. With one tool, you can learn which restaurants service your location and how well each of those restaurants performs, order your meal, pay for that meal, and provide reviews on the overall experience. Plus, once you've stored your payment information, you can repeat a past order with one simple click.
Buying a new shirt is still slightly more complicated. Payment and delivery are easy to accomplish online, but in this case, retailers also need to remove the frictions of finding the right style at the right price. Some companies alleviate these frictions by sending you a box of pre-matched outfits, and then allowing you to send back what you don't want. Others allow you to rent high fashion items for a day. Another concept, "concierging", allows you to click to chat with a brand's stylist. You can say, for example, "I saw this outfit on Pinterest, how do I get this look now?"
An added benefit to these frictionless experiences is they not only improve the likelihood of a sale, they increase demand. Without obstacles, customers are more inclined to make purchases and recommend the same service to a friend or their social media communities.
Omni-channel and differentiation strategies
Another way to improve ease of purchase is to diversify the channels through which you offer your product, seamlessly extending your store to wherever the shopper wants the store to be. In simpler terms, enable your customer to purchase your product any place, any time. By catering to your customer's changing location and needs, you have a de facto edge on competitors who only sell through one channel.
Selling on multiple channels is also an opportunity to provide select customers with an enhanced experience. For example, you can merge the digital and physical experiences to offer additional features to customers who engage using mobile devices. Take a hiking shoe, for example. If you purchase a hiking shoe with a lifetime warranty online, and allow the brand to access your data, that brand can continue to service you as you use the product. A sensor in the shoe could detect if the is in need of repair, and actually trigger the delivery of a new pair to you, wherever you may be, within 24 hours. If you're out hiking the Pacific Coast Trail, that delivery could be to the next hiking post on your route. By giving the retailer access to where you are and what you're doing, through your mobile device, you've essentially exchanged data for a relationship and services with the retailer. 
The same example would apply to a tire company if it was able to track its customer. Have a flat? Using Internet of Things (IoT) technology, your vehicle could communicate with your tire provider to have a new one delivered to you and even dispatch an installation service.
Digitizing the physical world
Whether your strategy is to create a seamless user experience or to diversify channel offerings, digital tools and Internet of Things technology will be critical in keeping pace with the future of retail. From virtual dressing rooms to payment simplification, these technologies serve to eliminate friction, build loyalty and create differentiation in the process.
Amazon Go is a shining example of IoT technology already in use. This convenience store format allows customers to take products from their shelves and purchase without going through a traditional fixed register station. But did you know parts of this model have been in use for years already? Apple, for example, allows customers to use their iTunes accounts to self-check-out with certain items in their stores. At Cisco, we wanted to show how effectively this technology could work outside of an Apple store, so we partnered with Apple to power our fully functional Toy Store booth at National Retail Federation (NRF) earlier this year. The result was a success. Using stored profiles, our visitors were able to shop our store environment, scan products for purchase, pay and walk out all from a mobile device.
Using smart digital platforms and event-triggered algorithms, brands can implement pieces of Amazon Go that offload labor and take some of the friction out of their user experience. Starbucks has put that concept to use through a pre-order and pay app that allows customers to order and pay ahead of visiting the cafe. Even if they don't achieve a zero wait time experience, as long as the line to pick up the pre-ordered beverage is shorter than the line for walk-in ordering, the customer wins. So does Starbucks, because a purchase has been made and data about the pre-order customer will deliver invaluable information that can turn into customer experience benefits.
The learnings here support getting started and thinking of your digitization process as a journey that will deliver value now and allow you to build upon that value chain going forward. Ask yourself, what could my brand do to reduce friction with the data and technology we have today? After all, the technology is here today for your brand to start delivering a better experience with real business results today.
-Kathryn Howe for Cisco