03/12/2018
3 Areas Home Depot is Investing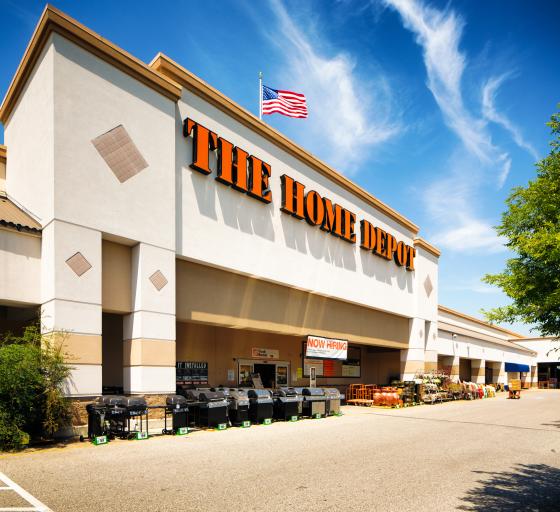 "If we don't invest in front of our customer expectations, we'll be left behind and we know that," said Home Depot's SVP of Finance Richard McPhail at the Raymond James 39th Annual Institutional Investors Conference
The home improvement retailer plans to roughly double its investment in the next three fiscal years to nearly $11.1 billion to expand and modernize its business. McPhail said Home Depot will invest $5 billion in stores, $2.9 billion in its online business and IT platforms, and $800 million as part of a $1.2 billion five-year investment program to create one supply chain. McPhail noted if Home Depot delivers on the following operating targets, it expects to deliver return on invested capital of above 40% by 2020.
Stores
Home Depot plans to invest in improving stores' navigation, checkout, and associate tools.
The retailer has already created a digital experience that customers use in stores to locate product by isle and bay. It plans to enhance those digital experiences and overlay physical improvements to stores, including enhanced signing package and better in-day lighting.
"Altogether, when we've tested these concepts, our customers give us 30% higher score in terms of satisfaction with respect to how easy we are to shop," noted McPhail.
To improve the checkout experience, Home Depot is changing its registers to versions that can flex between being run by cashier staff or acting as self-checkout. The retailer is also installing lockers in the front of stores so shoppers can pick up online orders faster without going to a service desk. Home Depot said it sees a 17% decrease in the amount of time it takes to pick up an online order with these changes.
Home Depot is also going to give associates a tool it calls "order up" to assist customers.
"When an associate handles the customer order today, they have to navigate 10 different systems to manage that order. Through our investment program, we're going to consolidate those systems into one system," said McPhail.
Online
According to McPhail, 60% of all Home Depot store sales are influenced by digital visit. As part of its investment program, Home Depot will build out a user authenticated experience, leveraging the platform of Home Depot.com, into what he called a "B2B Web site." The portal will provide the retailer's Pro customers with workflow management tools, quoting tools, approval tools, order histories, dynamic order lists, a repository for all outstanding puts, and more.
It will also work to "light up" its online installation services, so shoppers can purchase and book installation online easier.
Supply Chain
Home Depot plans a $1.2 billion of investment over the next five years as it creates "one supply-chain," focusing on investment on the downstream piece of its supply chain, which delivers product from stores or fulfillment centers to customers' homes or jobsite.
Currently Home Depot has four independent disparate downstream delivery operations, but though investments, it plans to build one integrated downstream supply chain with five components. In doing this the retailer hopes to eventually reach 90% of the U.S. with next-day or same-day shipping capability and remove a lot of the operational burden of delivery from stores. At a time when many retailers are moving to fulfill orders from stores, Home Depot is setting out to remove the majority of delivery operations from stores in its top 40 markets.
"If you think about it, stores are really not the most efficient means of picking, staging and then executing a delivery," said McPhail. "When we remove that activity from the stores and put it in the lowest-cost environment possible, that frees up labor and other resources that we can shift the customer service in the store."