3 Tips for Making the Switch to Real-Time Retail
Get great content like this right in your inbox.
Subscribe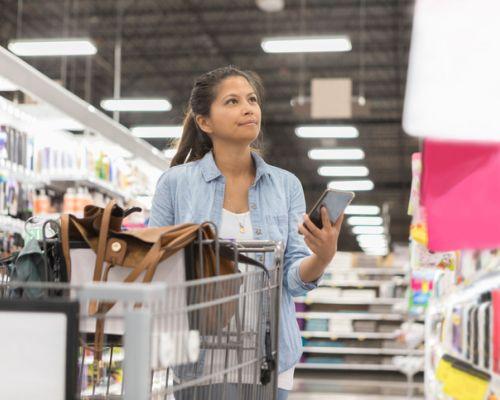 Customers increasingly expect a seamless experience from retailers whether they're in-store, on their laptops or on their smartphones.
To meet this demand, growing numbers of retailers are embracing aspects of real-time retail, which involves the instantaneous collection, analysis and distribution of data to give customers a personalized, integrated experience wherever they are. In fact, 95% of retailers aim to start using real-time analytics in the next five years.
So how can you implement real-time retail to connect with customers and drive more sales? Here are three tips to get you started.
Create an Official App With Real-Time Promotions
An official app for your brand can be an excellent starting point for real-time retail and a critical touchpoint with customers. An app can help you to improve your relationships with customers, stay top-of-mind and drive more sales.
Your app can serve as a go-to source of information for customers about your brand, products and special offers. You can incentivize your customers to use your app and shop with you by offering exclusive discounts and promotions through the app.
Real-time promotions, such as personalized offers sent to shoppers while they're in-store, can be especially compelling. While 47% of customers say they want these types of promotions, only 7% of retailers offer them.
Personalization should be a central part of your app. Mobile apps give you the ability to show users personalized content based on their purchase and search history and the information they provide you, helping you to build relationships with your customers.
Offer Multiple, Seamless Payments Options
A fundamental aspect of real-time retail is the availability of multiple payment options that work seamlessly together.
These options include traditional in-store transactions, online ordering for delivery, online ordering for in-store pickup, smartphone ordering and any number of new, alternative ordering options that seem to be in development on a regular basis.
While having multiple options for payment is beneficial, it's critical that they're all user-friendly and that moving between them is a seamless experience. All of your systems should share data in real time. Employees should be able to see shoppers' online purchase history on in-store POS systems if the customer provides their account information.
Inventory information should also be uniform across all platforms. We'll cover that in more detail in the next section. Additionally, your branding should be consistent across every channel.
​​​​​​​

Set up a Real-Time Inventory Management System
Keeping your inventory information consistent and up-to-date across all of your platforms is crucial for success when you're using multiple shopping and payment platforms.
A real-time inventory management system enables you to do this. To accomplish this goal, you'll use a cloud-based infrastructure, which provides a central inventory database and facilitates the updating of information across all platforms as soon as an inventory change occurs.
Such a real-time inventory management system offers numerous benefits. It increases efficiency by allowing employees to see exactly how much product inventory is available and where it is at any time.
By giving you enhanced insights into your inventory, it will enable you to better ensure that you have the optimal amount of stock at any given time. This knowledge is crucial since 63% of shoppers will buy from a competitor or not at all if an item they want is out of stock.
You can also use your system to provide inventory information to customers. Inventory data can inform in-store maps that customers can access through your app and use to find items while shopping.
You can also let customer filter results by in-store availability when they're shopping online for pickup. This strategy will help you avoid the frustration that customers feel when they order an item for pickup only to find that it isn't currently available at their local store.
Shoppers increasingly expect real-time, personalized retail experiences. Retailers can get ahead of the competition by starting to roll out these capabilities now.
When they're backed by adequate network infrastructure, systems such as the three listed above can help foster stronger relationships with customers, enhance efficiency and increase sales.
Kayla Matthews writes about real-time technology, automation and the Internet of Things for publications like Marketing Dive, IoT For All, PR Newswire and InformationWeek, among other publications. To read more from Kayla, connect with her on LinkedIn and cite this website in your introduction email.