3 Ways Mobile Can Improve Retailer's Customer Service
Get great content like this right in your inbox.
Subscribe
Mobile use is on the rise and its growth spurt is only expected to pick up more steam. By 2020, global mobile phone use is slated to be at 5.4 billion. That's more people than will have access to electricity, running water or cars.
Retailers have to attend to customers on the platforms that are most convenient to them. Here are three ways retailers can cater to customers and provide excellent customer service through mobile phones: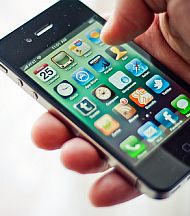 1. In-App Communication
More and more people are using apps on their mobiles. Apps allow businesses to strengthen their relationship with a customer and in-app feedback forms allow customers to communicate a problem they're having or make a suggestion.
Many app users expect to have 24 hour access to customer service through an app. An in-app help desk with live chat allows them to communicate with a representative quickly and easily. QR code forms are great for customers to reach out when they're not connected to the internet. Home Depot highlights their message center and its benefits to users who just downloaded their app by sending them a welcome message.
One of the biggest benefits of delivering first-class in-app customer service is that issues can be handled privately. When customers voice their frustration via social media or leave comments on websites (even if that frustration happened because of simple misunderstanding), that can damage your business reputation.
Providing consistently good customer service through the app will give customers the incentive to keep connecting through this private channel.
2. Mobile Messaging
SMS is an effective way to provide customer service: Customers can send and receive messages no matter where they're located. They don't need an internet connection or even a fancy smartphone. This simplest of communication methods yields incredibly high open rates and response rates.
Retailers who offer SMS as an option to their customers are offering them an option that's convenient and effective. In addition to reactive customer service, SMS is also a great proactive customer support tool:
Answer customers' questions. Use text messaging to immediately answer a question from your customers. This is especially helpful when your customer is trying to make a purchase decision.
Notices. Let a customer know that their membership or policy is about to expire with a text.
Tips and advice. Give customers tips on how to get the most out of their purchases in SMS message.
3. Mobile Optimized Self-Service Pages
67 percent of customers prefer self-service over any other form of customer service. Businesses have paid attention to this trend by building websites that provide visitors with the answers they're seeking. Some ways to do this are:
Having an awesome FAQs page. Use the data you have from customer queries to provide answers that are clear enough that customers don't have to take extra steps to find the information they're looking for.
Creating video tutorials. Videos can help guide a customer through a complicated or technical process that can be hard to grasp with text alone.

Electronics company

Bose's YouTube page

is dedicated to showcasing their products at different events and conferences, as well as tutorials on how to use them.

 Matt Pierce, customer engagement manager at TechSmith says that "Video content offers the opportunity for businesses to provide new and existing customers with an innovative, personal and interactive learning experience."
A superstar knowledge base. Offering blog posts that help customers make the most out of your product or service helps increase their ability to solve their own problems and answer their own questions.
Of course, if these pages and videos aren't easy to access on mobile, you're in for some trouble. In fact, 79 percent of consumers who have a negative experience with a mobile site are unlikely to buy from that site again.
Mobile has a constant presence in your customer's lives and enabling customer service through mobile is a smart way for retailers to increase customer satisfaction and retention.
Alexa Lemzy is the customer service manager and content editor at TextMagic. She is passionate about excellent customer support, mobile technologies, and business communication. You can reach her on Twitter.