9 Technology Trends Every Retailer Must Address
Get great content like this right in your inbox.
Subscribe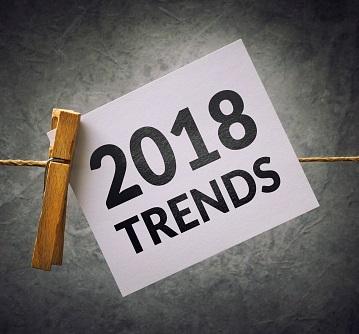 By most counts, 2018 is not a year the retail industry will see downward trajectory. Some corrections like store closures, bankruptcies or near-bankruptcies happened last year. While there may still be a few more blemishes left, this is the year that will usher in continuous and unprecedented innovation to the retail industry. Up until November 2017, total US retail trade sales are up a healthy 4.2% over 2016. Non-store retail (10.2%), gasoline stations (8.8%) building materials and garden supplies (8.2%), auto parts (4.9%) and furniture (4.6%) showed respectable gains. In all likelihood, when December sales figures are reported, retail sales will end up close to or over 5% comp over 2016. As of third quarter 2017, e-commerce sales were 8.4% of total retail sales.
In order to kick-off 2018 in an insights-led way, outlined below are a few key industry trends, strategies and solutions that can help retailers focus better, innovate and address the business challenges facing them today. The business challenges are several and can be classified into three groups:
Organizational:
Lack of internal and external collaboration; uninspired workforce; cultural conflicts between bricks-and-clicks teams.
Operational:
Poor store execution; low product differentiation; high cost of digital orders; unpredictable store demand; pricing and promotions-related pains.
Customer:
Unexciting loyalty programs; inaccurate segmentation; wishy-washy personalization; lack of actionable customer insights.
The question remains why outside of a complete lack of investible capital and executive leadership are most retailers delaying or postponing bringing a customer-led and balanced innovation approach to the forefront? In order to assist retailers in preparing for 2020 customer-centric commerce, here are a few innovation trends, business and technology issues that retailers need to address in the coming weeks and months:
Balancing man and machines to solve age-old problems. Along with relying on the judgement and emotional intelligence of employees, the predictive, self-learning and voice activated capabilities of AI, machine learning, natural language processing (NLP) and robotics can prove quite beneficial in addressing many of the customer service and operational problems stated above. This trend is relevant in fashion, grocery and department stores, DIY, and restaurants.
360 customer obsession to increase relevancy. Amazon, Nordstrom and the likes did not create customer obsession, they just embodied yet. So, it's still not too late to develop an obsessive customer focus, map customer disruptions and react to disruptions faster. AI and NLP-powered insights and delivery models can provide predictive and prescriptive customer insights, shopper behavior and social sentiment analytics to employees at all levels. This applies to all retail segments but in particular apparel, fashion, specialty, DIY and food segments.
Shared retail services for new revenue streams. Retailers don't need to fear soft competitors and they can win by creating shared retailing models with other retail segments and industries that attract common journeys and buying patterns of customers. Cross-segment and cross-industry shared sales, service, and supply chain and fulfillment models are part of this strategy. Such strategies are driving new revenue streams, supply chain efficiencies and economies of scale. Retail, hospitality, travel, consumer goods and transportation companies can share resources, technical know-how, data and infrastructure to create shared and collaborative services models. This unique opportunity applies to all major retail segments. Think Nieman, Four Seasons, Tesla, Uber and Armani teams working at some level collaboratively to address the customer journey needs in each category at different touchpoints.
Connected homes and cars for deeper customer leverage. Create deeper customer buying journey engagement by developing tools and interfaces that enable value added retail services within the realm of connected homes and cars. This can be done leveraging open source AI, sensory connectivity and NLP. These connected environments will enable deeper and more immersive customer experiences such as voice-enabled productivity tools, deals search, order ahead, digital payments, event reservations and personal concierge services. This trend is particularly relevant in petro/gas convenience stores, grocery, restaurants and entertainment.
Private label for new customers and profitable growth- In order to compete with Amazon and others, private label is an effective way for large and upper mid-tier retailers to infuse depth, variety, differentiation, price effectiveness and choice into their tired assortments. Growing private label assortments aggressively well beyond the 20% merchandise-mix threshold in the U.S., is an effective target benchmark for companies within grocery, drug, mass, convenience, consumer electronics and apparel.
Integrated experiences for a unified buying journey. Differentiation within a segment like grocery requires complete value chain integration between store and digital channels. This can be achieved by unifying customer journeys, intelligence, messaging, engagement, shopping tools, personalization, fulfillment and supply chain across general merchandise, grocery, and fresh categories covering: click and collect, catering, deli, in-store café, quality and ingredient information, recipes, wellness, loyalty, coupons and value added services such as pet grooming, spa, and other types of in-store services. There are similar types of needs integrated "all under one roof needs" emerging in apparel, luxury, department and DIY stores and digital channels.
True bricks and clicks for a common cultural DNA. Remove customer-channel-internal discordsby developing a "one retail" organizational success and technology roadmap program by combining offline and digital teams to operate together within store operations, merchandising, marketing, digital, supply chain, marketing, pricing and other areas. A true bricks and clicks model also requires a complete customer process and technology mapping to cross-pollinate the store and digital DNA. This need for true bricks and clicks is self-evident in all retail and restaurant segments.
Re-imagining store formats for deeper connection. It is not about smaller or leaner stores but it is more so about developing stores based on deeper customer insights. More innovative display, product and convenient selling concepts within such stores is in fact quiet pertinent for maintaining relevancy. The idea is to create a rich and unforgettable customer experience. Cashierless checkout, augmented reality, AI, RFID, smart mirrors customized to user preferences, endless aisle, entertainment and dine-in concepts, and in-store product wish lists linked with mobile applications are just some of the possibilities. This need for true bricks and clicks is self-evident in all retail and restaurant segments.
 
Open marketplaces to counter digital threats- Beyond the likes of Amazon, Walmart.com, Best Buy, Target, CVS, Etsy, eBay, provide your customers a strong alternative choice by enabling co-op style digital commerce and micro collection e-commerce marketplace models. Such marketplaces can be created with other like-minded retailers, manufacturers and distributors. Focus on specific customer segments, narrow product categories and smart network/social/influencer marketing for rapid growth and penetration.
Sahir Anand is Managing VP, Research & Strategy, EnsembleIQ Research Solutions. [email protected]