Amazon's Latest Delivery Spot: Shoppers' Cars
Get great content like this right in your inbox.
Subscribe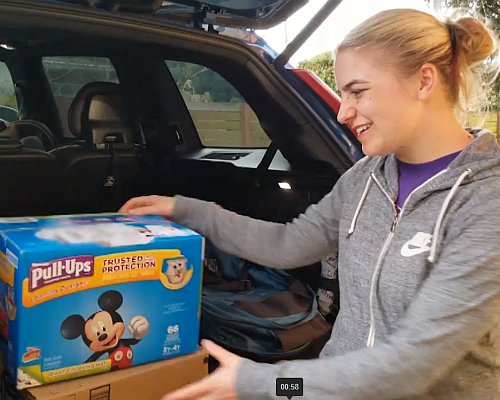 Last year Amazon debuted Amazon Key, allowing some Prime members to receive Amazon deliveries in their homes through keyless access. Taking the concept one step further, or perhaps one step back, the e-commerce giant has announced that Amazon Key now allows customers to receive deliveries inside their vehicle's trunk.
With Amazon Key In-Car, Prime members with compatible vehicles have the option to have packages delivered inside their cars when parked in a publicly accessible area, typically at their home or workplace. In-car delivery is available to customers with a compatible 2015 or newer Chevrolet, Buick, GMC or Cadillac vehicle with an active OnStar account, and customers with a 2015 or newer Volvo vehicle with an active Volvo On Call account. Support for even more vehicle makes and models will be added over time.
In-car delivery is available at no extra cost for Prime members and is available now in 37 cities and surrounding areas across the U.S. with more cities rolling out over time. Delivery works with Same Day, Two-Day and Standard Shipping.
Porch pirates, thieves who steal packages from front steps, are a growing problem that Amazon has been seeking a solution to, from the Amazon Key to Amazon lockers where shoppers can pick up packages at retailer's like Whole Foods.  InsuranceQuotes found in its 2017 survey that 25.9 million Americans (8%) have had a holiday package delivery stolen from a front porch or doorstep. This is up from 23.5 million porch thefts uncovered in its 2015 survey on the same topic.
The move offers a solution, but the question is will shoppers go for it and forgo some of their privacy?
"When it comes to in-car delivery, the question to ask is, what price will customers pay for convenience and personal delivery? The jury is still out because consumers value security and personal privacy," says Sylvain Perrier, President and CEO, Mercatus. "However, when Amazonpublishes the number of Prime member actively using Amazon Key that may change the discussion. Furthermore, for grocery perishables, parked car delivery in the middle of summer may not lead to the best results."
Amazon gave a select number of customers from across the country early access to Amazon Key In-Car and has been testing the service since November 2017
Scott L. from Miami, one of the Amazon Prime members who received early access to the service said in a statement the option is "another way Amazon helps ensure that my order is delivered safely and conveniently. Setup was super easy for my OnStar-equipped car—I granted Amazon Key permission to open my car's trunk and the ability to relock my car when done, and that was it."
"Since launching Amazon Key last November, we've safely delivered everything from cameras to collectable coins inside the home," said Peter Larsen, Vice President of Delivery Technology, Amazon. "Customers have also told us they love features like keyless guest access and being able to monitor their front door from anywhere with the Amazon Key App. In-car delivery gives customers that same peace of mind and allows them to take the Amazon experience with them. And, with no additional hardware or devices required, customers can start ordering in-car delivery today."
To get started, customers download the Amazon Key App and then link their Amazon account with their connected car service account. Once setup is complete and the delivery location has been registered, customers can shop on Amazon.com and select the "In-Car" delivery option at checkout.
On delivery day, the Amazon Key App lets customers check if they've parked within range of the delivery location, and provides notifications with the expected 4-hour delivery time window. The App also notifies customers when the delivery is on its way, and the package has been delivered. Customers can track when their car was unlocked and relocked in the App's activity feed, and rate their in-car delivery.
Amazon uses multiple layers of verification to ensure the security of in-car deliveries. Each time a delivery driver requests access to a customer's vehicle, Amazon verifies that an authorized driver is at the right location with the right package, through an encrypted authentication process. Once this process is successfully completed, the car is then unlocked. Customers receive a notification via the Amazon Key App after the delivery is completed and the vehicle is relocked. No special codes or keys are ever provided to delivery drivers. For added peace of mind, in-car delivery is backed by Amazon's Happiness Guarantee.
"Receiving a package securely and reliably in your car, without you having to be there, is something we think many people will appreciate," said Atif Rafiq, chief digital officer at Volvo Cars. "This intersection between transportation and commerce could very well be the next wave of innovation, and we intend to be at the forefront."
 "In-car delivery is another smart move by Amazon in their efforts to become an omnichannel retailer," says Charles Dimov, VP of Marketing, OrderDynamics. "Frankly, I believe this is a much better option than the in-home delivery offering. Letting someone into your home when you are not there, strikes most shoppers as 'creepy.' Letting a stranger put your purchases into the trunk of your car, also takes a fair bit of trust – but less so. Well done on pushing the convenience paradigm, yet again. The lesson for the rest of the retail industry is to start experimenting with omnichannel retailing. It is a whole new retail market. You have to keep innovating, adapting and getting better."