Atlanta's Mizuno Experience Center Immerses Customers in the Brand
Get great content like this right in your inbox.
Subscribe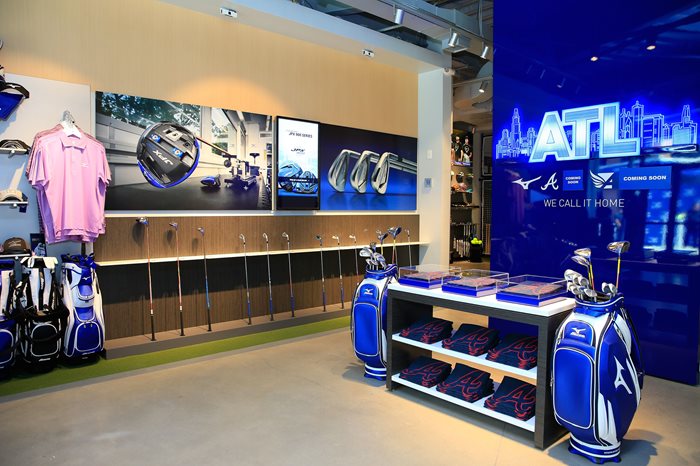 The Mizuno Experience Center, a premium, interactive environment that immerses athletes in the history, innovation and craftsmanship that has inspired Mizuno gear for more than 110 years, is now open at The Battery Atlanta.

"What better place to tell the Mizuno story than our hometown. From our partnerships with Atlanta Track Club and Atlanta Braves, to creative sponsor integrations at SunTrust Park and new partnerships that will be announced shortly, Mizuno has so much to offer Atlanta as its hometown sports brand," said Mark M. O'Brien, president & officer of Mizuno USA & chairman of Mizuno Canada. "We are excited to open the doors to our Experience Center and are honored to be a part of this iconic moment in the Braves' and the city's history."

A first-of-its-kind facility, the Mizuno Experience Center, showcases the breadth of Mizuno premium gear available in North America across multiple sports categories, from baseball, softball and volleyball, to golf and running, and more. Mizuno, whose North American headquarters is based in Atlanta, is also proud to be the Official Baseball Gear Partner of the Braves.

"This is a big moment for Mizuno with the opening of the Mizuno Experience Center, and it also marks another milestone at The Battery Atlanta as the first retail space to open to the public," said Derek Schiller, Atlanta Braves, president, business. "The Battery continues to showcase itself as a premier destination to visit in Atlanta."

Designed to be an immersive environment that tells the Mizuno story through its gear, the Experience Center engages guests through interactive displays using RFID technology and specialized labs for each sport that allow guests the ability to touch, test and then purchase gear custom fit for them, aiding them in their quest to improve their performance.

"The opportunity to design a space like the Mizuno Experience Center presented a distinctive design challenge," said Kevin Kelly, CMO of Miller Zell. "Posed with the task to design a space that focused on the experience first and retail second, forced us to re-think the traditional retail environment to create a unique immersive space for Mizuno. It has delivered beyond all expectations."

The specialized sports labs located inside the Experience Center showcase Mizuno's proprietary custom-fitting expertise in golf, baseball and softball and running.

"Our goal is to provide a personalized and customized experience in a premium, one-of-a-kind environment," said O'Brien. "The Mizuno Experience Center gives athletes the ability to find the right gear that optimizes their performance and meets their personal preferences. This is the only Mizuno center of its kind in the western hemisphere and will enable the millions of athletes from across the nation visiting The Battery Atlanta to experience Mizuno like never before."

The Run Lab gives runners a place to be fit for the optimal pair of Mizuno running shoes that supports their unique stride, and also test Mizuno's Wave® technology as they virtually run the course of great outdoor spaces including the AJC Peachtree Road Race.

Volleyball players and teams can check out a variety of volleyball footwear and apparel options for both indoor and beach.

The bat Swing Lab improves distance by analyzing an individual's swing data gathered from the Bat Interactive Optimization System (BIOS). Using a Bluetooth sensor and patented algorithm, BIOS is able to determine a hitters' ideal bat length and weight for optimum performance. Once fit for the correct bat, guests can swing away at iconic Major League ballparks in the bat simulator powered by HitTrax.

In similar fashion, the golf Swing Lab features the patented Performance Fitting System (PFS) that takes the guesswork out of a club fitting in three swings by identifying the ideal shaft, shaft flex, iron model and set make-up for an individual golfer's swing. Guests can then test their skills further in the golf simulator playing classic golf games on one of 60 world-class golf courses, including Old Course® at St. Andrews and Pebble Beach Golf Links®.

Throughout the year, the Mizuno Experience Center will host a variety of public and private events and professional athlete appearances in addition to visits by the Mizuno craftsman (glove and bats), Mizuno Golf Tour truck, Atlanta artists and advanced exclusives of the latest premium Mizuno gear.

Reservations for the golf, bat and running labs can be made ahead of time online at MizunoExperienceCenter-Reservations.com.

The Mizuno Experience Center is located at 875 Battery Ave SE, Suite 740, Atlanta, GA. It officially opens to the public Fri., April 14 at 11 a.m. Normal business hours will be from 11 a.m. – 10 p.m., seven days a week.