03/01/2019
California Closets' Experiential Showrooms Boost Sales 20-30%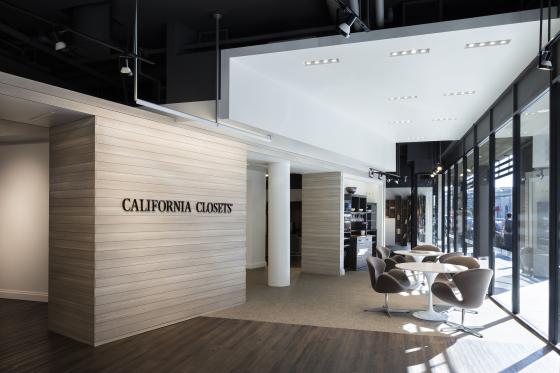 California Closets has reinvented and reinvigorated its stores thanks to a new strategic approach coupled with the introduction of next-gen experiential technology.
The retailer and manufacturer of custom closets and home organization solutions introduced a new store design in 2017, dubbed Showroom 2.0. The purpose of the new showrooms is to provide shoppers with a unified, destination experience powered by differentiated tech.
"We are a franchise system," says Lisa Gold, director of showroom design, California Closets. "In the past our store owners would drive what the showroom looked like. A few years ago we decided as a brand that we really needed to set ourselves apart and have more of a gallery setting. We wanted to create a unified branded store that would look the same in Boise as it does in New York."
While the brand is going for a unified approach to its stores, all of the retailer's sales remain custom. The amount of personalization is limitless, making it impossible for a showroom to display all of the available options and designs. In the past, sales associates/designers relied on in-store samples, printed brochures and a host of digital photography housed in various locations to show clients the full breadth of its capabilities.
"Since we have an endless aisle there is no limit to what we can design for our customer," says Gold.  We can't fit it all in the showroom. The idea was to create a tech table or a kiosk that was a portfolio of everything that we can do."
California Closets partnered with Creative Realities on the development and implementation of a tech table experience at all of its Showroom 2.0 stores. Currently, 62 of the retailer's 140 locations have been upgraded to 2.0 status and sport the tech-table experience, powered by Elo's 42" and 46" touchscreen hardware. By year's end the retailer hopes to have at least 110 of its franchisees converted to Showroom 2.0.
"The tech table has not only taken us into the 21st century but allowed us to have more control over what we are sharing with customers and keeping it as current as possible," says Carolyn Goodman, senior director of customer experience, California Closets.
The tech table touchscreens are front and center at the 2.0 locations and are mounted in a style reminiscent of a mid-century drafting table. The tables are designed to cater to two very distinct California Closets customers. Those that require and desire a guided experience with a designer as well as its more tech-savvy shoppers that prefer to navigate the tech table experience on their own.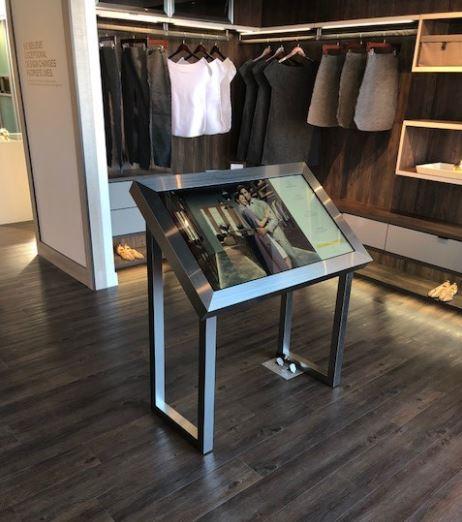 "The tech table has become a way to educate the self-shopper," says Gold.  "It has just enough aspiration and inspiration that if the customer is alone they will be inspired and educated at the same time."
In addition to the infusion of technology into the in-store experience, Showroom 2.0 marks a significant strategic realignment for the brand. Traditionally, showrooms were attached to a production facility, typically located in an industrial part of town. Under the new model stores are being relocated to shopping centers that feature key anchor stores that align with the brand's demographic.
The tech table and real estate approach has breathed new life into California Closets, both from an experiential and revenue perspective. A large portion of initial consultations occur in the customer's home. And as can be expected, getting a client to visit a store after the in-home consultation is the hallmark of a successful path to purchase.
This increased rate of in-store sales following an in-home consolation is high for both traditional and 2.0 showrooms. However, thanks to the improved location and aesthetics of the new stores, coupled with the availability of cutting-edge tech, 2.0 stores have an edge over their old-school counterparts.
In fact, customers that visit a 2.0 location following their in-home consultation spend 20% to 30% more than under the traditional model.
What's Next
As California Closets continues to roll out its Showroom 2.0 concept across the chain, the retailer is already hard at work developing the next generation of its game-changing tech table.
"The next iteration of the tech table will simplify the experience as well as feature some technical enhancements," says Beth Warren, SVP of experience and planning, Creative Realities. "It will feature functionality that will allow the customer to schedule an appointment with a designer, input personal information, and e-mail themselves product info."
The new tech table software is currently in beta testing and should begin wide-spread deployment across the chain by late spring.