Connecting the Retail Workforce
Get great content like this right in your inbox.
Subscribe
Mobility is a must-have technology for the modern retailer. However, building a successful mobile strategy is easier said than done. 
Empowering and educating employees is a big task; mobile technology can help retailers achieve this in a smooth and efficient manner. Arming employees with real-time information helps them feel empowered and equipped to do their job, which in turn leads to a better experience for customers, and hopefully, loyalty among both shoppers and employees. Store associates are the ones that know your business the best and are interacting with customers on a daily basis. Connecting their voices to head offices will provide the retail enterprise with the most on point, up-to-date information on the selling environment that is available. 
Meanwhile, younger workers are comfortable with mobility and expect easy, convenient technology in the workplace. By giving employees the mobile tools they 
need to make their jobs easier, such as shift management and task management, retailers 
can improve employee engagement and satisfaction and bolster the bottom line. 
 
RIS: How does mobility allow  retailers to build an engaged and powerful workforce that is able to meet ever-changing shopper demand?
Steven Kramer: Mobile technology provides retailers with significant advantages. Mobile and web solutions help retailers inform and connect with employees, educate them, arm them with important information, feel valued, empowered and well-equipped to do their job. Moreover, by providing operational and workforce management tools, employees are more empowered and engaged by giving them more control, flexibility and predictability over their shift schedules. This in turn, helps retailers expand their ability to provide their customers the best shopping experience possible while maximizing their sales potential and growing the bottom line. Employees want a digital relationship with their employers and the impact of this employee experience has a direct impact on customer experience. 
RIS: What are the benefits of connecting head-office and managers to frontline retail workers through mobile technology?
Kramer: By opening a digital communication channel, leadership can directly message employees to gain alignment between expectation and goals of head office with the field. Frontline workers know the business really well and providing a feedback loop is important to gain insights on how to improve operations. Providing employees with the chance to voice their opinions also has a direct impact on culture building and engagement. By providing managers and employees with communication tools, mobility adds efficiency to day-to-day operations in a way that is less chaotic and compliant.
The true value and benefit of these systems comes when the tools provided support both structured and unstructured communications, such as shift changes, tasks, trainings and general communications, and also can update the various systems used.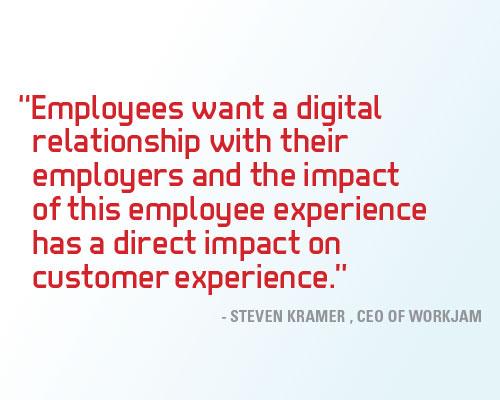 RIS: What features do retailers need to consider providing employees when they are deciding on a mobile workforce solution?
Kramer: Features retailers need to consider include shift management and employee self-service; open shift broadcasting or internal labor crowd sourcing; targeted micro-trainings; messaging and communication; task management; surveys and polls; employee rewards and recognition; as well as compliance driven features, such as fencing of functionality and attestation.