Costco's Plans for Its E-Commerce Operations in 2019
Get great content like this right in your inbox.
Subscribe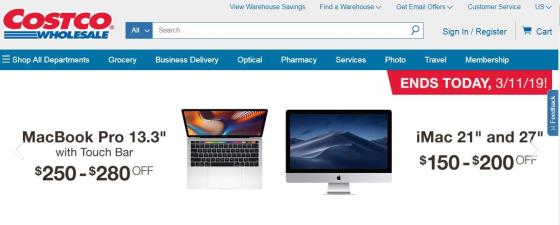 Costco enjoyed a spike in online sales in its recent quarter, seeing growth in orders, profits and other metrics, in addition to digital sales. Now the retailer has a lot planned for the coming year to keep its e-commerce moving. 
E-commerce sales increased by 20% year-over-year during the company's second quarter 2019. Top growth categories in the quarter included grocery, consumer electronics, hardware, health and beauty aids, tire and automotive, toys, seasonal and apparel. 
"We continue to improve our online and in line cross-marketing initiatives and we think that's continuing to drive our business," noted EVP and CFO Richard Galanti on the company's earnings call.
Costco expanded its buy online pickup in store (BOPIS) selection in the quarter, offering a broader selection of Apple products and other electronics, jewelry, handbags, and more. The retailer also continues to test pick-up lockers for BOPIS items in 10 locations.
Costco also is expected to expand internationally this year. The retailer said it will likely begin e-commerce operations in Japan early this summer and in Australia by the end of summer or early fall. Costco already operates e-commerce sites in the U.S., Canada, the United Kingdom, Mexico, Korea, and Taiwan. E-commerce accounts for 5% to 6% of Costco's business, according to Galanti.
In the U.S., Costco's same day grocery delivery is now available to its members within a short drive of 99% of locations. Two-day grocery is available anywhere throughout the Continental United States.
"While still these are small pieces of our total business operation they are growing nicely," said Galanti. "We now have grocery shipments to all 50 states."
Costco fulfills two-day grocery delivery out of 10-11 of its business centers around the country. However, the retailer is in the process of moving these operations to six of its "depots" over the next several months.
"I think we've done the first one, and we have got several more planned right around the end of spring, beginning of summer," said Galanti.
He also noted one-day grocery is handled through Instacart and is in warehouse. 
Costco also opened the first of three planned fulfillment automation centers in Mira Loma, CA, less than eight weeks, according to Galanti. The center is meant to handle small packages for e-commerce.
"It's over a $100 million investment," he said. "The first one is the most expensive because you developed all the systems and everything as well. We have two other planned for depots in other parts of the country."