Could This Yarn Tech Transform Athletic Socks?
Get great content like this right in your inbox.
Subscribe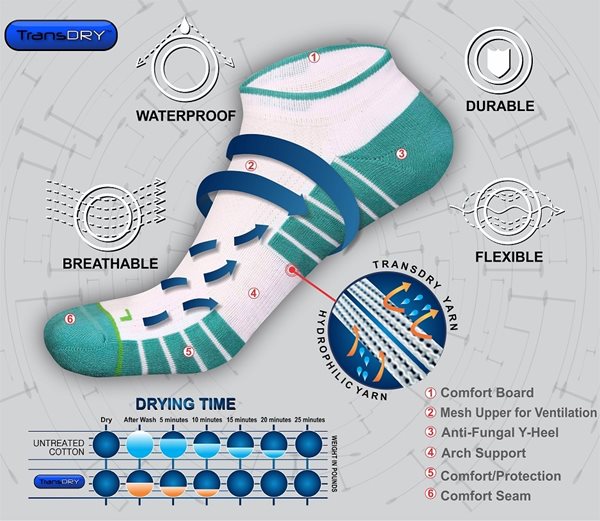 Solara
, a South American hosiery solutions provider, introduced TransDRY, a new yarn technology that could revolutionize the athletic sock industry worldwide. TransDRY better absorbs moisture in cotton athletic socks and makes them cooler to wear. This results in minimizing and eliminating both odor and foot fungi. Solara is the only producer creating socks with this exciting new cotton technology.
TransDRY's patented moisture management system allows socks to better wick away moisture from the body and more efficiently spread perspiration. It delivers the softness of cotton with exceptional drying capabilities.
TransDRY technology begins in the yarn, using a special process that makes the yarn water repellent. Then, by combining this water repellent yarn with more absorbent cotton yarn, cotton fabrics are created that mimic the qualities of absorbency of polyester and nylon, but with the softness and comfort of cotton. This results in athletic socks that dry up to two times as fast as untreated cotton. Even when exercising, these socks resist over-saturation. Any moisture that is absorbed into the fabric quickly dries. This makes TransDRY socks a more comfortable alternative to synthetic fabrics.
Solara Hosiery is a hosiery mill based in Lima, Peru. It is devoted to the development and production of the highest quality socks as demanded by today's market. It is a one-stop shop offering solutions to your brand needs.