05/17/2017
Dick's Turns to Digital Investment After Same-Store Sales Miss
Dick's Sporting Goods suffered disappointing results in its first quarter 2017, considering that competitor The Sports Authority went out of business last year. Comparable sales for the quarter climbed 2.4%, missing the company's guidance of a 3-4% increase. Net sales for the quarter increased 9.9% to approximately $1.8 billion.
Now the sporting goods retailer said it is eliminating approximately 160 jobs primarily at the company's Store Support Center and up to 20% of its vendors.  In the second quarter, the company expects to record a pre-tax charge of approximately $7 million for severance and other employee-related costs "associated with the elimination of positions."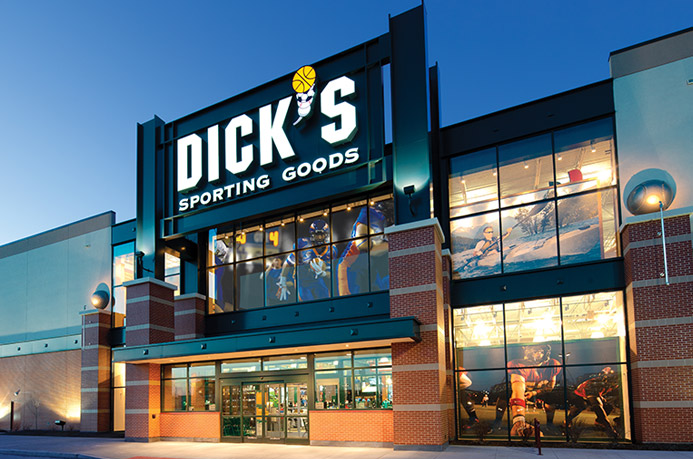 "Despite a challenging retail environment, we realized growth across each of our three primary categories of hardlines, apparel and footwear, and were pleased with the performance of our newly relaunched e-commerce site," said Edward W. Stack, Chairman and CEO. "We remain optimistic as we drive profitable growth on our new e-commerce platform, make marked progress on our new merchandising strategy and continue to capture market share."

Following the launch of Dick's new e-commerce platform at the beginning of the first quarter, e-commerce sales increased 11% and e-commerce penetration was 9.3% of total net sales, up from 9.2% during the first quarter of 2016.

"As we get in through the past year, we successfully re-launched Dicks.com and our proprietary web platform on January 29 replacing the original radio technology we've been using," said Stack.
Dick's cut back on marketing associated with the e-commerce site to make sure it was able to handle the traffic after launch.
"There were a couple of bumps in the road to begin that the team quickly fixed and as we did that, we started to increase our marketing and the conversion of the site got better."
E-commerce sales trended hirer throughout the quarter and April sales increased approximately 20%.
"We're continuing to invest across our digital channels to deliver the best possible customer experience and expect to drive these sales and increase profitability through this channel," he noted.
Digital Investments
As part of this, Dick's said it's making significant investments in its Team Sports HQ business and data-driven customer engagement platform. DICK'S Team Sports HQ offers youth sports leagues, coaches and parents free league management services, including websites and online registration with a free mobile app for scheduling and communications; FanWear shops; and access to donations and sponsorships for local Little League programs.
Last November, DICK'S Sporting Goods became the official Little League Baseball and Softball Technology Provider. It also acquired GameChanger Media in November as a new part of DICK'S Team Sports HQ suite of digital youth sports offerings. GameChanger is a live scoring app that delivers data-driven coaching insights, live play-by-play updates and instant game recap stories. This April GameChanger announced it reached 10 million games scored since launching in 2009.
"Similar to how we grow our e-commerce business to nearly $1 billion, we believe there is a tremendous opportunity with Dicks Team Sports HQ platform with nearly 30 million participants in Team Sports at the high school level or below; we expect these investments to drive both digital and store sales resulting in profitable growth over time," said Stack.
Click here to "Learn About the Tech Driving Customer Innovations From One of the Architects of Dick's Digital Strategy."
C-Suite Shakeup
Dick's announced that André Hawaux is retiring from his position as EVP, Chief Operating Officer, but will remain with the company through the second quarter of 2017.
Lauren Hobart has been appointed President of Dick's Sporting Goods, reporting to Edward Stack. As President, Hobart will lead customer and digital efforts, overseeing marketing, e-commerce and DICK'S Team Sports HQ, and will assume responsibility for stores.
Hobart joined Dick's in February 2011 as SVP, Chief Marketing Officer and was promoted to EVP, Chief Marketing Officer in 2015. Hobart spent 14 years at PepsiCo beforehand.
"Lauren's appointment will further our efforts to drive omnichannel consumer engagement, while creating a more efficient and focused organization," said Stack.
Stack put rumors of Hawaux's retirement move to rest, noting "sometimes retirement truly is actually a real retirement. Andre has been at this a long time he has done a great job, he has got a new grandchild; we want him to spend time with his family."
Keri Jones will join the company on May 22 as EVP, Chief Merchant, responsible for the strategy and execution of merchandising, product development and merchandise planning, allocation and replenishment organizations.
Jones hails from Target Corporation, where she held several positions including VP, General Merchandising Manager of Toys and Sporting Goods, SVP of Health and Beauty, EVP of Merchandising Planning and Operations, and most recently EVP of Global Supply Chain.
Don Germano, who led the company's Stores organization from 2010 through 2013, will re-join Dick's on May 30 as SVP, Operations, reporting to Hobart.