11/26/2018
Fairway Market Launches Mobile Line-Free Checkout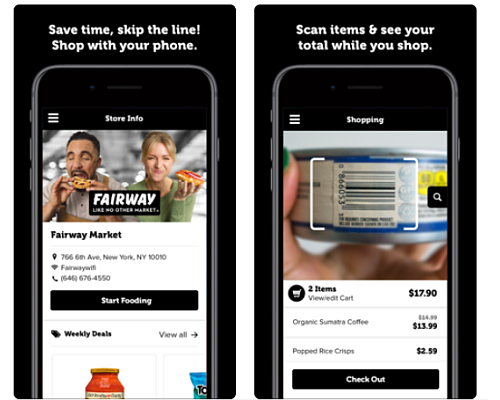 Grocer Fairway Market has launched mobile self-scanning checkout in all of its stores, reportedly making it the first grocer with such an option in the New York-area retailer's Tri-State region.
Fairway partnered with FutureProof Retail on the solution that allows shoppers to scan products around the store using the Fairway-branded Mobile Checkout app with the cameras on their mobile phones. For weighted items like produce, olive bar or hot bar, digital scales are available to evaluate the cost by weight. To check out, the customer simply scans the QR checkout code and walks out, skipping the line for the cash register.
"We're thrilled to launch our new mobile shopping experience, providing Fairway Market customers with a cutting-edge shopping convenience," says Mike Penner, director of retail applications and technology. "This continues Fairway's tradition of offering the best food for our customers in the way that's most convenient to them. The response from mobile shoppers has been incredibly positive."
Fairway Market consists of 15 stores in New York, New Jersey and Connecticut, in addition to online shopping.