03/12/2019
First Look: The Technology Behind Neiman Marcus's New Retail Experience at New York's Hudson Yards
In the age of tech-filled retail experiences, the 188,000-square-foot Neiman Marcus store is a show stopper. The retailer's first Manhattan location, which opened March 15 in New York City's Hudson Yards, is jam-packed with retail technology and innovative customer experiences.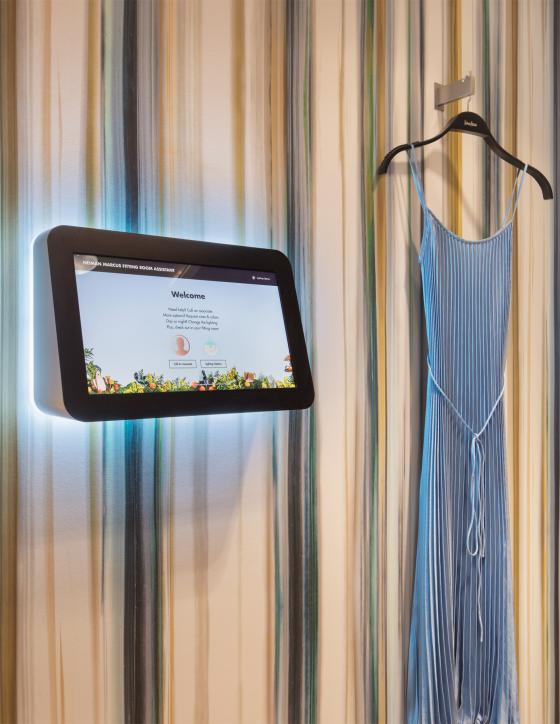 This store spans three levels (5-7) of The Shops & Restaurants at Hudson Yards, a real estate development in Chelsea dubbed the largest private real estate development in the U.S. by square footage.
"We're thrilled to be introducing Neiman Marcus Hudson Yards as a continuation of our strategy to transform the Neiman Marcus brand into a digital luxury platform," said Geoffroy van Raemdonck, CEO of Neiman Marcus Group. "This store recognizes our brand's history and heritage while adapting to how the next generation of luxury customers shop. Neiman Marcus Hudson Yards will be all about providing physical and digital experiences in a way not seen at other stores, creating a personal customer experience that is seamless and magical."
While the store offers Mobile POS throughout to ensure speedy checkout, the tech on display gets much more next-gen, bringing sights, sounds, and physical experiences all into consideration.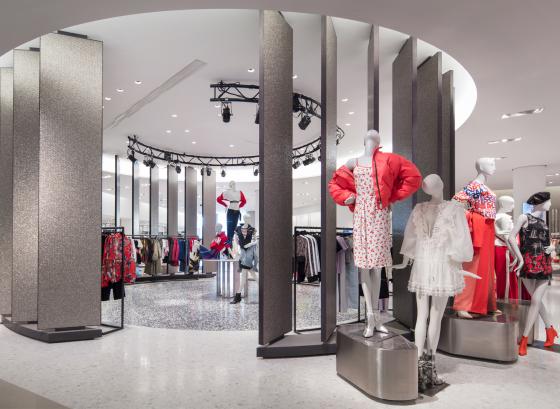 Over 60 Videri screens are located around the store, broadcasting both promotional messages and real-time content. Eleven digital directories found at each of the store's entrances and in the customer service area provide customers with a quick search of departments, vendor locations, in-store events, and promotions.
Rockbot audio services allow customers to access and modify the store's music playlist like a digital jukebox. The technology lets shoppers choose a song from a pre-set playlist or vote on a queue of upcoming songs via the Rockbot app. Meanwhile, the digital signage throughout the store reveals what song is currently playing, who picked the current song, and what's coming up next.
Shoppers can record beauty demonstrations and make-up tutorials via Memory Makeover mirrors, which text and email the info to customers to keep on hand. Similarly, the Sunglass Memory Mirror stations allow customers to record and digitally compare up to four sunglasses they try on. The retail technology allows shoppers to view side-by-side, ultra-high definition video comparisons of the glasses, which are then available to share on social media or via email, as well with sales associates to garner future recommendations. MemoMi, the Neiman Marcus Innovation Lab, and Luxottica partnered together to develop the unique retail experience.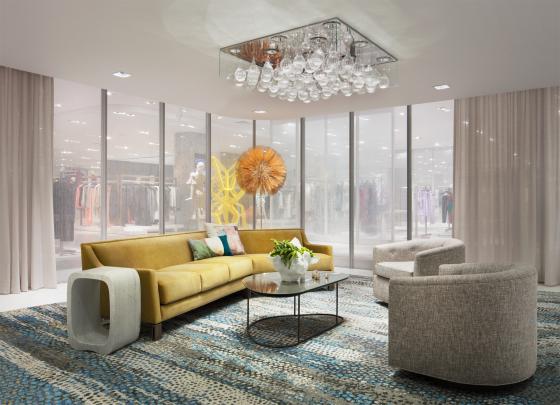 The Neiman Marcus store's fitting rooms provide a highly digital experience as well. The contemporary and men's areas of the store boast interactive dressing rooms where shoppers can customize their lighting through five unique environment settings and check-out right from the fitting room. They can also communicate with an associate through interactive touchscreens if another size is needed or they have a question. The experience is powered by AlertTech, a fitting room technology tool.
Merging the online experience offline, the store's seventh level features digital luxury stylists connecting with shoppers from the Digital Styling Lounge. The digital boutique is where stylists who have begun their relationships with customers via text, mobile and email can meet for the first time and provide in-store consultations.
Since much of the tech in store requires shoppers to have their own devices up and running, Neiman Marcus covers shoppers on that end as well. Customers won't have to leave the store to recharge, since complimentary ChargeItSpot stations are available charge thier mobile devices. Shoppers can lock their phones in a private locker space to rapidly charge while they continue shopping.
In an effort to improve customer service, Neiman Marcus is also utilizing the Theatro System, a voice-controlled mobile platform that connects sales associates to an artificial intelligence-enabled device with voice recognition requests. The technology helps optimize associates' time on the floor.
Additional customer experiences at

Neiman Marcus Hudson Yards:
A live performance stage will offer concerts, panels, and conversation series with influencers, designers and artists.  

The demo kitchen in Cook & Merchant's Kitchen will offer demonstrations, tastings, and mixology classes with chefs.  

The men's floor offers games, such as skee ball and foosball.

The Neiman Marcus "Travel Shop," is outfitted with a curated assortment of travel apparel and accessories.

BLVD beauty salon offers blowouts, manicures, pedicures, nail art, lash extensions, laser hair removal, waxing, brow shaping & peel services.

A walk-up brow shaping lab and nail art station in Beauty offers quick specialty services.

A customizable shop by Atelier Notify offers embroidery, painting, patchwork, distressing, and embellishments.

Santana offers an in-store shoe shiner and cobbler experience.

A PopUp Florist on level 5 creates fresh bouquets by Kelsie Hayes.

Beauty treatments rooms and spa services, including access to a LED LightStim Bed.